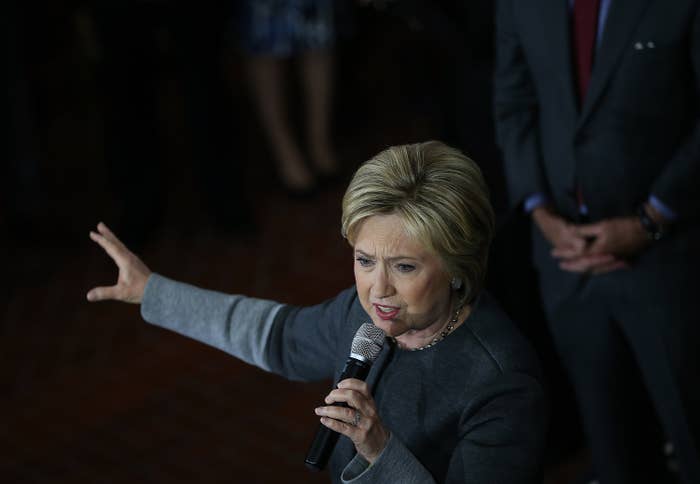 SPRINGFIELD, Mass. — Midway through her speech here in Massachusetts, just one day before critical Super Tuesday contests in this state and 10 others, Hillary Clinton came around to a topic she's relied on during the tightest points in the race.
"Yes, I am gonna take on the gun lobby," she told the crowd in Springfield.
Had this been a rally four weeks ago, voters here might've heard all about Bernie Sanders and what Clinton has argued is his moderate record on gun control and his limited view of what it means to be a progressive. But not on Monday.
"This is to me one of the principal differences between me and my opponent — but it's more than that," she said, moving on.
In the final push to Super Tuesday, propelled by a massive win in South Carolina on Saturday, Clinton has cut back drastically on references to her Democratic rival.
At rallies on Sunday and Monday, Clinton did not so much make the case against Sanders as mention him and his proposals in passing. The quick references to "my opponent" came as a significant, if expected, departure from speeches she gave at the start of the primary. Across Iowa and New Hampshire, Clinton framed much of her final pitch to voters, from her record to her proposals, in relation to Sanders.
In recent days, Clinton has spent more time reminding voters about the general. "If you come and vote tomorrow, and if I am so fortunate enough to be the nominee," Clinton promised the crowd in the atrium of the Museum of Springfield History, "then I will turn my attention to whomever the Republicans decide to nominate."
Sanders, meanwhile, has only sharpened his attacks on the campaign trail. Clinton's paid speeches to financial firms are now one of the party anthems at Sanders' rallies. At an event last weekend in Grand Prairie, Texas, supporters were chanting — "Release the transcripts!" — before Sanders had even mentioned them.

On Sunday, the Sanders campaign pushed out a web video showing Sanders pressuring Clinton on the issue at a rally in Oklahoma City. "Secretary Clinton has given some speeches to Wall Street where she's paid over $200,000 a speech," Sanders says to the sound of boos. "Now, I think — this is what I think — if you're gonna get paid $200,000 for a speech, must be a pretty damn good speech. And if it's such a good speech, you gotta release the transcripts. Let everybody see!"
Clinton aides viewed her 47.5-point win in South Carolina as a sign that Sanders still lacks the support needed from black voters to ultimately remain competitive in terms of delegates. Despite a significant investment in the state — and an effort to introduce himself to black voters — Sanders lost among them by 72 points.
Still, Clinton aides have stressed that the campaign remains focused on the primary, not the Republican field. One senior official described the shift away from Sanders on the stump as part of the natural arc of a primary — from frequent visits in the first four states, where voters expect an exchange of ideas, to new audiences.

"We needed to lay down why we thought his plans were not just unachievable but bad — not good policies. We feel like we did that," the official said of the early primaries and caucuses. "And that was then contained to those four states."
In parts of the country where Clinton is just now visiting for the first time, the official said, "what you want is for people to hear what her proactive message is."
As she's traveled to the March states — leaving South Carolina on Sunday for her swing through Tennessee, Arkansas, Massachusetts, and Virginia — Clinton has hewed to a forward-looking message. She is the candidate, she repeatedly tells voters, most committed to uniting communities and "breaking down barriers."
And her new applause line? A reference to Donald Trump.
"I don't think America has ever stopped being great," Clinton said in Springfield, as she has at her other events since Saturday. "What we need to do now is make America whole."
The reference to Trump, the senior campaign official said, is not a sign of more things to come — at least not until after the March contests. "I would not expect her in these next few weeks to have some sort of Trump focus," the aide said.
"We are running against our primary opponent, Bernie Sanders."
Evan McMorris-Santoro contributed reporting.