Immigration Reform Now Tops The Economy As First Priority For Latino Voters
The Hispanic community now cares more about passing immigration reform than fixing the economy, according to data released Tuesday. "A convergence of aspiration and opportunity," says Martinez de Castro.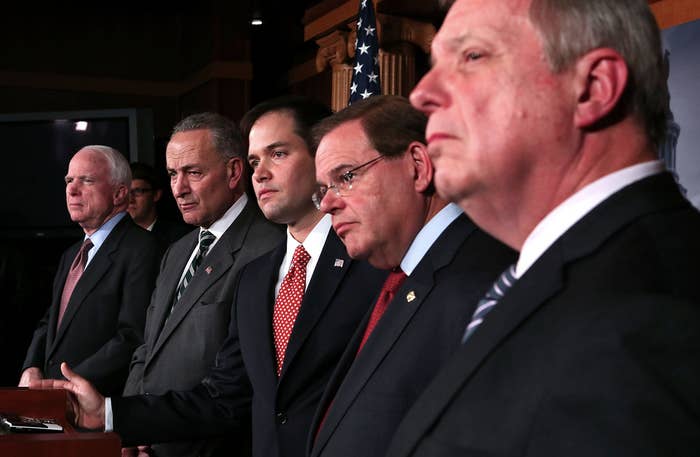 Latino voters now consider immigration reform a higher priority than improving the economy, according to polling data released Tuesday — a dramatic shift in attitude from last November.
The majority of respondents in the Latino Decision poll — 58 percent in total — said immigration reform was the "most important issue" facing the Latino community, followed by creating jobs and fixing the economy at 38 percent. Asked the same question last November — in an election-eve poll also conducted by Latino Decisions — 53 percent of voters chose the economy as their prime cocnern, while just 35 percent prioritized immigration.
Matt Barreto, a principal at Latino Decisions and an associate professor of political science at the University of Washington, called the change a "direct flip from what we found in November," he said. "This is now the top issue."
The reversal, said immigration reform activists Tuesday in a press call with reporters, shows that the Hispanic community no longer just has "the economy in their minds and immigration in their hearts," said Clarissa Martinez de Castro, a director at the National Council of La Raza. "This poll shows that immigration is becoming an even higher priority for this population. That's extremely significant."
Martinez de Castro said there has been some doubt — and an argument that has persisted among members of the Republican party — that Latino voters don't see immigration as a issue comparable to the economy. "We finally put that to rest," she said.
The poll also demonstrates that the vast majority of Latino voters — 93 percent of respondents — hope for comprehensive immigration reform legislation before the end of 2013. Only six percent of voters said it was "not too important" or "not at all important" that Congress and the president address immigration reform this year.
"This poll proves to Congress," added, Eliseo Medina, the secretary-treasurer of the Service Employees International Union, "that the alarm clock is ticking, and still ringing loud and clear. The 2012 elections may be over, but Latinos expectations for immigration reform are not."
Asked about a possible reason for the reason for the shift, the activists on the call pointed to the ongoing discussion about the Senate's bipartisan immigration reform bill, and the president's attention to the issue during his inaugural address and his State of the Union last month.
Latinos see the moment as "a convergence of aspiration and opportunity," said Martinez de Castro.