If No One Challenges Hillary Clinton From The Left, One Progressive Group Will
PCCC, the national progressive group, wants its members on the ground in Iowa and New Hampshire to make sure Clinton takes a stand on Elizabeth Warren's signature issues. How PCCC will use Warren as their "North Star."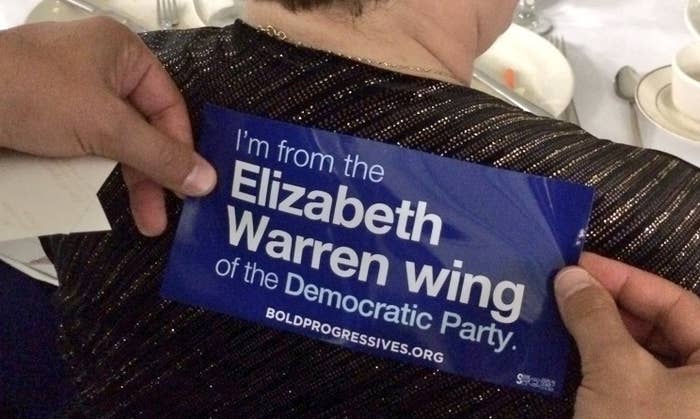 Two years from now, on the eve of the Iowa caucuses and New Hampshire primary, it's possible that former Secretary of State Hillary Clinton could be running for the nomination without a major opponent to her left.
But even if no serious Clinton challenger in the mold of progressive Sen. Elizabeth Warren emerges, a nonprofit group called the Progressive Change Campaign Committee, or PCCC, is prepared to take up the mantle.
Co-founder Adam Green says plans are already in the works to pressure Clinton from the left on Wall Street reform and Social Security, sending PCCC members to storm her early town hall meetings and using Warren — the Massachusetts freshman senator who is increasingly held up as the hero of the party's left wing — as the guiding force of their movement.
"Elizabeth Warren is the North Star of where our party should be going and is going," Green said in a phone interview, citing Warren's work on student loans, her introduction of a new Glass-Steagall Act earlier this year, and a speech she delivered last week that advocated for the expansion of Social Security.
"Even without running, Warren will change the conversation around Hillary Clinton's candidacy," Green said. "We want to make it a prerequisite that Clinton take a stance on Social Security, on Glass-Steagall. I don't see a scenario where there's not chatter about Elizabeth Warren, and where Hillary Clinton is not forced to articulate her positions on those issues."
If Clinton doesn't, said Green, PCCC members will attend her town hall meetings and "ask the same questions over and over again until they get an answer."
"We are in the initial stages of talking about a deep organizing strategy that will make sure everyone running for president has to say whether they support Warren's positions on issues like Social Security," he added.
Earlier this month, while in New Hampshire for a finance meeting, Green and PCCC's leadership met with union leaders in the state to talk about establishing an infrastructure "with actual people on the ground" in advance of the primary.
Clinton, who left the State Department in February, has steadily been making her way back into the political sphere, weighing in earlier this year on the debates over military involvement in Syria and and the surveillance policies of the National Security Agency. The likely presidential frontrunner, Green pointed out, has yet to clarify her position on cutting Social Security benefits.
PCCC gave the audience at the New Hampshire Democratic Party's Jefferson-Jackson Dinner a preview of its plans that same weekend, when they passed around stickers that read, "I'm from the Elizabeth Warren wing of the Democratic Party." Although Maryland Gov. Martin O'Malley, the marquee speaker at the dinner, was supposed to be the focus of the event, many attendees sported the Warren bumper stickers proudly on their suit jackets and dresses.
The group is now selling that same slogan on T-shirts, hoodies, magnets, and even baby onesies — for "our boldest progressives who aren't quite old enough to vote."
PCCC, a political action committee founded in 2009 by Green and two others, has taken up a wide array of causes in the last four years — not always successfully — and often finds itself at odds with, and to the left of, the current White House.
Earlier this year, the group launched a failed effort to recruit Brian Schweitzer, former governor of Montana, to run for the state's open U.S. Senate seat. PCCC also set up a legal defense fund for Edward Snowden, the man who fled the United States after leaking information about the government's surveillance program to The Guardian.
More recently, though, PCCC has focused the fight to expand Social Security, and its main champion in Washington — Elizabeth Warren.
Warren, who has only been in the Senate for about 10 months, has long been the subject of 2016 speculation. An article in the New Republic this month, headlined, "Hillary's Nightmare," gave rise to even more noise about Warren's possible candidacy. The senator, though, has said she has no plans to run for president, and some of her biggest financial backers have signaled as much to the progressive donor world in recent weeks.
Green, though, says getting Warren to run isn't his goal. "This is not a draft movement," he said. "It's using Elizabeth Warren's agenda as the standard that Democratic candidates will be held to — a bold economic populist agenda."
"We want to make sure every Democratic candidate who visits New Hampshire is forced to take a stance on these issues," Green said.