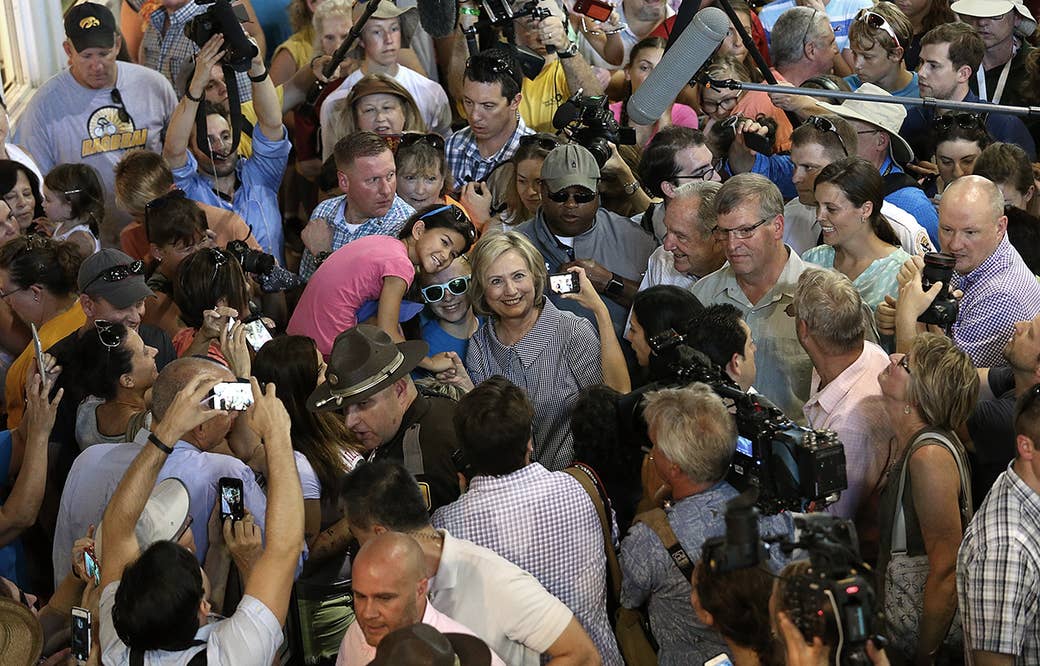 DES MOINES, Iowa — There is a white wooden fence that lines the southeastern corner of the Iowa State Fairgrounds. On one side, just after 11 a.m., Bonnie Crispin started cheering. On the other, a couple hundred yards away, Crispin could see Hillary Clinton take her place behind a podium and begin fielding questions from a thick wall of press — some 200 bodies and pieces of audiovisual equipment, all creeping closer.

By 11:30 a.m., she watched Clinton walking toward her, heading north along the fence — the pack following from front, back, left, and right. She saw security officers tell voters to back away, clear a path for the moving human mass. And then the next thing she saw was Clinton, her candidate, passing by, quickly.
"I been yelling for a half an hour!" Crispin, 62, shouted over the fence, still clapping. Clinton, she said afterward, "just yelled back, 'I need you!'" And with that, Clinton was gone.
Past the fence, about 10 minutes later, John Shepard stood back to observe the horde maneuver the turn onto a narrower path, funneling slowly outside the domed Pioneer Livestock Pavilion. He could see Clinton inside the circle of people, shaking hands with the voters she could reach.
"She needs to get outta the box so we can see her," said Shepard, 47. "We can hardly see her. I'd be hot in there."
It wasn't until around 11:45 a.m. — when April Stumpf spotted Clinton, approached the crush, and began elbowing her way toward the center — that a voter did what it took to get in from the outside: past the first ring of fairgoers (just watching), past the second ring (angling for pictures), past the nearby Secret Service members, past the reporters, videographers, photographers — to a spot inside that put her face-to-face with back of a straw Panama hat belonging to Clinton's fairgrounds companion for the day, the 75-year-old former U.S. senator, a legend in Iowa politics, Tom Harkin.
Clinton was a few paces ahead, still moving.
"Mrs. Clinton?"
No response.
Stumpf, a 34-year-old mother from Riverside, had made the two-and-a-half-hour trip to Des Moines, and wanted this conversation.
She gave Harkin a tap on the shoulder.
"I'm friends with the ambassador to the Dominican Republic," Stumpf said. "I'm friends with Wally Brewster. My name's April Stumpf. He's the ambassador to the Dominican Republic." Harkin turned his head. "Yes?"
"I didn't know if…" Stumpf started, motioning to Clinton.
"…I would love to say hi to her."
It's a simple request to make of another human being. But for voters who want a conversation with Clinton — now four months into her second presidential campaign — the proposition remains more difficult and complex than with perhaps any other candidate, Republican or Democrat.
At many of Clinton's public events, causal interaction is overwhelmed, and often made altogether impossible, by a spectacle that neither she, nor her aides, can much control: the aggregate effect of, in varying degrees, the media attention she commands, celebrity status she assumes, and the Secret Service detail she has required, in public and private life, since the '90s.
All three forces were at work in the extreme on Saturday as Clinton toured the various delights of the massive and sprawling Iowa State Fair, moving from the show cows near Gammon Barn, down by the Pavilion and the Fun Forest Stage, into the Agriculture Building, past the beet and onion tables and the life-size cow sculpted from butter — out the back door, up the main drag, and over to the front counter of the final destination: the Iowa Pork Producers' Porkchop on a Stick tent.
The result that Saturday: three bites of porkchop, more than 42 pictures taken with Clinton, and thousands of witnesses to a pandemonium so intense that one young girl, after waiting an hour for a photo with the candidate, burst into tears of joy and exhaustion when the time finally came.
Clinton and company tore through the fair. The C-SPAN footage is almost harrowing. Foot traffic came to a halt everywhere they went. At point, inside the hot and crowded Agriculture Building, the group was going too fast with no room to move: While a campaign aide warned a security agent to please watch Harkin more closely (He was getting "pushed and shoved!"), a security agent snapped at a campaign aide to please keep the entourage moving ("When you stop, it creates a bubble and we can't move!").
Meanwhile, from inside her thick circle of people and gear, Clinton was getting shouts of all kinds from patrons. One man let out a long, "Monica Lewwwwiiiinsky," soliciting a slap on the arm from his wife and an exasperated sigh from a woman within earshot. "You fucking asshole," she said. Some parents lifted their kids in the air for a better view. "It's Hillary Clinton! Can you see, honey?" Others pulled them tighter from the crowd. "Stay with mama. I don't want you to get killed."
Among the other state fair guests that weekend, only Donald Trump put on a bigger show. The Republican candidate, still leading in the polls, cruised through the fair with an even larger crowd, having arrived that afternoon by private helicopter.
But Clinton's is not a Trump campaign. The spectacle does her particular effort no good. In the contained, small settings that her campaign aides have prioritized since spring ("intimate" and "low-key" have been their descriptors of choice), Clinton has tried to make herself more available for what she calls "a continuing conversation with the American people."
This went most awry last month in Gorham, N.H., on the Fourth of July, when aides employed a thick white rope to keep reporters from getting too close to Clinton as she walked a holiday parade. It was all in the spirit of this larger endeavor, they said: to enable genuine interaction with voters, free from the "bubble."
Parts of that self-made buffer are sure to fade by the fall.
Clinton's first test, the Iowa caucuses, also happens to be her biggest and most important. (The state has become the phantom center of her campaign. During a briefing in June, senior aides described Iowa as the lifeblood of the operation. One went so far as to say that the campaign, on the whole, is an effort to win Iowa.)
Sometimes after she returns from vacation in September — just about five months until caucus day — the campaign will shift into a faster gear, and Clinton into a mode of campaigning focused even more heavily on an organizing strategy that requires from the candidate a basic ability to connect in genuine, motivational ways. And not just with caucus-goers, but with the operation's volunteers and volunteer leaders.
And the challenge for the campaign: facilitating settings where Clinton can excel in the organizing role, and where voters can get close — particularly as her unfavorable numbers reach levels worse than in the lead-up to her run for president.
In a caucus state like Iowa, questions of accessibility and authenticity don't just weigh on a candidate's ratings. They can underlie the success of an organization. For voters here, none of the campaigning should happen at too far a remove. Over the weekend, many attendees voiced disappointment that Clinton skipped the chance to deliver her soapbox speech, a state fair tradition sponsored by the Des Moines Register.
The conversations that did take place between Clinton and voters on Saturday, mostly in passing, touched on such topics as berry-growing, eggs, Iowa's zoning programs, and an old saying of Janet Reno's, which Clinton relayed as follows: "Nothing brings people together like a potluck dinner."
Only April Stumpf, the mother from Riverside, pushed her way through for more, dropped the name of an ambassador friend, sidled up to Clinton and — upon telling the candidate her story — brought the whole operation to a stop for a few, rare minutes of relative quiet on late Saturday morning.
"I just wanted to introduce myself and say hi," said Stumpf, face to face with Clinton. "And I also wanted to let you I am a mother of a severely disabled child. She's on 14 different medications right now: methadone, morphine, and…"
Clinton grabbed her hand. "How old is she?"
"She's only 3. Her name is Quinn."
"What's Quinn's…?"
"She's undiagnosed," said Stumpf. "She's so severe. She's got epilepsy, heart seizures that they can't stop. She arches severely. She's on a feeding tube. She's not expected to live very long."
She told Clinton she's been advocating for medical marijuana on a nationwide level, that Quinn's medications are so hard on her 3-year-old body that they will kill her faster than her disability — and that the cause could use Clinton's support, said Stumpf. "For a real medical purpose."
"And to do the research," Clinton said, nodding. "I will certainly support it. I have and I will continue to support it. And I want to get the research going."
They talked some more about alternative medicine and about Quinn's clinical trial. "She's only 3. She's gorgeous," said her mom. "She deserves so much. So thank you so much. It was nice to meet you..." When Stumpf turned to leave, Clinton asked her to wait for an aide to collect some contact information first — to stay in touch.
Later, standing near the porkchop stand, after her two hours at the fair were almost up, Clinton said she was grateful for the exchange with Stumpf. Hearing stories like Quinn's — "that's what helps me think about what I can do to help them."
"That's what I want. I want to hear directly from people," said Clinton. "That's really what it's about for me."
There's no question that Clinton can impress, or disarm, voters on the campaign trail when she gets the chance. On Saturday, Harkin suggested that this was the Clinton he'd gotten to know as a colleague — "off the corridors of power, away from the cameras."
But it's not always easy for Clinton to "hear directly from people." And most voters can't see Clinton "away from the cameras," like Harkin. Or force a way in, like Stumpf. Or get close enough, from some spot outside "the box," as John Shepard described what surrounded Clinton at the state fair, to see something real inside.
And as it played out on Saturday, this reality seemed most manageable for the person at the very center. When someone asked Clinton about the chosen end-point for her tour of the fairgrounds — the porkchop tent — the answer seemed obvious as soon as she said it. "I am just going along the route they mapped out."
The box, for Clinton, will always be there. This was one more fair — no more chaotic than the marches and parades of her last campaign, or the state fairs of her years in the Senate. This was, in fact, normal. "I loved it," Clinton said. The New York State Fair, she recalled, had crowds just as big and intense as Iowa's.
"There were always people everywhere," Clinton said. "Just like here."
"I have a lot of practice."