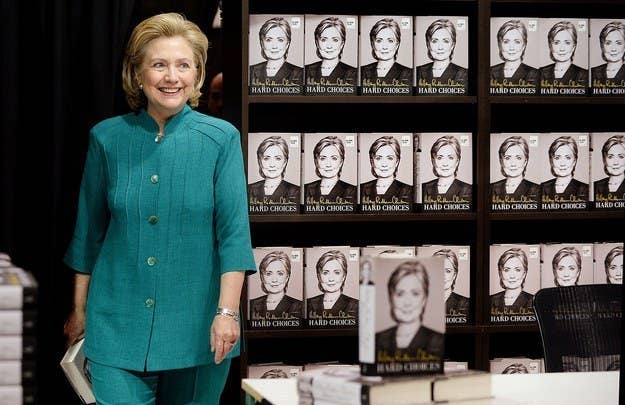 Hillary Clinton's new memoir, Hard Choices, topped the Barnes & Noble best-seller list in its first week, according to the company's Nielsen BookScan sales numbers released to publishers on Monday and obtained by BuzzFeed.
Barnes & Noble, the country's largest retail bookseller, has sold just over 24,000 copies of the book since its release on June 10. Hard Choices debuted at No. 1 on the bookseller's hardcover best-seller list, which includes fiction and nonfiction.
Clinton's memoir edged out the new Diana Gabaldon book, Written in My Own Heart's Blood, for the top spot, selling just 319 more copies, according to the sales list. (The Gabaldon book, released on the same day as Clinton's, is the eighth installment in her long-running historical sci-fi romance Outlander series.)
Hard Choices is Clinton's second memoir. The 656-page book tells the story of her four years as President Obama's secretary of state. Democrats have said they hope the book, and the coast-to-coast publicity tour that began last Tuesday at a Manhattan Barnes & Noble, will preface another White House bid in 2016.
Bookstores and other retailers ordered through the first printing of Clinton's book — which totaled 1 million copies — two weeks before it had even been published.
The Barnes & Noble BookScan figures provide the first, if partial, glimpse at consumer interest. The figures, released Monday, only represent Barnes & Noble sales. They also do not include sales for e-books, made for tablets like Kindle.
But the numbers do indicate that Hard Choices has not performed as well in its first week as Clinton's first memoir, Living History, did in 2003.
At the time, Barnes & Noble spokeswoman Carolyn Brown told CNN that they sold more than 40,000 copies of Living History in 24 hours, breaking the Barnes & Noble release-day sales record. The BookScan numbers released Monday, which cover sales for the week ending on June 15, show the company sold just over half that amount in hardback copies of Hard Choices.
Barnes & Noble sales represent a smaller share of the book market than they did in 2003, when Amazon and other online retails were less dominant.
Clinton's first book told the story of her childhood, her life with Bill in Arkansas, and her time as first lady. The memoir amounted to Clinton's first major account of a tumultuous eight years in the White House — her take on the impeachment, Monica Lewinsky, and the investigations that dogged her husband's administration.
That book sold more than 1 million copies in its first month. Interest in Living History was so high that Simon & Schuster printed an additional 50,000 copies in the first week — on top of its first printing of 1 million. (The publisher has not released information about a second printing of Hard Choices.)
Clinton kicked off her book tour at a Barnes & Noble in Manhattan's Union Square last Tuesday, where more than 1,000 people purchased copies and waited in line for autographs. Since then, she has held 10 events in six cities to promote the book.
This week's New York Times best-seller list comes out on Wednesday evening. Clinton allies are waiting to see where Hard Choices starts on the list — Living History debuted at no. 1 — and for how long it's able to stay on.
Spokespeople for Barnes & Noble and Simon & Schuster did not respond to requests for comment on Monday afternoon.