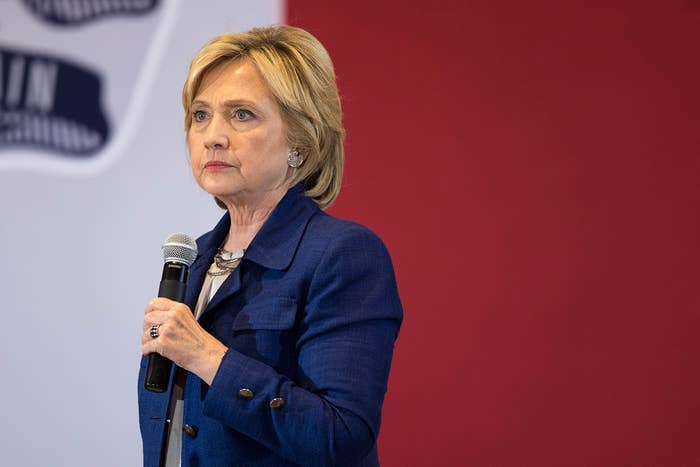 DECORAH, Iowa — Hillary Clinton likes to tell voters that, as president, she'll tackle two sets of problems: the ones that "fill the screens" — and further from headlines, the ones that "keep you up at night, that you talk about around the kitchen table, that are a source of worry and concern."

On Monday, during twin college campus stops across northern Iowa, Clinton said she wanted to put an issue from the latter category at the fore of her presidential campaign: campus sexual assault.
"Thankfully, this is an issue that has finally gained the attention it deserves," Clinton told an audience of about 500 students and local residents at the University of Northern Iowa, during first event of the day. "But it is not enough to condemn campus sexual assault. We need to end campus sexual assault."
Clinton framed the problem as part of a "broader campaign" she hoped to wage against violence "that stalks and afflicts women and girls at home and across the world" — not just on campuses, she said, but in the workplace, military, and in homes.
Aides outlined the plan in three parts: Clinton, they said, would work to provide more comprehensive campus support to survivors; to ensure fair processes in schools and in courts; and to increase programs that, starting in high school, aim to educate students about consent and prevention. At her events on Monday, Clinton did not detail the plan further beyond these "three core principles," as aides described them.
Clinton's proposals do not differ broadly from those put forward by the White House and, in Congress, by Sen. Kirsten Gillibrand. The New York senator has proposed legislation with Claire McCaskill that has support from Republicans, including Sen. Marco Rubio, who is a co-sponsor on the bill.
But to date, Clinton is the only presidential candidate to highlight campus sexual assault as a central and distinct part of her campaign. Rand Paul and Ted Cruz, two Republican senators running for president, have both publicly supported a separate bill by Gillibrand to overhaul the way sexual assault cases are adjudicated by the military.
This summer, Clinton also released a plan to better handle cases of mental health and substance abuse after hearing repeatedly from voters about the issue on the campaign trail. On Monday, she raised campus sexual assault as another question not frequently discussed in presidential politics.
"I intend to keep talking about it," Clinton said.
Campuses, she said, must offer "every support she needs and will make sure that those services are comprehensive, confidential, and coordinated." But, Clinton noted, many schools don't offer students a clear route to health care and counseling services — and some don't offer support services at all. Other colleges and universities, she said, "present a maze of bureaucracy that forces survivors to navigate that without any real help at the most painful times in their lives."
In Cedar Falls, Clinton told the crowd that one in five women report they were sexually assaulted in college, a statistic often cited by politicians that is also a source of debate. "Think of the impact on their lives while they're trying to manage the emotional, the physical, sometimes the educational, financial fallout," said Clinton. "They miss classes, some drop out, some never finish their education."
She also suggested that she would propose policy changes to the criminal justice system — and encourage schools to do the same to their own disciplinary procedures — to "ensure a fair process."
"Rape is a crime wherever it happens," she said.
Before her speech, Clinton met with about 15 students and local activists to discuss the ideas, an aide said, and to encourage feedback. "There are good smart solutions," she told the crowd in Cedar Falls. "We just need more of them."
Clinton closed the speech with a message to survivors: "Don't let anyone silence your voice," she said. "You have the right to be heard. You have the right to be believed. And we're with you."