Hillary Clinton Warns Against U.S. Intervention In Iraq
The former secretary of state emphasizes Iraqi governance failure, Syrian spillover as causes of Iraq conflict.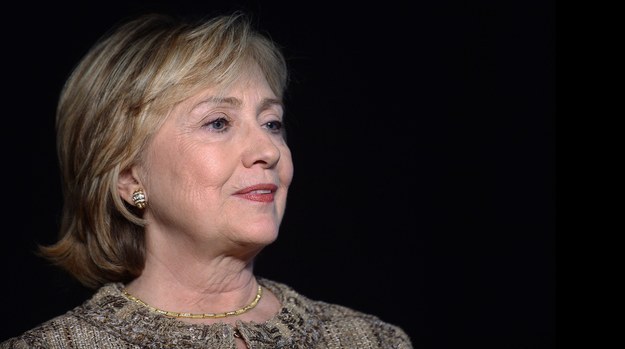 WASHINGTON — Hillary Clinton warned that military intervention in Iraq, where Islamist militants have seized parts of the country, would be a "delicate and difficult task for our government because we certainly don't want to fight their fight."
"You'd be fighting for a dysfunctional, unrepresentative, authoritarian government," she said on Friday at George Washington University. Clinton talked at length about the unfolding crisis in Iraq, where the extremist group, the Islamic State of Iraq and Syria, has moved from Syria, taking hold of cities north of Baghdad.
"There's no reason on earth that I know of that we would ever sacrifice a single American life for that," Clinton added.
President Obama said on Friday that he would not send troops into the country, but would weigh other military options, including airstrikes.
Clinton, who stepped down as secretary of state last year, was at the university to promote her new book, Hard Choices, at an event sponsored by the bookseller, Politics & Prose. Lissa Muscatine, a former aide who owns the store and helped Clinton write her first memoir, Living History, moderated the event.
Muscatine asked Clinton to weigh in on the developing situation in Iraq. Clinton's comments focused almost entirely on what she described as a dysfunctional government run by Iraqi Prime Minister Nouri al-Maliki.
"The underlying problem though here is not one of military preparedness and security," said Clinton. "The problem is the conception of leadership and governance that Maliki brought to the job of prime ministership."
"He would not commit to an inclusive government. He would not share power except with a very, very small circle. He was often quick to attack — even investigate, charge with crimes — those who politically disagreed with him."
Maliki's "failure at the governance level" — combined with the "extraordinary success of Islamist extremist groups in Syria" — has made the crisis in Iraq "especially dangerous," Clinton said. "It's a recipe for a horrendous conflict."
Clinton said that Maliki's requests of the United States for airstrikes would be "carefully considered" by the Obama administration. "But I think it's also imperative that Maliki be presented with a set of conditions if you are even to discuss seriously any kind of military support for the fight against the jihadists."
Before moving on from the topic, Clinton referenced the chapter in her memoir about Syria, which she titled, "A Wicked Problem." The problem has now "gotten just wickeder," she said, "because of the spillover into Iraq."