Hillary Clinton In Hospital's Locked Down VIP Wing
A blood clot between her brain and skull, doctors say.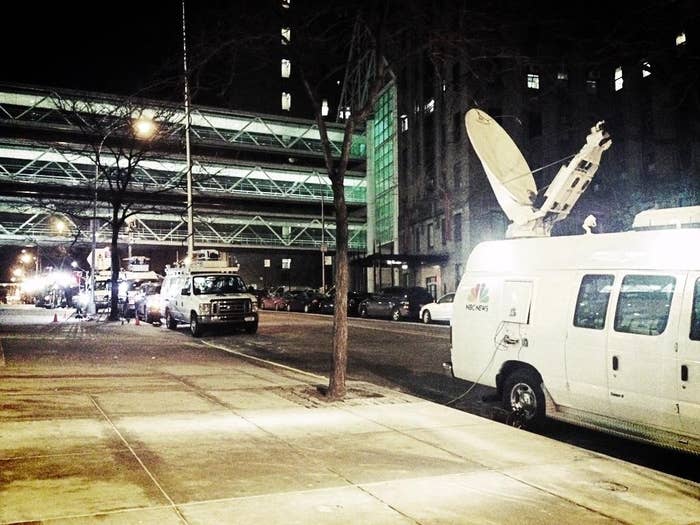 Ten TV news satellite trucks stood vigil outside the Milstein Hospital Building at New York Presbyterian before sun-up Monday morning on a freezing-cold New Year's Eve, waiting for a trace of the Secretary of State.
Hillary Clinton, receiving treatment for a blood clot, was inside — or, at least, that was the idea.
"We don't even know if this is the right building," said one photog setting up a live-shot for a network morning news show. "Just because there are trucks here, doesn't mean she's here."
But a hospital administrator told BuzzFeed that Clinton is in fact inside the building — on lock-down on the 9th floor of the hospital, in what he called "the VIP wing" — where he said he'd seen her himself.
"Oh, she's here," he said. "You can't get near her. She's got secret service up there, too."
(Clinton is sometimes guarded by Secret Service and sometimes by diplomatic security; it wasn't clear which group was on duty Monday.)
That 9th floor VIP wing is the same place President Bill Clinton, her husband, underwent bypass surgery in 2004.
The administrator, who arrived at the hospital early Monday morning, estimated Clinton had 15 to 20 people in the hold with her, where the entire wing had been closed off.
"When I got here there was only one truck," he said, pointing at the satellite cars across the street. "Then it was like — boom, boom, boom, boom — everyone was here."
But the corner of Fort Washington Avenue and 168th Street was quiet. Standing camera kits lit up the block, but no sign of Clinton or increased security could be seen. Reporters and producers would step outside their SUVs and set up their cameras — "the State Department isn't giving us much in the way of information" — only to shuffle back inside their warm cars a moment later.
Confusion persisted among the press — and even hospital staffers — who gathered outside the Milstein building during the early morning.
"What's all this for," said one hospital employee on her way into the building, dressed in scrubs, not knowing the Secretary was inside receiving treatment.
By 8 a.m., some of the satellite trucks were packing up shop. A local camera crew said they were staying put. "We've got another show at 12," they said. "And plus we're waiting for Bubba to show up."
When asked to confirm the details of Clinton's stay, a hospital spokeswoman referred the request to the State Department. Philippe Reines, Clinton's personal spokesman, did not immediately return a request for comment.
In a statement released late Sunday night, Reines said Clinton was undergoing treatment with anti-coagulants for the blood clot, "stemming from the concussion she sustained several weeks ago."