Hillary Clinton Stays Out Of The Foreign Policy Fray
Clinton has tiptoed around a series of major national security developments, even as Republicans have targeted her record. "It's a challenging position."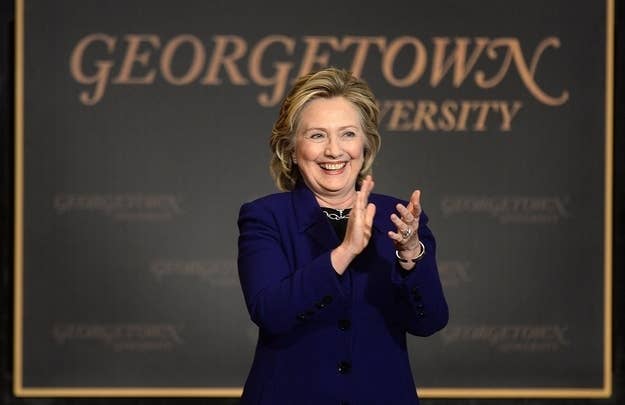 In the last year, as crises overseas have tested U.S. foreign policy — from Egypt to Syria to Ukraine — the nation's former top diplomat has responded with restraint and, sometimes, silence.
Hillary Clinton has yet to comment on Russia's invasion of Ukraine, a situation that escalated Saturday when 6,000 troops moved into the province of Crimea. Even as Republicans have criticized the former secretary of state for her implementation of Obama's "reset" approach to Russia in recent weeks, Clinton has stayed quiet. Her spokesman did not respond to an inquiry on Monday about the still shifting conflict.
Late last year, Clinton did tweet twice about ongoing Ukrainian protests, which she said she was watching "with alarm." And at a speech in Florida last Wednesday, before tensions in the region escalated, Clinton advocated for a "unified Ukraine" and predicted Putin would "consolidate the position of Russia in eastern Ukraine."
But since stepping down from her post as secretary of state last February, Clinton has shown caution in choosing what and when to respond to unfolding national security developments. In the months that followed, Gen. Abdel Fatah al-Sisi assumed control of Egypt; President Obama pushed for military intervention in Syria; and negotiations over Iran's nuclear program began, subsequently launching a sanctions debate on Capitol Hill.
Clinton's twin status as a possible presidential candidate and a onetime cabinet member of the current administration has created a tenuous political balancing act.
After a chemical weapons attack in Syria last summer, Obama announced on Aug. 31, a Saturday, that he would ask Congress for the authority to retaliate with military action. That Tuesday, amid calls that Clinton weigh in, an anonymous Clinton aide gave a statement to Politico that backed the president. It wasn't until the following Monday, Sept. 9, that Clinton addressed the topic herself, during a previously scheduled appearance at the White House.
On issues like the civil war in Syria, and now the Russian actions in Ukraine, Clinton has been careful to stay out of the fray. She has largely deferred to the president's strategies, taking her time to comment on breaking news abroad.
The strategy, foreign policy hands say, is the only one that makes sense for Clinton.
John Bradshaw, executive director of the National Security Network, a left-leaning think tank, noted that any former cabinet official active in political debate runs the risk of undermining or upstaging his or her successor.
"Most secretaries have tended to be very careful about weighing in on their successors' policies," said Bradshaw, pointing to the uproar caused by a candid memoir published in January by former defense secretary Bob Gates.
"In the case of Clinton, everything she says will be read through a political lens," he said. "It makes it hard for her to engage on these issues in a helpful way."
"If she says anything, people are going to jump to say she's trying to overshadow Kerry or advance herself at Kerry's expense," said Philip Seib, the director of the USC Center on Public Diplomacy. "If she does say anything, it's going to be a general statement of support of Obama's foreign policy."
Condoleezza Rice, the secretary of state under George W. Bush, was similarly reticent to weigh in publicly after leaving her post at Foggy Bottom. (Though Rice did push for U.S. intervention in Syria more recently.)
"Former secretaries of state as well as former presidents stay away from commenting on foreign policy developments," said Joe Trippi, the veteran Democratic strategist. "You don't see George Bush commenting either."
Clinton is also more likely to be vocal on debates pertaining directly to her legacy at the State Department. Earlier this year, when Congress considered whether to impose new sanctions on Iran, Sen. Carl Levin of Michigan wrote to Clinton to ask for her guidance; 10 days later, she sent him a lengthy reply that backed Obama but also highlighted her work to lay a foundation for Iranian nuclear talks.
"As Secretary of State," she wrote to Levin, "I spent four years sharpening a choice for Iran's leaders: address the international community's legitimate concerns about their nuclear program or face ever-escalating pressure and isolation."
"She is weighing in on issues where she feels the administration is building on her legacy as secretary of state," said Bradshaw.
Clinton may shy from the conflict in Ukraine, as Republican lawmakers and pundits have already targeted the former secretary as the face of the administration's attempt to "reset" relations with Russia five years ago. On her second trip abroad as secretary, Clinton memorably presented Sergei Lavrov, Russia's foreign minister, with a button bearing the wrong word for "reset." (Peregruzka, the word Clintons aides mistakenly printed on the yellow and red button, means "overcharge.")
Sen. John McCain invoked the slip-up in an interview with the Daily Beast last week. Echoing the words Lavrov spoke to Clinton that day in Geneva — "You got it wrong" — McCain told the website, "Of course she got it wrong."
Paul Saunders, a former State Department official and the executive director of the Center for the National Interest, said Clinton will have to grapple with her critics or answer for her relative quiet on these developments two years from now, should she ultimately run as the leading Democratic contender for the White House.
"There will be a number of Republicans who, if she doesn't say anything, will during a general election campaign say, 'There was a crisis in Ukraine and Secretary Clinton was silent,'" Saunders said. "It's a challenging position."
Clinton, whose next memoir is set for release this summer, will have an opportunity, either in its pages or on book tour, to stake out more nuanced positions in both domestic and foreign policy debates ahead of her possible campaign.
"Eventually," said Bradshaw, "she is going to have to weigh in on all of these issues at some point, whether it's Ukraine or Syria."