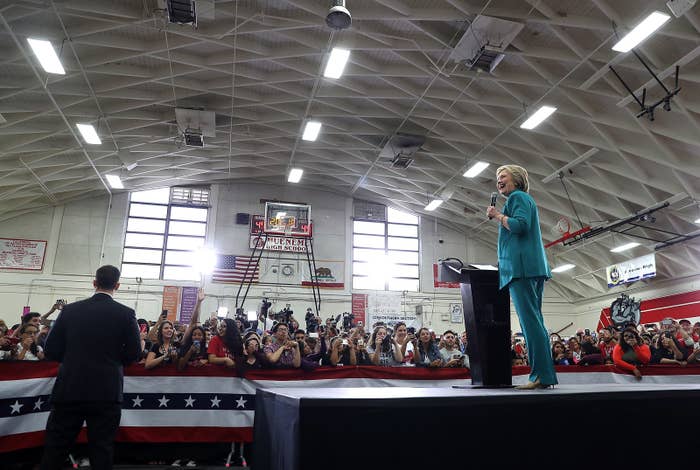 OXNARD, Calif. — "Yesterday in San Diego, I had the opportunity to—"

Before Hillary Clinton could finish the sentence, or even mention the speech, the crowd in Culver City cut her off with cheers. Later that day, in Westminster, it happened again. And again in Santa Ana. And again in San Bernardino.

By the time she arrived here on Saturday in Oxnard, Calif. — her ninth stop since delivering Thursday's major foreign policy address against Donald Trump — she seemed ready for the spontaneous applause that filled the gym at Hueneme High. As she spoke, a handmade sign popped up from the crowd: "Madam President," it read in thick red and black sharpie. "We were proud of your speech in S.D."
In the days since San Diego, aides and supporters have said they see the speech "breaking through the noise," as one put it — and resonating on the trail to a degree Clinton hasn't seen in past efforts to draw sustained attention to Trump's failed businesses, for instance, or to his comments about profiting from the housing crisis.
Clinton and her aides were particularly gratified to see voters respond with recognition to the speech across California, where she and her husband are on a five-day breakneck schedule of roughly 40 combined events and retail stops.

When the audience in Westminster erupted into applause at mention of the speech, a surprised smile spread across Clinton's face. "Thank you! Well, thank you," she exclaimed. "I appreciate your paying attention, maybe watching it online."
Brian Fallon, Clinton's national press secretary, described the speech as a watershed moment for the campaign.
"Sometimes in the face of a bully, even well-meaning people can find themselves cowed, if not outright joining ranks with the bully. Then someone comes along who is willing to stand up to the bully, and it is a restorative moment," Fallon said. "She did that Thursday, and it has fundamentally altered people's outlook on the race."
During and after the address, campaign officials also observed higher than usual levels of engagement from voters online. Clips of the speech have been viewed nearly 4 million times on the campaign's Facebook page, according to an aide, including nearly 600,000 views on Facebook live from San Diego.

The speech, aides also noted, received segments on all three nightly news broadcasts and drove cable coverage through the end of the week, save for the interruption of protesters that turned violent outside Trump's rally in San Jose.
The speech also offered Democrats a clearer picture of how the campaign will attempt to define an "target-rich" opponent. Previously, Clinton's sometimes scattershot approach has drawn criticism from inside her world of support.

In conversations this week, campaign officials attributed Clinton's success in San Diego to a convergence of factors: a crisp, comprehensive message about the implications of Trump's words and proposals; a sharp, forceful case against his qualifications; and a reminder of "what presidential looks like," one aide said.

On stage, set against a backdrop of 15 flags, a teleprompter to her left and right, Clinton spoke in sweeping terms about American values and outlined a list of hypothetical scenarios that a commander-in-chief might face — decisions that can determine life, death, and the moral and ethical character of the country.

Clinton has mentioned the speech at nearly every one of the rallies and roundtable discussions she's held since she arrived in the state on Thursday morning. Perhaps not since October, when she appeared at the Benghazi hearing and in her first debate against Bernie Sanders, has another event on the campaign trail had such an immediate impact on the narrative and momentum of Clinton's candidacy.

But the San Diego speech, with a setup befitting an appearance she might have made as secretary of state, seemed a more natural setting for the candidate. (After that first debate, one aide recalled this week, Clinton had no idea her performance was one that would stick with people. Offstage, she was taken aback when a staffer showed her the headline leading Politico's homepage, "Clinton crushes it.")
This time, "she knew," the aide said, describing a 10-day process between Clinton, speechwriters Megan Rooney and Dan Schwerin, and foreign policy advisers Jake Sullivan and Laura Rosenberger, that left the candidate on Wednesday with a draft she felt she would "express herself as herself, but also really take it to him."
Clinton won't attempt to replicate the San Diego speech at every rally or campaign event, said Nick Merrill, Clinton's spokesman. He described the address instead as a "framework" to draw from as the candidate moves into a general election.
"This speech was about reminding people that there is only one president in this race, achieved by simply laying out what her opponent stands for, using his words. She presented that alongside an articulation of the American values that have made us who we are," said Merrill. "It was about laying down a marker, establishing a framework that we will point to as we go forward."
Clinton repeated the basic message from the speech at rallies over the weekend, telling voters she is "determined" to "expose Donald Trump's lack of qualifications to be the president of the United States and the commander in chief."
The address in San Diego "outlined all of it," she told a crowd at her rally in San Bernardino. "Because look, people are going to vote for whoever they decide to vote for. But I want there to be no mistake about what this man has said and what he has done and what it would mean to our country and the world."
On Saturday in Oxnard, backstage after the event, aides presented Clinton with the sign praising her San Diego speech. The owner had come to the ropeline hoping for an autograph.
Clinton left her signature and a quick note: "Thanks!"