Hillary Clinton In 2012: Caucuses Are "Creatures Of The Parties' Extremes"
She made the remark in an email to Sidney Blumenthal four years after her loss in Iowa.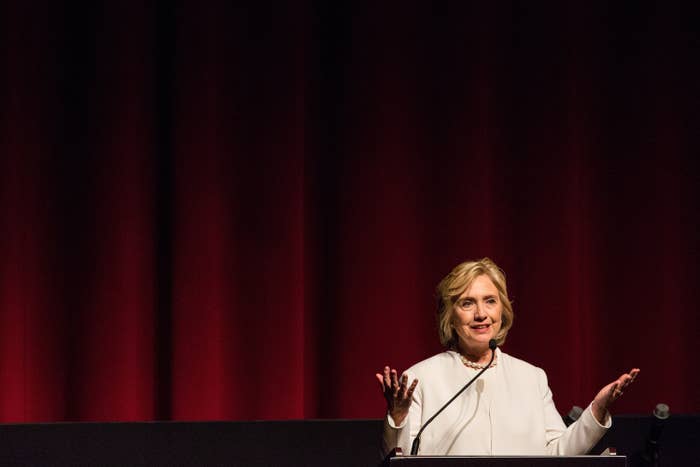 At the height of the 2012 Republican primary — four years after losing her first campaign on insufficient caucus organizing, and two before launching her second committed to rectifying that mistake — Hillary Clinton still felt disdain for the voting process known as caucusing.

In an email, sent on Jan. 22, 2012 and made public on Monday, Clinton described the caucuses as "creatures of the parties' extremes."

The candidate and her husband, former president Bill Clinton, have long expressed private frustration with the caucus process. In caucus states, including crucial early states such as Iowa and Nevada, voters cannot simply cast a ballot: They're asked to attend a caucus site at a designated time and place and express their preference for a candidate in an extended group process.
In the email, sent to longtime adviser Sidney Blumenthal, Clinton handicapped the GOP race in Florida: If Mitt Romney ("Mittens") can't beat Newt Gingrich ("Grinch"), Clinton ventures, "there will be pressure on state Republican parties to open or liberalize ballot access especially in the caucuses, which as we know are creatures of the parties' extremes."
Along with hundreds others, the email was made public by the State Department on Monday as part of an ongoing release of correspondence from Clinton's four years as secretary of state.
Her second presidential campaign, now seven months in progress, has invested far more heavily than her first in organizing and in the caucus states. In 2008, unlike Barack Obama's campaign, the Clinton team failed to make a consistent commitment to organizing. They suffered most in the caucus states, where candidates stand to benefit even more than in typical primaries from a corps of passionate volunteers.
After Clinton won the vote in the Nevada caucuses, for instance, she defeated Obama in just one other caucus contest: the American Samoa.