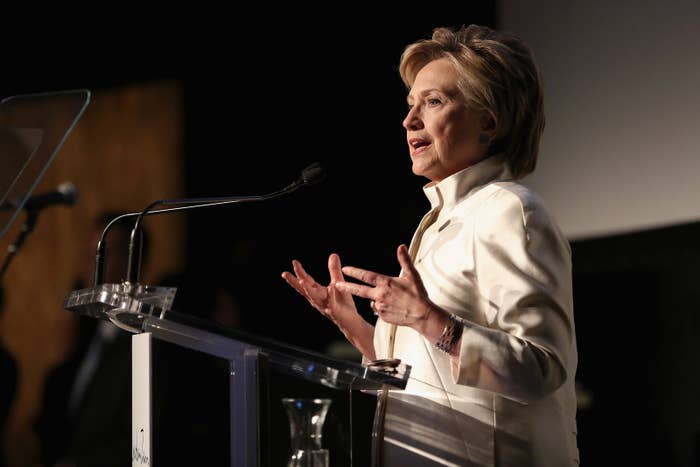 Hillary Clinton has hired two political operatives from her 2016 presidential campaign to help manage Onward Together, the project she founded this spring with former governor Howard Dean to fund and support a coalition of Democratic groups led by activists and organizers.
The new additions, Emmy Ruiz and Adam Parkhomenko, held central roles on Clinton's campaign: Ruiz delivered key victories as state director in Nevada during the primary and in Colorado during the general election; Parkhomenko worked in headquarters as her director of grassroots engagement before moving to the Democratic National Committee. Both served on Clinton's first presidential bid in 2008.
Dean, the Onward Together co-founder, confirmed the recent hires on Friday. The two former campaign aides will be working on Onward Together as consultants.
Clinton's new group, registered in May as a 501c4 organization with an affiliated super PAC, is working to establish a small but diverse cooperative of about 10 to 12 grassroots efforts, each one focused on a different area of the energy and activism set off by Donald Trump's election and presidency. Dean said they are still in the process vetting groups to add to the coalition, which already includes organizations such as Swing Left, Emerge America, and Run For Something.
Ruiz, last with Tom Perez's successful campaign for DNC chair, has been working to systemize and add structure to that process, steering the process and guiding next steps, while also working the collection of outside groups.

"She's moving us right on task, which is what we really needed," said Dean.
Parkhomenko, a longtime Clinton loyalist who founded the PAC Ready For Hillary in early 2013, will focus on the larger political landscape for both Onward Together and, tangentially, Clinton's activity on behalf of Democrats, looking at the question of how, when, and where she can be helpful to candidates in upcoming races.
That Clinton play a role at all in electoral politics after her failed 2016 campaign is a source of debate among Democrats, some of whom have said that the former candidate should to step back, moving aside for new voices in politics. Clinton, however, has made it clear she is not receding entirely into private life: She's made headlines for pointed remarks about Trump and Russia, and has a new memoir coming out next month that aides have described as a candid and at times raw account of the Democratic primary fight and the general contest against Trump.
Clinton has received at least one initial request to help New Jersey gubernatorial candidate Phil Murphy, according to a Democrat close to the campaign there. In the 2018 election, there could be other opportunities in the 23 congressional districts that Clinton carried at the top of the ticket but Republicans held down-ballot.
Ruiz and Parkhomenko, who both started their work at Onward Together this summer, will join a small core team that includes Dean, the former Vermont governor and DNC chair, along with Judith McHale, an undersecretary under Clinton at the State Department, and Amy Rao, a Silicon Valley businesswoman and a longtime supporter and donor. The aides in Clinton's New York office, including former campaign vice chair Huma Abedin, finance director Dennis Cheng, and press secretary Nick Merrill, are also working on the project.
Dean and McHale in particular have been working on vetting groups, which are expected to submit a budget for funding and provide a full account of their activity and management setup.
Clinton and her aides have also spent the summer on her upcoming memoir, What Happened, which will be published in September, followed by a book tour.
Some of the fundraising work has already started, "but it's been slow going because we've all been so busy," said Dean. "Now that we've got some staff it's really terrific. Somebody had to have the big picture, and that would now be Emmy and Adam."