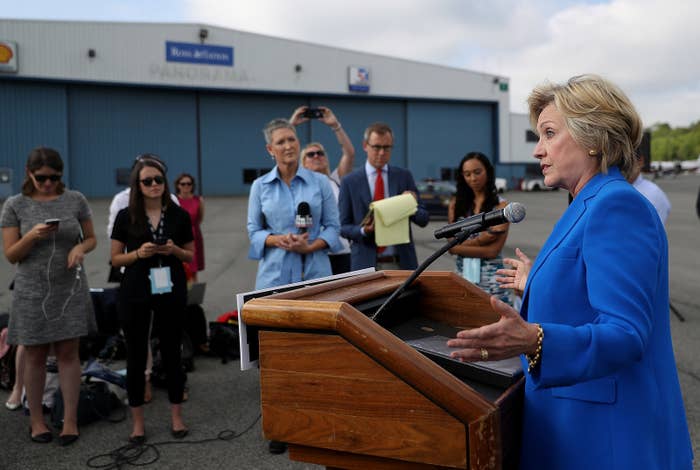 WHITE PLAINS, N.Y. — Delivering a rebuke of Donald Trump's national security credentials here on Thursday, Hillary Clinton did something that, these days, is more unusual than not for the Democratic nominee: calling out the Republican Party.
"Republicans are just in a terrible dilemma trying to support a fully unqualified nominee. I have no sympathy for them," she told reporters during a tarmac press conference before taking off to campaign in North Carolina and Missouri.
"He's their nominee."
Clinton called on Republicans to reject what she cast as Trump's "scary" and "disqualifying" candidacy and offered a sharp response to his performance in Wednesday night's NBC News Commander-in-Chief Forum, a pair of back-to-back interviews with both candidates on national security and veterans issues.
Since late this spring, Clinton has sought to avoid alienating Republicans, attacking their nominee not on mainstream GOP policy, but as an outlier with questionable temperament, qualifications, and character — too extreme for his own party.
She and her campaign advisers have spent the summer and early fall aggressively courting endorsements from across the aisle, launching a so-called "Together For America" initiative last month aimed at Republican and Independent voters.

Rarely does Clinton put the mainstream Republican Party in her crosshairs or address the GOP in language as harsh as she used albeit briefly here on Thursday, standing on the Westchester County tarmac in front of the campaign's new "Stronger Together" Boeing 737, which shimmered nearby in the morning sun.
"Every Republican holding or seeking office in this country should be asked if they agree with Donald Trump about these statements," Clinton said.
"I was just thinking about all the presidents that would just be looking at each other in total astonishment. What would Ronald Reagan say about a Republican nominee who attacks American generals and heaps praise on Russian presidents?"
"I think we know the answer," she added.
In Wednesday's forum, Clinton received a series of tough, at times biting questions about her private email server and her support for the war in Iraq. Trump, speaking second, was not questioned by NBC moderator Matt Lauer on his public support for the U.S. intervention in Iraq and Syria, which he now denies he ever voiced.
Instead, Trump spoke in vague terms about a plan for ISIS he says he won't reveal for strategic reasons ("The word is unpredictable") and about what he would do in the Middle East ("Take the oil") — comments Clinton seized on Thursday morning.
Trump has not outlined his ISIS plan, she claimed, because "the truth is, he doesn't have one."
And "'take the oil?'" she said incredulously. "The United States of America does not invade other countries to plunder and pillage. We don't send our brave men and women around the world to steal oil, and that's not even getting into the absurdity of what it would involve: massive infrastructure, large numbers of troops, many years on the ground. Of course, Trump hasn't thought through any of that."
Clinton argued that terrorists would only be encouraged by a president who has made statements as controversial as Trump's — particularly, she said, his proposal late last year to ban Muslims entering the country and his attack this summer on the Gold Star family of the late Captain Capt. Humayun Khan.
And for the third time this week, she referenced an article by Matt Olsen, the former head of the National Counterterrorism Center, which raises comments by ISIS members and spokesmen such as "I ask Allah to deliver America to Trump" as a source of concern and alarm — proof that terrorists are "rooting" for Trump.
"A very distinguished and effective former director of the National Counterterrorism Center was so disturbed by what he has seen coming from the Trump campaign that he wrote an article," Clinton said.
The research showed, she warned, that Trump would amount to a "gift to ISIS."