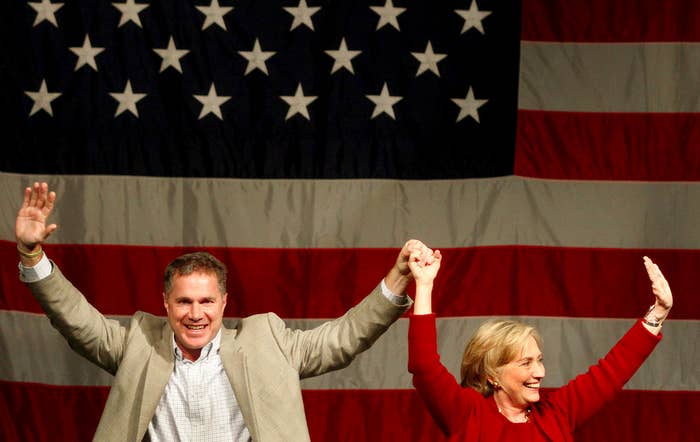 DAVENPORT, Iowa — She recalled campaign visits to the Teamsters hall, and remembered "barbeque and blues festivities" at the River Music Experience. She stressed what a "great personal pleasure" it was to be back in Cedar Rapids, and how impressed she's always been "by the history and beauty" of Davenport. And she told a crowd at the first of two rallies in Iowa on Wednesday afternoon just how hard it'd been to watch severe flooding here scourge the cities and towns she'd spent months getting to know during her presidential campaign six years ago.
Hillary Clinton paused on the solemn note at a Cedar Rapids labor hall.
"I watched with such distress," she said. "When you've been somewhere and you envision the places you've visited, it's heartbreaking to watch the destruction."
It didn't look like Clinton had an "Iowa problem" here on Wednesday. And state Democrats don't seem think there is one, either.
The former presidential candidate knows the place pretty well for someone who, as local Democrats have said in the past, could never quite gel the way she needed to with the state that historically gets to go first in the nominating process. Since that crippling third-place finish in the caucuses behind Barack Obama and John Edwards, then both senators, Clinton's missteps in Iowa have been retraced again and again.
There was a perception that Clinton couldn't connect in 2008. She worked rope lines more than she talked one-on-one with voters. Her events were tightly controlled. She didn't take questions. And hanging over her campaign was an unhelpful internal memo, leaked to the press months before caucus night, advising she forgo Iowa altogether.
In the past year, the theory has persisted: State Democrats are wary about the prospect of another go-round with Clinton; they want to weigh their options, find a challenger, or at least see her work harder for it than she did in 2008.
But Clinton has returned twice to the state in as many months this fall — first for Sen. Tom Harkin's annual Steak Fry fundraiser, and again on Wednesday to headline twin rallies for Rep. Bruce Braley, the Democrat in a toss-up race for U.S. Senate.
State leaders said in interviews this week that Clinton has easily reestablished a connection here and fostered fresh goodwill, particularly in her efforts to help Braley. And at her events on Wednesday, Clinton showed she could play to the crowds, making references to local political establishments in her speeches, calling out individual Braley volunteers by name to thank them, making time for an unannounced stop at a restaurant in Iowa City, and joking about that special kind of devotion to presidential politics for which the early-voting state is known.
Her problems here were always overstated, said Teresa Vilmain, the 2008 campaign's state director. "Anyone who focuses on that story line is having a slow news day," Vilmain said. "Iowans are still excited to see her and hear from her."
A poll this month found 76% of likely Democratic caucus goers view Clinton favorably.
Janet Petersen, an Iowa state senator who supported Obama in the primary, said Clinton has "built up a lot of goodwill" by campaigning for Braley. She discounted the idea that Clinton has any outsize hurdles to overcome in the state.
"It's always interesting to see what the national media is covering with the caucuses. It's generally not what we're seeing on the ground," Petersen said.
Clinton's first event of the day was a Cedar Rapids rally with Braley — who is close to tied in polls with his Republican opponent, state Sen. Joni Ernst — at the local 405 of the International Brotherhood of Electrical Workers. The brown- and beige-colored union hall where Clinton spoke to a crowd of about 400, as estimated by the Braley campaign, is also headquarters to the Hawkeye Labor Council, a coalition of 45 unions in seven counties. Clinton made a point to mention that. (Ahead of 2008, the president of that council, Justin Shields, co-chaired her state campaign.)
"I know we've got some teamsters here today," Clinton said looking out at the audience.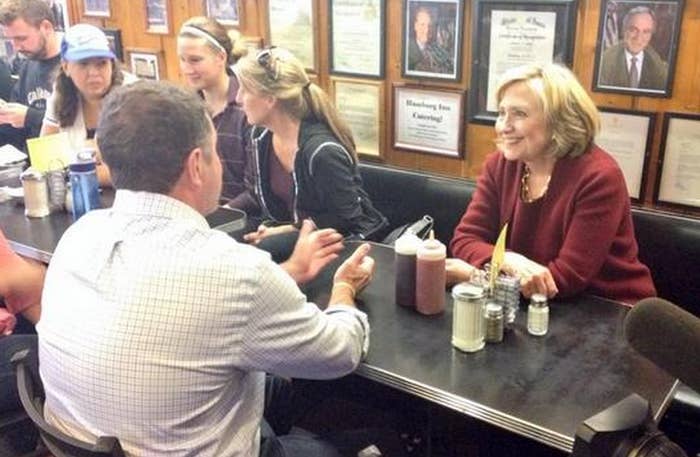 After the rally, Clinton rolled out of the union hall parking lot in a black van amid a string of seven other cars, and headed for Iowa City. There, she made a off-schedule stop with Braley at the Hamburg Inn restaurant. Clinton ordered a chocolate bourbon pecan pie milkshake, or pie shake, and sat down at a table just below a framed photo of Harkin. (Her husband's picture was hanging not too far away.) A group of young women one spot over struck up conversation. Clinton talked about her new granddaughter, and whether she'd watch the seventh game of the World Series.
The ordeal didn't last long. (Clinton has made similar drop-ins during trips to rallies in Colorado and Illinois this month.) But the brief stop amounted to rare time with voters, not spent from the lectern or a hurried, hectic ropeline. And to longtime political observers in Iowa, it signaled a change in Clinton's approach.
John Deeth, an Iowa political blogger, used to feature a count on his homepage of the number of days Clinton had spent away from Iowa. The final tally: 2,446.
When he saw news of the Hamburg Inn stop, he tweeted a picture of a beret on a plate, set with silverware as if for a meal. "Tonight I'll be dining on this," he said.
Deeth was not able to cover Clinton's visit, though he has long argued that her campaign was far too scripted. "Of course, after six years of loudly demanding that Hillary do exactly this, I'm stuck at the office when it happens," he wrote on his blog.
At her rally in Davenport, Clinton kept up the personal touch, calling out two volunteers from the Braley campaign to thank them by name. "Is Bobby Dodd here? Where is Bobby Dodd? Oh, Bobby. Bobby is 91 years old and volunteering," Clinton said. "What about Judy? Judy Moss? Is she here? Judy? Thank you, Judy!"
Clinton seemed to suggest she'd be ready for the Iowa test next time around. "I don't know any place in America that takes politics more seriously. You take politics seriously because you take public service seriously."
"And you like to test your candidates, don't ya?" she said. The crowd laughed. "You wanna force them to be the best they can be. I have experienced that myself."
"And you wanna know if somebody is here asking you for your votes — they have to answer some tough questions. About what they would do if you gave them your vote. Not in Iowa do people get away with not answering questions."
"Except… questions that are far in the future," Clinton said with a grin and a quick glance at Braley. It was the only reference that day to her possible campaign.
This month, in trips to about a dozen states to campaign for Democratic candidates running in the midterm races, Clinton has kept the focus off herself. She has tamped down the coy references to her potential presidential run, which came up frequently in interviews during a publicity tour to promote her memoir this summer.
"She's made it very clear that she's stumping for other people right now," said Liz Mathis, a state senator who was a caucus leader for Clinton. "She's been very careful to step back and let other people shine. She uses her clout in the right way." Once Clinton "reestablishes herself as 'the candidate,'" Mathis said, "you'll see full commitment, and you'll see that relationship come together with Iowans."
People in Iowa politics haven't forgotten the difficulties Clinton had in the state. This summer, a state newspaper wrote a pointed second-person editorial, warning Clinton to show Iowans she wanted it, "sooner rather than later this time."
And officials with the pro-Clinton group, Ready for Hillary, first landed in Iowa in January to commit early to the state and gather a list local supporters who would back a campaign. (They have not made the length of that list public.)
Jerry Crawford, a mainstay in Iowa politics who supported Clinton in 2008 and has advised Ready for Hillary, said that voters in the state do enjoy a contested race.
"On the one hand, no candidate in the Iowa caucuses has ever approached them with as much organized support as Ready for Hillary has created for Clinton," Crawford said. "On the other hand, caucuses are by nature contentious and contrarian events that appeal most to the philosophical edges in each party. That is how Rick Santorum won Iowa."
Clinton won't have a coronation in Iowa. But any challenger will "have trouble beating her," said Crawford. "She is beloved by mainstream party regulars."
Petersen, the state senator, said that eventually Iowans will want more direct contact with Clinton. "They're used to getting that chance," Petersen said. "With Ready for Hillary, they don't speak on behalf of the candidate. That's not who Iowans want to engage with. They want to get to know the candidate and hear her vision."
"But she's showing us that she's going to be back," Petersen said.