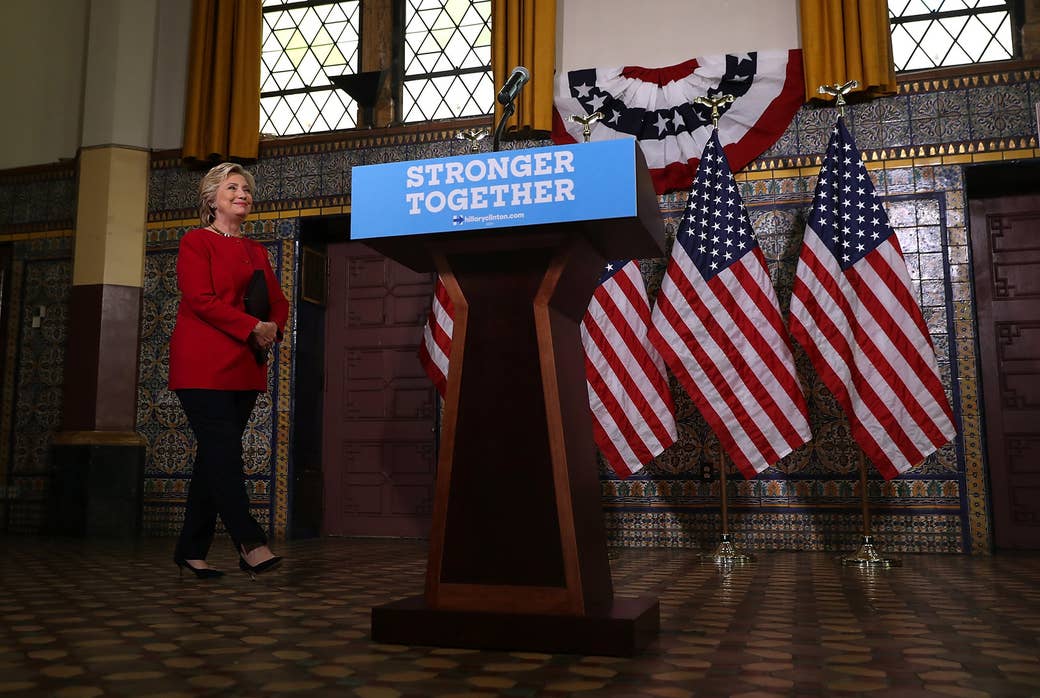 It was November in Iowa, and Martin O'Malley was polling at 4%.

This was not, however, about to stop Hillary Clinton from ensuring that if and when the little-known Maryland governor attacked her ties to Wall Street on the debate stage, which he did, she would be ready with a perfectly tailored response, which she was.
"Well, you know, governor," she said, "I know that when you had the chance to appoint a commissioner for financial regulation, you chose an investment banker in 2010."

It was with the same specificity and ease that Clinton landed one hit after the other on Donald Trump in the first debate, weaving into nearly every exchange a dredged-up quote or damning data point from nearly every period of her opponent's life.
"And one of the worst things he said was about a woman in a beauty contest," Clinton said by the end of the night, introducing the world to Miss Universe 1996, whom Trump once criticized for gaining weight. "He called this woman 'Miss Piggy.' Then he called her 'Miss Housekeeping.'"
"Donald," Clinton said, ready with the line. "She has a name."

Trump put his face to the mic. "Where did you find this? Where did you find this?"
"... Her name is Alicia Machado."
"Where did you find this?" Trump asked Clinton a third time.
The question has perplexed her opponents on the debate stage before. But for the aides who have worked with Clinton in close proximity on campaigns, the hyper-specific and obscure jab, delivered with on-the-spot precision, is their boss's trademark. As described by current and former staffers, Clinton is a candidate who insists on being "humongously prepared," who consumes research with "obsessive" rigor — and who, perhaps more than most elected officials, delights in the art form known by political professionals as "oppo."
The work of opposition research is exacting and unglamorous, carried out by hired hands who spend hours filing Freedom of Information Act requests, monitoring cable news, and sifting through LexisNexis search results. The result is the "book," a catalog of every possible hit, both savory and not, on a political foe. It can number thousands of pages, and on most campaigns, the candidate doesn't bother with more than the toplines.
Clinton, meanwhile, has digested something closer to the book itself on nearly every one of her opponents, from O'Malley to Bernie Sanders to Trump. (The New York Times counted "19 pieces of pure oppo" from Clinton in last month's debate alone. And the second debate on Sunday night, held as Trump faces public condemnation from a decade-old video in which he boasts about groping women, promises more.)
Through the Democratic primary, Clinton came to nearly every one of her nine debates against Sanders prepared to inject a fresh line of attack or defense into the conversation, raising for the first time his 2013 health care bill (Debate no. 2), his 2011 vote in favor of regime change in Libya (Debate no. 3), his 2011 suggestion that a progressive mount a challenge against President Obama (Debate no. 4), his 1998 vote in support of toppling Saddam Hussein (Debate no. 6), his 2009 vote against a bill with $4 billion earmarked for the auto industry (Debate no. 7), his 1985 interview praising Fidel Castro's regime (Debate no. 8), and his admission that in a 1990 congressional campaign he benefited from ads the National Rifle Association ran against his opponent (Debate no. 9).
"Most consultants don't read past the executive summary. It's clear she reads the footnotes," said one Democratic oppo researcher who has worked opposite Clinton.
To be sure, Clinton likes to indulge in a "tendency to over-prepare," as she put it to a crowd last month. Ahead of the first debate against Trump, she stepped off the trail for five straight days to prep, staying in sessions with staff at a retreat in the Westchester hotel Doral Arrowwood until as late as 11 p.m. Amid preparations for Sunday's matchup in St. Louis — this one a town hall–style debate — one study session at the nominee's Washington home focusing solely on policy stretched well past the four-hour mark.
And then there's the fact that Clinton just likes this stuff.
The debater who reveled in an onstage shimmy as she teed up a retort is the same candidate who stays up until 1 a.m. with her briefing book and the woman who says her "guilty pleasure" is delving with the same intensity into to the high-drama TV shows she stockpiles on TiVo. A research memo, a policy study, or a good piece of gossip (be it political or celebrity) — Hillary Clinton, people close to her say, will usually inhale it.
One friend recalled realizing this at a small dinner during the 2008 primary, not long after Barack Obama scored a big endorsement from Oprah Winfrey. When the topic came up at the table, Clinton lit up with questions about a rumored Obama-Winfrey fundraiser, pressing her dinnermates for details on the cost and size of the event.

As one close associate put it with a laugh, "She likes to consume the oppo."

Take the final Democratic debate, April 2008, when the moderator asked about William Ayers, the former member of the radical left-wing group Weather Underground who was said to have had a relationship with Obama. As the scene plays out in the pages of the 2010 book Game Change, aides backstage watched in surprise as Clinton chimed in with details about the association — even though "Ayers hadn't been part of her prep."
At the time, Clinton had a handful of friends and advisers sending outside tips, including boosters like Sidney Blumenthal and David Brock. ("Moonlighting" is the word multiple Clinton backers used when discussing the flow of information around the '08 campaign.) During one point in the primary, a top donor hired a private investigative researcher to dig into Obama, according to two people with direct knowledge of the arrangement.
The emails to and from Clinton during her tenure as secretary of state, released last year as part of an investigation into her private server, also reveal a penchant for backchannel information. Blumenthal, the outside adviser, friend, and former journalist, filled her inbox with memos, advice, and anonymously sourced tips on developments abroad, and sometimes in politics, addressed simply to "H," from "Sid," in the subject line. ("H: very, very latest.") ("H: V good intel.") ("H: latest, lots of intel.") ("H: URGENT INTEL.")
Blumenthal marked many of the memos with a "CONFIDENTIAL" heading, followed by a nonspecific note about where the information originated. ("Sources with access to the highest levels of the Muslim Brotherhood.") ("What I hear from Republican sources and elsewhere and what it means for Republican strategy.") During last year's 11-hour congressional testimony, Clinton described Blumenthal as a friend, not an adviser: "He sent me information he thought might be of interest. Some of it was. Some of it wasn't."
Utility aside, what is clear from the State Department emails is that on many occasions, she liked to read the memos herself, forwarding Blumenthal's notes to her assistant. At the top a phrase found perhaps more often than any in Clinton's outbox: "Pls print."
Even as she keeps up a busy travel schedule, Clinton still receives, and consumes, a regular stream of unsolicited research and advice on strategy, messaging, and Trump.
"Sidney still on occasion sends a missive," the close associate said.
Many in the Clinton orbit have the candidate's email address. (And some use it without much restraint.) But these days, one other close ally said, the best way to get something to Clinton is to send it to her husband's staffers, who will then pass a hard copy along to the (non–email-using) former president, who will, chances are, show it to his wife.
On her 2008 campaign, as on this one, Clinton took a particularly hands-on approach to the oppo involved in debate prep, personally going through the books on her opponents and highlighting the bits she hoped to use, a senior official on the campaign recalled.
Eight years later, facing an immense amount of material in a general election against Trump, Clinton delivered a series of highly detailed "major" speeches this summer — on his foreign policy credentials (San Diego, June 2), his economic vision (Columbus, June 21), his business record (Atlantic City, July 6), and his ties to a fringe movement known as the alt-right (Reno, Aug. 25) — to effectively marinate in his words and deeds.
The speeches are packed with granular bits of research — surveys of random Twitter interactions, old interviews, public business records, and unearthed videos.
As she delivered the second speech in Columbus, Clinton paused midway through and with satisfied amusement, remarked, "You know, when I was working on this speech, I had the same experience I had when I was working on the [first] speech … I'd have my researchers and my speechwriters send me information, and then I would say, 'Really? He really said that?' And they would send me all the background and the video clip."
"So here goes," she said, diving back in.
That same thoroughness is a quality current and former aides readily describe as "obsessive." To prepare for any single event on the campaign trail — even for a routine rally — Clinton demands a vast array of information. One longtime ally who helped organize a recent stop in California ticked off the items needed for the candidate's briefing book that day: "You gotta have everything," the person said, rescanning the material. "The people who will greet her. Bios. Photos. A list of speakers and the order they're in. The names of elected officials that she has to thank. Bios. Photos. A memo about local political dynamics. The latest information on the local races. The latest information on the city she's in. Population. Regional makeup. Economic makeup. City council. Economic development. Information on the venue she's in" — this one was a school — "Faculty. Staff. Student racial breakdown." And of course: "News clips."
Clinton loves to read the clips. Not about her — though she regularly reads those as well, aides say — but about wherever she's going. She frequently opens a rally by commenting on an issue of local concern: the algae problem in Port St. Lucie, Florida; the bill before the state legislature in Raleigh, North Carolina; the effort to prevent flooding in Cedar Rapids, Iowa.
If anything is missing from the briefing book, Clinton knows it. "She will find the one little teeny thing," said an adviser who has worked with the former first lady for years. "Inevitably — and I cannot tell you how many times it's happened — she'll call at 11 p.m. or 1 a.m. to ask for more information about some esoteric statistic on page 50."
On the trail, Clinton has responded with an almost odd level of precision to questions on topics ranging from the production of advanced manufacturing machinery, to genetically engineered drought-resistant seeds, to Laotian landmines and sickle-cell anemia.
As explained by Lissa Muscatine, Clinton's longtime chief speechwriter, the candidate has a systematic way of absorbing material — almost instantaneously "distilling" the information she wants and "discarding" the rest. "People write her a memo and she just knows exactly what she needs and doesn't." Where Bill Clinton can "take in stuff" and weave it into "some grand idea," his wife takes an as powerful but more methodical approach, said Muscatine, who has also written speeches for the former president.
Clinton, she added, "synthesizes and organizes," as if waiting for the moment to deploy the information that she's processed, stored, and ordered in her head for future use.
At one rally in Las Vegas, when a ragtag group of animal-rights activists tried to storm the stage, prompting Secret Service agents to rush to the candidate's side, it was Clinton's first instinct to calm the crowd down by joking that the protesters must've come because "Trump and his kids have killed a lot of animals." (The quip, one that would only make sense to someone who happens to know that Eric Trump and Donald Trump Jr. have hunted elephants and leopards, did not draw many audible laughs inside the room.)
One of Martin O'Malley's top campaign aides, Lis Smith, described a command of the material as a Clinton trademark. Eleven months after the Democratic debate in Iowa, Smith has far from forgotten the 2010 financial regulation commissioner's cameo.
"She'd done her research," Smith said.
For one senior adviser on the Bernie Sanders campaign, the most memorable Clinton oppo grenade came during Debate no. 8, when moderators brought up the 1985 interview with a local Vermont television program, Channel 17/Town Meeting. The 25-minute video, uncovered a full year before the Miami debate, contained a number of damaging quotes, including Sanders' praise for the Sandinistas and the Fidel Castro regime.
The senator gave his answer, dispensing with the topic. Backstage, staffers in the Sanders hold room breathed a sigh of relief as the moderators moved on to the next topic.
Moments later, they watched as Clinton cut in. "To the question you were asking Sen. Sanders," she began.
"I think in that same interview…"