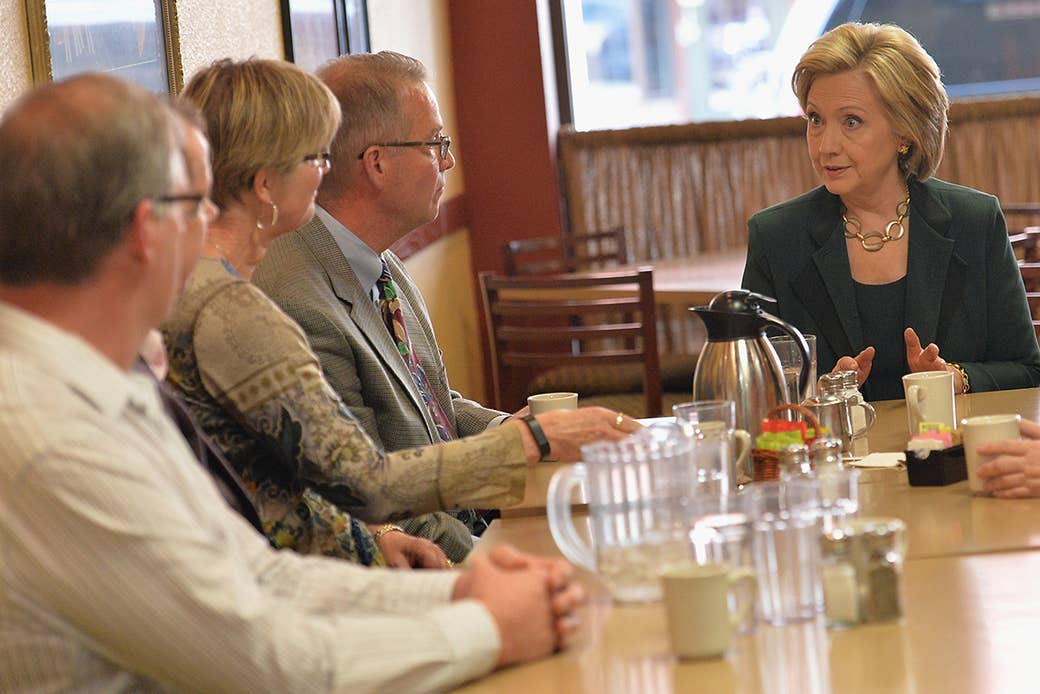 Last Saturday, a few days before the event, Brendan Comito showed the Secret Service the warehouse in Norwalk, Iowa, where he packages fresh-picked produce. Later in the week, he dragged out the empty boxes he keeps near the back door.
That was about all Comito had to do to prepare for Hillary Clinton's visit.
There were no "H" signs to be hung from the pallet shelving. There was no candidate literature. No rope line. Barely even an audience, just 12 people seated nearby. Clinton's "roundtable" with Comito and other small business owners — the fifth of six such discussions she hosted in Iowa last week — was more like a think tank policy panel: Hand-picked voters played experts, offering comment on health care and immigration, and Clinton played moderator, wielding more questions than proposals of her own.
The event had few of the trappings of a presidential campaign from the beginning to the very end — when, from the rabble of reporters, an unmistakable voice rang out:
"Mrs. Clinton!" yelled NBC's Andrea Mitchell.
"Can you tell us… Mrs. Clinton?!"
"Can you tell us why you decided to endorse a Supreme Court ruling…"
"Ma'am?!"
"Can you tell us…?"
Mitchell's camera operator gave it one last try.
"Madame Secretary," he said. "Can we get some questions?"
Clinton ignored the reporters. But she did take questions.
Comito, her host at the warehouse, recalled in an interview this weekend that the candidate made it a point, even after the hour-long roundtable, to make herself available to the participants in private.

"Is there anything you want to ask?" she said to Comito on their way out.
The appearance at Capital City Fruit, just outside Des Moines, was typical in look, size, and feel of Clinton's first week on the campaign trail. Each event followed a simple rubric: a wonky roundtable or discussion at a diner or coffee shop; a tiny audience or none at all; no giant rallies; and few questions from the press — with a premium placed squarely on people like Comito, not a national audience.
Clinton will continue this approach for the first month, aides say.
She'll take the roundtables to New Hampshire this week, and is expected to hold more soon in South Carolina and Nevada. Until sometime in May, when Clinton plans to "deliver the speech to kick off her campaign," the roundtable will be her main venue.

The launch is being cast by officials as everything her failed 2008 bid was not.
It's low-key and voter-focused — solid, but not exciting. And according to Democrats close to Clinton and her team, that was more or less the point for phase one. Excitement can wait, they said in interviews last week, so long as she proves — as her campaign aides have repeated again and again — that this time, she is taking "nothing for granted."
"There's a rhythm. She's starting off like Beethoven, with melodies and chords that people understand. But she's got to end up like Beyoncé," said Donna Brazile, the Democratic strategist who worked on both of Bill Clinton's presidential campaigns.
"She doesn't have to do it overnight. She has time. She has nothing but time."
The strategy does feel somewhat at odds with the sense of anticipation that preceded this campaign.
After leaving the State Department in 2013, Clinton moved about private life in public as if nudged on, if not at times pushed forward, by the expectancy of her fans and supporters. At nearly every appearance, no matter the venue, Clinton received questions about 2016. And often, to the delight of those crowds, she played along, making coy reference to the big "decision" before her. All the while, a group called Ready for Hillary was gathering widespread support: In two years, they built a nationwide network of 4 million members.
Clinton's supporters argue that the soft launch won't break the momentum of those efforts. Her team has referred to this first leg of the race as a necessary "ramp-up period." (Aides also characterize it in passing as a "listening tour" — modeled in part after the "listening sessions" Clinton held at the start of her 2000 U.S. Senate campaign in New York, when she ran as a sitting first lady in a state where she had never lived.)
Many attribute the idea for a small-scale "ramp-up" to Clinton directly. More than one friend used the phrase "doing it her way" to describe her approach to a second bid. (A Clinton aide also described the strategy as "how Hillary wanted to start.")
"This was her idea," said Minyon Moore, a former senior Clinton White House aide and longtime adviser to both Clintons. "After a while, she's going to be running fast and furious. And while she can, she wants to be as close to the voters as possible."
Ahead of the campaign, Moore said, Clinton hoped to prioritize settings that would generate a true give-and-take: "How does she put herself in a position where, whoever she comes in contact with, they will understand that she is really trying to hear first," said Moore. "Her struggle was to make sure she could get in that environment."
Clinton has also said she wants to "embed" ideas from the roundtables directly into her platform. She was struck in Norwalk, for instance, by a participant whose student loans were making it difficult to secure credit for his business, according to an aide.
Clinton does not have a member of her policy team traveling with her, but is said to be in regular touch with the team about her events on the campaign trail.
Voters shouldn't expect a detailed policy agenda until summer or fall, aides have said. Senior officials are also weighing to what extent Clinton can, without a clear idea of the likely Republican nominee, begin to stake out positions that could hurt her in a general election, according to two people familiar with discussions in the Clinton camp.
The roundtables have given Clinton a chance to frame her candidacy around what she called the "four big fights" of her campaign: rebuilding the economy, strengthening families, fixing "dysfunctional" government, and protecting the country. Her campaign has said that she will focus on the first at her New Hampshire events this week.
In Iowa, to keep the size of the events small, none of Clinton's six roundtable-style events were actually open to the "everyday" Americans and Iowans referred to frequently in campaign statements and memos. The participants, selected by the campaign, included business owners, students, and local activists and officials — several of whom did not support Clinton in 2008. At some locations, the atmosphere was more relaxed: In Marshalltown, at the Tremont Grille diner, Clinton led a discussion as customers ate breakfast in booths nearby. Real people ("RPs" by national campaign parlance) were free to approach.
The roundtables still drew criticism as inaccessible. At most events, the pool of reporters allowed in were escorted out after the first 10 minutes or so. And unlike most of the Republicans who attended a forum in New Hampshire this weekend, Clinton did not hold a Q&A. (She took about two questions at her first event in Monticello.)
Clinton's aides didn't seem to need, or particularly want, the massive national media attention. The roundtables have provided the campaign with their own content.
Chris Lehane, a Democratic strategist who worked in the Clinton White House, said the small settings are better suited for repackaging on digital media than traditional campaign events. "People aren't sitting in their living rooms watching the big rallies in a package on the nightly news," said Lehane. "That's not how people engage anymore."
An official campaign photographer, Barbara Kinney, has already uploaded dozens of behind-the-scenes photos to a Flickr page, following Obama's example. His campaign in 2012 often drew material from White House photographer Peter Souza. Clinton's ad man, Jim Margolis, could be seen at most of the events last week, filming just a few paces away. Some of the video has already been edited and posted on Clinton's Facebook page.
And most important: Inside local Democratic circles, the roundtables hit the campaign's intended mark — animating Iowa's network of party activists in a personal way.
One longtime activist in Des Moines, Peggy Huppert, didn't get the chance to see Clinton herself. But a lot of her friends did. One was Linda Nelson, who participated in a discussion in Council Bluffs; another was Sara Sedlacek, who attended a coffee shop roundtable in Le Claire; yet another was Comito, the produce distributor in Norwalk; and several more were state legislators — a large group of whom met Clinton on Wednesday at the capitol in Des Moines.
Every one of them, said Huppert, posted pictures and feedback on Facebook.
Huppert noticed that Comito, for instance, wrote in a lengthy thread just how surprised he'd been when, before his roundtable, a campaign aide told him and the other participants that they should feel free to ask Clinton whatever they liked.
"To be at these 'tell me what you think' discussions — they were just thrilled," said Huppert, summarizing what she's seen online. "She has cachet. It's not just meeting with anybody. It's Hillary. It's a big deal for a Democratic activist to sit down at a coffee shop and meet her. This is what the campaign wanted — this kind of buzz."
"I can't get into her mind," Comito said. "I don't know if she's genuine or not. But I know she heard us. She didn't talk very much at the roundtable. She listened."