Governors Are Split On Obama's Medicaid Expansion
"You do see about a 50-50 split in what states are doing," says Oklahama's Republican Governor Mary Fallin. Democrats, largely in support of the measure, acknowledge the costs of putting it in place.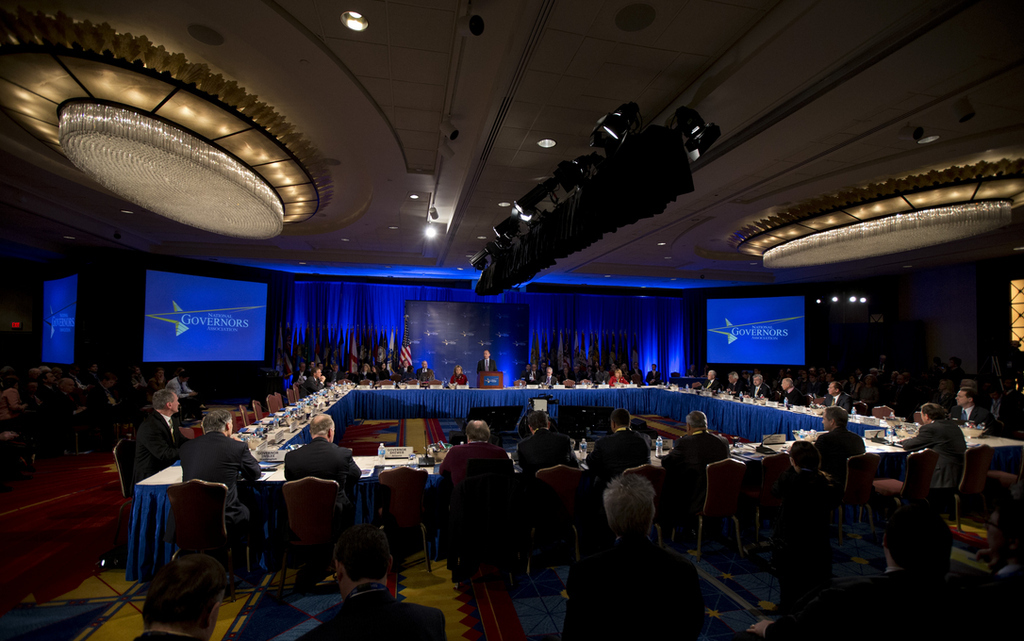 WASHINGTON, D.C. — Governors from both parties, together this weekend for a National Governors Association conference in the nation's capital, remain split on whether states should opt in or out of the president's Medicaid expansion.
Republican governors — seven of whom, most recently Gov. Rick Scott of Florida, have reversed their stance on the measure in recent months — call the expansion "unaffordable," and Democrats remain advocates of the measure, while acknowledging the administrative costs of its implementation.
"There has been a divergence of opinions about how states handle the Affordable Health Care Act," said NGA vice chair, Oklahoma's Republican governor Mary Fallin. "We as the National Governors Association respect the other governors. We know that each state has different budgets, different populations, different needs, different unemployment rates, different political circumstances to deal with."
"That's why you do see about a 50-50 split in what states are doing," Fallin said. "We respect each other's opinion, and we certainly believe that each governor has to do what's in the best interest of their state."
Oklahoma decided to opt out of the expansion because it "would be unaffordable," said Fallin. "Medicaid needs to be reformed. We think it's unworkable the way the current federal health care bill has been written."
Eleven states have yet to decide whether they will participate in the Medicaid expansion, 22 have said they will opt in to the Affordable Care Act measure, and 17 have said they will not, according to the consulting firm, Avalere Health.
Colorado's John Hickenlooper — a moderate Democratic governor who just last month announced he would expand his state's Medicaid coverage for an estimated $128 million over the next 10 years — said he wouldn't have made the decision were he not able to find savings to cover the cost of the measure.
"The reason we held off for so long was that I told the staff, 'I will not expand Medicaid coverage unless you can find the savings that will more than cover that added cost,'" Hickenlooper said. "The hidden truth of the Affordable Care Act is it turns the responsibility over to governors to control costs."
"What I tell health providers and hospitals," he added, "is this is now a wonderful opportunity to squeeze some of the fat out of the system."
According to an estimate by the Congressional Budget Office, were every state to participate in the Medicaid expansion, the country would provide coverage to an additional 17 million people — an increase in care that would require states to provide in part for the costs of implementation and increased administrative capacity.
"It's not that we're worried about it," said Hawaii's Gov. Neil Abercrombie, a Democrat. "It's that we're coming to grips with trying to apply our philosophy of 'Aloha' with one another — with family, with community — and a recognition that whatever the costs, we're gonna share them and try to meet them as well as possible."
Maryland's Martin O'Malley, a top surrogate for President Obama during the 2012 election, was one of the first governors to sign on to the Medicaid expansion.
"We put some additional dollars in our budget in order to manage the implementation and set up the exchanges," said Maryland governor Martin O'Malley. "But we're on target."
"We decided to be an early implementer in the Affordable Care Act," said O'Malley. "We believe that it's a competitive advantage for us to be at the forefront of reducing health care costs so those dollars can go into job creation."
Asked what he thought of the seven Republican governors who have reversed their position on the Medicaid expansion — including heads of state from Arizona, Michigan, Nevada, New Mexico, North Dakota, Ohio, and Florida — O'Malley said, "I think we shouldn't be too hard on them for that."
"Wise men change their minds, and sometimes it's a sign that they're becoming wiser," O'Malley told BuzzFeed. "I think once the Supreme Court affirmed the decision [to uphold the Affordable Care Act], the uncertainty was removed and they could look at the pros and cons, and the dollars and the cents, of the implementation."
"They realized that this is the way the country is going, and their state would be disadvantaged if they don't take part in the Affordable Care Act," O'Malley added.