Frank Lautenberg "Hopes" To Return To Washington For Gun Votes
Atrophy in his legs has kept the New Jersey Senator — a key vote — home for eight weeks. "He's either going to get his health back to where he can get down and vote, or he'll ride out the term like this," says a source close to Lautenberg.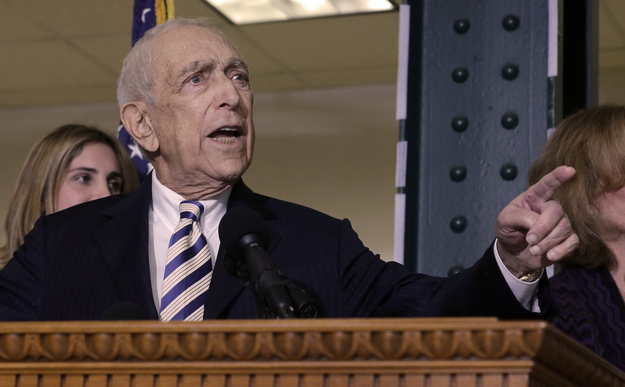 Sen. Frank Lautenberg hopes to return to the capitol to cast what could be a crucial vote to expand background checks on gun sales, according to the New Jersey Senator's office.
"Senator Lautenberg is feeling better and hopes to be in Washington for gun votes this week," said a spokesman for the senator, Caley Gray.
Because of pain and weakness in his legs, the 89-year-old lawmaker has not been present for a vote since Feb. 28. Lautenberg announced at a press conference on Feb. 15 that he would step down in early 2015 and not seek reelection for a sixth term — a decision, he told The New Jersey Herald, that "health had little to do with." But in the eight weeks since he made his retirement public, Lautenberg has cast two votes and missed a total of 74.
The bipartisan background checks bill sponsored by West Virginia's Sen. Joe Manchin and Pennsylvania's Sen. Pat Toomey — thought to be Democrats only shot at passing new gun control legislation — could see the Senate floor as early as midweek, and is expected to be as close a vote as they come. Lautenberg's absence would make it that much harder for Democrats to hook the 60 votes needed to keep the Manchin-Toomey compromise alive.
Lautenberg is a longtime gun control advocate and an original cosponsor of the Brady Law, the bill that first established background checks on handgun purchases in 1993.
The Senator's possible return to Washington has been in flux since he became noticeably absent last month. On March 10, Gray told the Herald News that the senator was experiencing "pain in his legs" but was not otherwise ill. About a week later, on March 18, Gray told the Associated Press that Lautenberg was feeling better and would be back for a vote on the budget the following week.
But the senator did not return, and in April, before the end of a week-long recess in Washington, Lautenberg released a statement saying he would not be back in the capitol after the break because of continued "muscle weakness and fatigue," he said. "My physician continues to advise me to work from home and not travel at this time."
Amidst his absence, rumors that Lautenberg might step down early bubbled to the surface in his home state. But Gray has called the whispering "ridiculous"; he told The Philadelphia Inquirer earlier this month that the senator would not resign "before his term ends in Jan. 2015."
A New Jersey Democrat close to Lautenberg told BuzzFeed that the senator would sooner spend the remaining 19 months of last term sick at home than step down a day early.
"He would never retire early. There's no chance," said the source, adding that Lautenberg has been undergoing physical therapy from home to heal the atrophy in his legs. "He's either going to get his health back to where he can get down and vote, or he'll ride out the term like this."