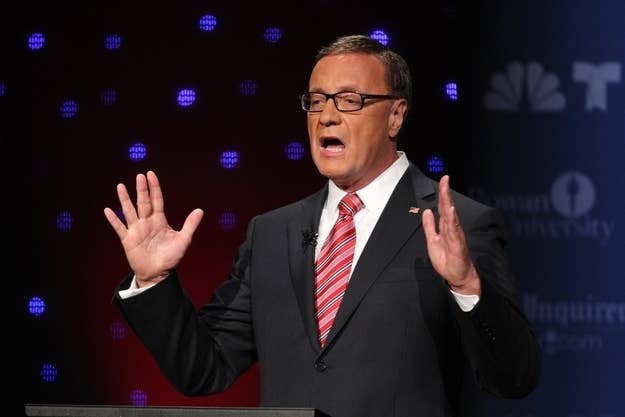 New Jersey Republican Steve Lonegan is placing the blame for his latest failed bid for state-wide office on national Republicans, arguing that a lack of support from Washington led to his loss in the special U.S. Senate election last week.
Newark Mayor Cory Booker bested Lonegan by 11 points in the race to succeed the late Sen. Frank Lautenberg, who passed away in June. Lonegan does not have a stellar track record in state-wide races: Before his failed Senate bid, he ran and lost in the 2005 and 2009 Republican gubernatorial primaries.
But in a fundraising email to supporters on Friday, Lonegan targeted the Republican National Committee and the National Republican Senatorial Committee for what he called their "absence" throughout the race against Booker, who maintained a double-digit lead throughout the two-month general election.
"Their absence sent a message to others to stay away," the email read.
The RNC and NRSC, Lonegan said, "sat on their hands while you and I struggled to make this race competitive."
In the last three weeks of the election, Lonegan managed to make up some ground against Booker — the first general election poll put him 35 points behind the popular Newark mayor, but by October, he was trailing by low double-digits.
The former mayor of Bogota now says his campaign is $68,000 in debt.
"It's been just over a week since the campaign has ended and bills keep coming in," Lonegan said, "but all the help I was supposed to get from conservatives and Republicans across the country hasn't."
In the email, Lonegan referenced a fundraising pitch sent by the NRSC in September, but said the group, which is charged with recruiting and electing Republicans to the Senate, "kept every penny."
A spokesperson with the NRSC said the group did invest resources in New Jersey, messaging "daily" against Booker and meeting with Lonegan in person shortly after he won the primary. The NRSC spent "as much as we raised" in the state, the spokesperson said, but noted that the group can only do so much with its limited resources in a race that never truly became neck-and-neck.
The RNC, meanwhile, sent its chairman, Reince Priebus, to Morris County on the night before the election to rally supporters.
All told, both committees did more for Lonegan's campaign than groups like the Senate Conservatives Fund, a super PAC founded by former South Carolina Senator Jim DeMint. Lonegan also calls out that PAC in his email for refusing to "even acknowledge my candidacy."
Although Lonegan saw support from big names in the Republican Party — Sen. Rand Paul, Gov. Rick Perry, and former vice presidential nominee Sarah Palin all came to the Garden State to stump with him — his campaign never appeared to have a close relationship with the Republican establishment in Washington.
Shortly after Lonegan won the primary in August, his top strategist Rick Shaftan, who was later fired for giving an expletive-laced interview about Booker, suggested that Beltway Republicans weren't of interest to their campaign.
"Karl Rove and Ari Fleischer? The ones responsible for losing everything? We're supposed to listen to them?" Shaftan told BuzzFeed in August, referencing Mitt Romney's 2012 loss to President Obama. "No one in New Jersey cares what the RNC thinks anyway."