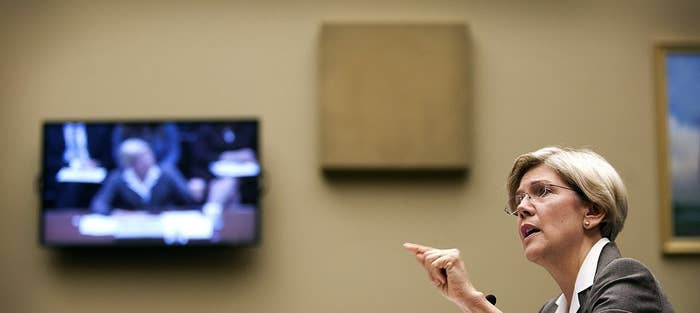 Sen. Elizabeth Warren cracked her memoir to a page in the middle and began her introductory remarks. She started with a joke, her tone conversational and warm. She braided excerpts from the book seamlessly into the speech. She took questions from the audience, moving with ease between topics. And after a standing ovation, she slinked through the crowd, greeting every fan who could reach for a handshake.
But the casual opening bit, first delivered at a Barnes & Noble in Manhattan last Wednesday, was repeated almost word-for-word at the events that followed. The questions, solicited on white notecards from the audience, were prescreened. The books, sold at the start of each event, were autographed in advance. There were no long signing lines, no questions from reporters. Though some tried to give her an opening:
"How's the book tour going, Senator?"
"Fun," she smiled.
"Senator, any advice you would give to the 2016 Democratic candidate?"
"No," she laughed.
"Sen. Warren?"
She kept walking.
Warren executed that routine with precision this weekend at a string of stops in Manhattan and Massachusetts to promote her 10th book and first memoir, A Fighting Chance. The opening leg of the publicity tour, which trucks on to major cities on both coasts next month, provided a glimpse at the control with which Warren broadcasts her message and navigates public life.
In Washington, she frequently declines interviews. To dodge a reporter in the halls of the Capitol, she has been known to run for an elevator or strike up conversation with a colleague nearby. Last spring, Politico named Warren and six of her colleagues "the silent senators."
But Warren is also one of the most talked about politicians in the country. She understands the draw of her heated exchanges with regulators at Senate hearings — the kind packaged for Upworthy headlines like, "Sigh. Elizabeth Warren Embarrasses Some Bank Regulators To Their Faces. Again." And she is said to confer regularly with the Progressive Change Campaign Committee, a liberal group that promotes her causes with the slogan, "I'm From the Elizabeth Wing of the Party."
If many politicians follow — or are told to follow — a media strategy that avoids opportunities for unforced errors and charges into the spotlight when it's most beneficial, Warren has a special talent for it. And the first stretch of the book tour captured the careful, disciplined approach she's taken on as a senator.
While Warren skirted reporters and spontaneous interaction with admirers on the road, she sat for interviews with national television programs and a handful of print outlets. The conversation did not often stray from the memoir. When it did, the next presidential race was often the topic at hand.
For months, Warren has said she's not running for president — she repeated the line at least a dozen times last week alone. Last year, alongside the 15 other Democratic women in the Senate, she signed a letter encouraging Hillary Clinton to get in the race. Her top financial backer has waved off donors. And her book tour is stopping through cities like Seattle and Portland, not states like New Hampshire and Iowa.
But as speculation about the race fueled headlines about her book, Warren seemed somewhat willing to play along. Inquiries about a 2016 bid were included among the prescreened audience questions at some book tour events last week.
At the Manhattan Barnes & Noble, the moderator relayed the question as a plea from the audience: "Will you please run for president?" she said.
The following night, inside First Parish Church, a small chapel near Harvard, it happened again. "You've said a number of times that you do not plan to run for president," the moderator said. "What can we say tonight to change your mind?"
Both times, Warren smiled, gave her requisite answer, and got back to the message of the book. "I am not running for president," she said in New York last Wednesday. The audience groaned. "Listen to this, because I really am serious about this," she said, quieting the room. "We have issues we need to work on right now."
The memoir is a folksy, enjoyable telling of Warren's personal story: A girl from a struggling family in Oklahoma puts herself through two public universities, and becomes a bankruptcy expert, a Harvard law professor, the creator of a new consumer protection agency, and the senior senator from Massachusetts. But the book is also the first sweeping articulation of Warren's political argument: that the economic landscape is "rigged," and that working-class families suffer at the hands of unchecked financial institutions and the lobbyists paid to protect them.
"Books are part of how I fight for what I believe in," Warren said on Friday afternoon at a stop at Worcester State University, where guests filled every seat and latecomers lined the walls of the small auditorium. "It's about trying to get more people to be part of this fight. It's trying to draw in more people."
The media — practically and conceptually — is never far from her mind, though, if the memoir is any indication. It is a frequent topic in the book, beginning with a first positive brush and proceeding from there. In 2003, Warren and her daughter, Amelia Warren Tyagi, appeared on Dr. Phil McGraw's syndicated talk show to promote the book they wrote together, The Two-Income Trap. During the taping, Warren advised a couple who had cashed out their home equity.
"Year in and year out, I'd been fighting as hard as I could — doing research, writing papers, giving interviews," Warren writes. "But by spending a few minutes talking to that family on Dr. Phil's show — and to about six million other people who were looking on — I might have done more good than in an entire year as a professor."
"Maybe that was a better way to make a difference."
As Warren's career brought her closer to Washington, she sought the press's attention more often. In 2009, while she fought to create the Consumer Financial Protection Bureau, Warren made "cold calls, asking reporters if they had heard about the consumer agency." She recalled feeling "wildly impatient" when a press conference announcing the proposal for the agency only produced a handful of news articles, and not "the bands and confetti of my fevered dreams."
But Warren also details an increasing wariness toward the press. She faults financial experts who appear on television for using complex jargon, "language that to most people sounds like gibberish," she writes. And she bristles at the memory of an interview with The Daily Beast during her 2012 campaign for Senate: She had laid the intellectual groundwork, she told the reporter, for Occupy Wall Street protests.
"I was deeply embarrassed. My words sounded so puffy and self-important," Warren writes. "I learned a painful lesson from that interview. The old way of talking with the press — long conversations and lively discussions — was gone."
"Now I needed to change: I needed to measure every sentence," she says.
Last week, Warren's every sentence, line, and word was measured.
In New York, as she inched through the crowd toward the escalator, shaking hands and nodding along the way, someone yelled, "Warren–Bernie Sanders 2016!"
Another shouted: "I wouldn't mind seeing you on the Supreme Court!"
"Keep fighting!" another said.
Warren kept moving.