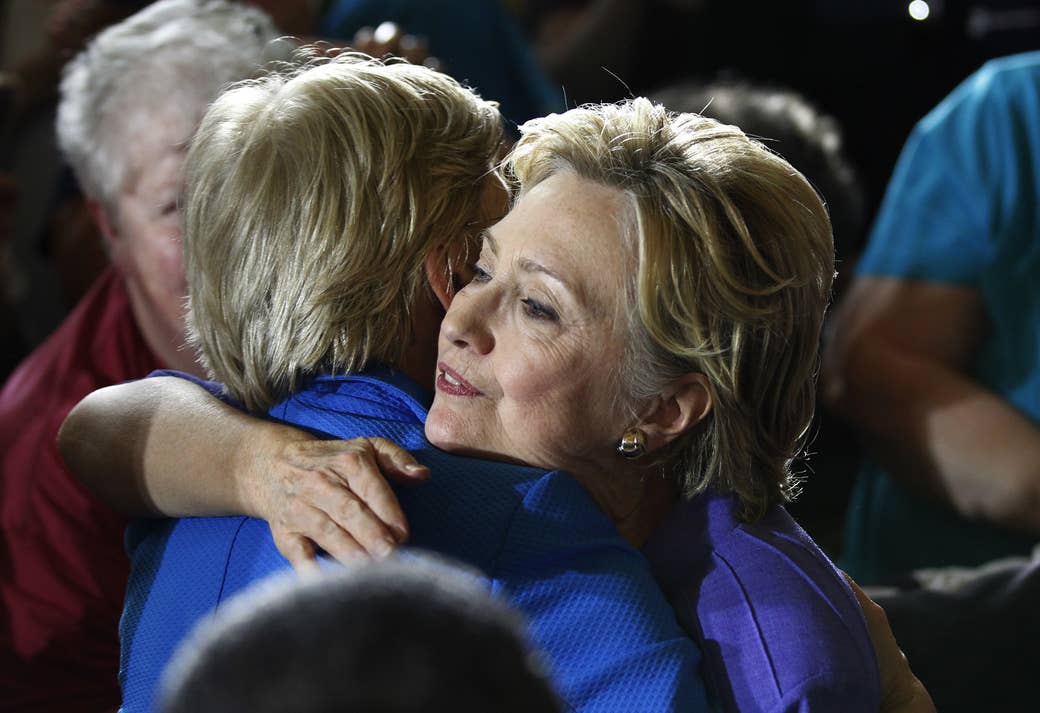 CINCINNATI — They are two of the biggest names in politics. They have crossed paths since the 1990s. But not long ago, when a reporter asked Elizabeth Warren to characterize her relationship with Hillary Clinton, there wasn't much to say.
"We have talked," she replied. "It's not much more than that. Not much more."
Later that year, in the fall of 2014, they attended their first political event together, a campaign stop in Boston for Massachusetts gubernatorial candidate Martha Coakley. At the time, Clinton was preparing a run for president. Warren, a rising avatar of the left, could've offered a gateway to skeptical progressive voters.
She didn't.
Each delivered a speech in support of Coakley: Clinton's lavished praise on Warren; Warren's hardly mentioned Clinton. By the end of the rally, there were no photo ops or handshakes for the crowd. Not once did they even share the stage.
Two years later, the 2016 election has forged a vastly different Clinton–Warren alliance.
Here on Monday, beneath the painted dome of the Cincinnati Museum Center at Union Terminal, they emerged for their first joint appearance, unveiling a powerful new partnership aimed at Donald Trump, with none of the old distance and unease.
The pair arrived together, Clinton leading the way onto a circular platform in the middle of the hall. Around the stage, 2,600 crowded into the historic atrium. Warren threw out both hands, palms to the ceiling, as if in awe of the scene around her.
Clinton motioned Warren toward the podium, then stood near the back of the stage and took a breath. "Woo!" she mouthed. Over the sound of the crowd, Warren leaned into the microphone with the same surprised look: "Whoa!" she said. Thank you!"
"I'm here today because I'm with her. Yes, her!"

Later, as Clinton spoke, Warren stood to the side and listened intently, reacting to each line along with the voters below. To a mention of infrastructure investment, Warren nodded fiercely and let out a "yes!" To a promise of student loan relief, she jumped up and down on her toes. To a dig at corporations, she pumped her fist in the air. And when the candidate led the crowd into one of her favorite lines — about playing the "woman's card" — Warren chanted along on cue: "Deal me in!"
More than most of the campaign's surrogates on the trail, Warren took the stage for Clinton with a distinct mission, taking a high-energy and unapologetic approach to the job of attack dog, with a speech that complemented Clinton's, not simply introduced it.
This November, Warren told voters, would offer a fundamental choice.
"This election is about values," she said, unleashing brutal lines that assailed Trump as a businessman out for himself and a candidate "driven by greed and hate."
"That's who Donald Trump is — the guy who wants it all for himself. And watch out, because he will crush you into the dirt to get what he wants. That's who he is."

This spring, Warren emerged on Twitter as a clear and cutting voice against Trump when leaders of her own party still haven't figured out how to take him on. "I have to say," Clinton said, speaking after Warren, "I just do love how she gets under Donald Trump's thin skin."
"She exposes him for what he is: temperamentally unfit and totally unqualified to be president of the United States," Clinton said, summing up the tack that she and her campaign advisers have pursued in recent weeks, arguing that, at home and abroad, Trump is simply not equipped for or worthy of the job of commander-in-chief.
Really, though, Warren made a notably distinct case against Trump, wading into personal territory that Clinton herself has addressed far more delicately.
Warren's speech was, in effect, an attack on Trump's character.
"What kind of a man roots for people to lose their jobs? To lose their homes? To lose their life savings?" Warren asked, citing the businessman's Trump University enterprise and comments he's made about profiting from times of crisis, including last week's vote in Britain to leave the European Union. "I'll tell you what kind of a man — a small, insecure money-grubber who fights for no one but himself."
"What kind of man?" Warren went on.
"A nasty man who will never become president of the United States."
Even as Clinton has grown more aggressive with Trump, aides warn that she won't get "down in the mud" with him. (When asked to respond to his personal attacks, including those on her marriage to former president Bill Clinton, she flatly declines.)
As Warren hit Trump and "who he is," she also offered herself up as an effective character witness for Clinton, a candidate dogged most of all by the perception that she is untrustworthy. (Seizing on the weakness, Trump refers to his opponent as "Crooked Hillary" and has sought to portray Clinton and her husband as corrupt.)
"Just look at her history," Warren said. "She's been on the receiving end of one right-wing attack after the other for 25 years. But she has never backed down. She doesn't whine. She doesn't run to Twitter to call her opponents fat pigs or dummies."
"No," said Warren. "She just remembers who really needs someone on their side. And she gets up and keeps right on fighting for the people who need her most."
And with that, Warren straightened from the lectern, turned to face Clinton, and started clapping. The crowd waited for the speech to resume. But Warren was still going, sending loud, hard claps into the microphone and around the hall.
"Thank you. Thank you," Clinton mouthed first to Warren, then to the room around her as the audience picked it up, clapping too, then chanting. "Hill-a-ry! Hill-a-ry!" Warren joined in, pumping her fist in the air. "Whoo!" she shouted.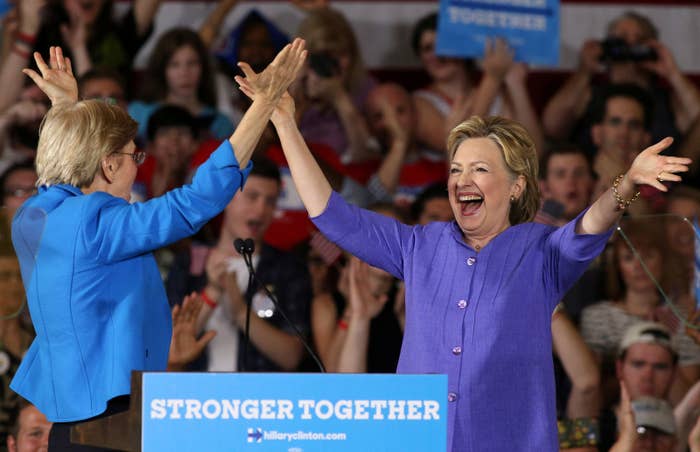 Turning back to the podium, Warren pushed her glasses up her nose and, as if in the classroom, offered a quick summary. "So here's what it boils down to," she said. "Hillary has brains. She has guts. She has thick skin and steady hands."
"But most of all," Warren said, returning to the question of character, "she has a good heart. And that's why I'm with her. Are you with her? Are you with her?"
That Warren, a bankruptcy expert and former law professor, may well become this election's best surrogate and most savage attack dog is both unlikely and not.
Well before she ran for the Senate in 2012, a long career in academia helped develop the discipline, control, and careful command of the media for which Warren is known.
In Washington, she picks her spots shrewdly. She'll avoid chance encounters with reporters, but seize the spotlight with full force when she has something to say. She'll dismiss speculation about her future — first about a presidential run, now about her chances at vice president — but never enough to shut it down entirely.
And in a short period of time, she has also honed a natural instinct for the modern media environment: the way a fight with regulators on the Senate floor can become a viral video, or a spate of tweets about Trump can drive days of coverage.

As a candidate, Clinton is less adept in this realm.
The campaign has a large following online and a team of top digital operatives who ship out clever tweets, cultivate support on Facebook, and maintain a presence for Clinton in every major corner of the social web, from Instagram and Pinterest to Reddit and Snapchat. But unlike Warren's, Clinton's online persona can feel disparate and often distinct, at times conspicuously so, from Clinton's actual voice.
On Monday, Clinton made it clear she is aware of Warren's media prowess.
"Some of the best TV since Elizabeth came to the Senate is actually C-SPAN," she said, recalling a series of widely watched online clips of Warren "pressing a bank executive or a regulator for answering, refusing to let them off the hook."
And when it comes to Trump, Clinton added, Warren just "tells it like it is."
Perhaps most apparent here, however, was just how quickly and naturally the two women took to the pairing — if not to each other personally, then to the potential enthusiasm and strength their alliance could generate on the campaign trail.
"You know, I could do this all day," Warren told the crowd. "I really could."
After Clinton's speech, the duo linked arms and waved to the crowd, swaying together as the campaign's theme track, "Fight Song," blared through the loudspeakers.
They worked the ropeline from opposite ends, met again in the middle, and shared a hug. There, Warren ducked out, leaving Clinton to her familiar post-rally routine.
For her new surrogate, the thrill had yet to fade.

Backstage, Warren greeted a group of Clinton campaign aides with a gleeful pump of her fists. "That was fun!" she told them. "That was fun!"