Elizabeth Warren: Campaigning Is "A Lot Of Fun"
At EMILY's List speech in Manhattan, the Massachusetts senator urges support for Kay Hagan and Jeanne Shaheen.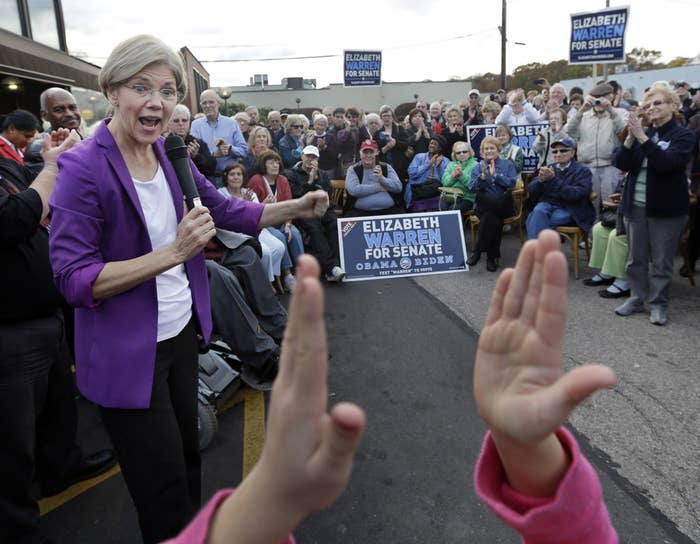 Three years ago, when Stephanie Schriock first asked for a meeting with Elizabeth Warren, the Harvard Law professor, who was setting up a new consumer protection agency in Washington, was reluctant.
"Let's just talk," said Schriock, who had a year earlier taken over as head of the group EMILY's List, an organization that recruits and helps elect female candidates.
"'I don't wanna talk to you. I know what EMILY's List does!'"
Warren, now in her second year as a U.S. senator from Massachusetts, recalled this story in front of a crowd of 300 donors and EMILY's List supporters during a speech Monday at the Mandarin Oriental hotel in Manhattan's Columbus Circle.
"And I'm glad that EMILY's List does what it does," Warren said, according to an audio recording of the event, provided to reporters by the women's group.
In her speech, which preceded a panel with local and state female officials, Warren credited EMILY's List with electing Sens. Mazie Hirono and Tammy Baldwin.
She urged attendees to help make sure Kay Hagan, the Democratic senator from North Carolina, and Jeanne Shaheen, the Democratic senator from New Hampshire, both "stay in the U.S. Senate." Warren did not mention the other female Democrat up for reelection this year in the Senate: Mary Landrieu of Louisiana.
Warren, the anti-Wall Street darling of the left who made her name as a leading scholar on bankruptcy law, described herself as an unwilling candidate. In 2011, Warren was ready to reclaim her full-time teaching career in Cambridge.
"Because that's what I know how to do," she said of her thinking at the time. "That's where I belong."
"Stephanie was very persistent."
Since her high-profile Senate race in 2012, Warren has again found herself the disinclined politician. Progressive groups have pleaded her to run for president in two years, likely against former secretary of state Hillary Clinton. One organization, the Progressive Change Campaign Committee, has branded their merchandise and messaging with the slogan, "I'm from the Elizabeth Warren wing of the party."
Warren has said, on dozens of occasions, that she is not running for president.
The senator has never seemed to delight particularly in the political aspects of her job. But she did emphasize on Monday how much she enjoyed campaigning.
"When I was on the trail, out shaking hands and meeting people all across the Commonwealth of Massachusetts — finding out what it was like to be a Senate candidate — it actually turns out, at least for me, it was a lot of fun," she said.
"There were terrible parts about running for office. We can talk about negative ads, and what that's like. I mean where do they get those pictures of you? Oh my god," Warren said, to laughs from the audience. "And the creepy music? There was really an ad where I thought the music suggested that I was going to eat voters' brains."
"So there are tough parts. But the good parts — you get to get out and meet a lot for people. And the best part for me was meeting little girls. And so every time I met a little girl, I would always drop down to my knees, down to their level, and I would always say, 'My name is Elizabeth, and I'm running for the United States Senate, because that's what girls do.'"
Warren closed her remarks to a standing ovation, an EMILY's List staffer said.