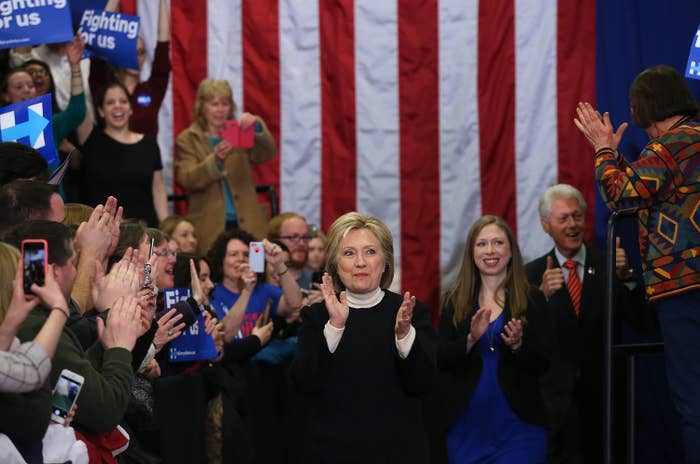 MANCHESTER, N.H. — Three months ago, on a Monday night in New York, Robby Mook briefed a room full of donors and fundraisers on the progress of the campaign. Things back then were looking better. The summer was over and the email scandal was fading. There was the first debate and the Benghazi hearing and the feeling that momentum might finally be back on the side of Hillary Clinton.
Mook, her campaign manager, laid out a confident view of the next few months.
The primary, he told supporters at the November briefing, according to one attendee, would effectively be over by the end of March. (The 28 contests that month, Mook noted, would decide around 56% of delegates.) In this best-case scenario, he said, the campaign could spend April through June framing the general election and defining the Republican best positioned to win the nomination.
Now, after a one-point win in Iowa and a double-digit loss in New Hampshire, the trajectory Mook charted three months ago no longer seems like a given.
When polls closed here on Tuesday night, before Clinton greeted a crowd in the athletic center at Southern New Hampshire University, Mook released a strategy memo headlined "March Matters" that still predicted a "potentially insurmountable" lead by the end of that month — but also signaled at a long road ahead.
And an hour later, on stage beside her husband and daughter, the candidate did the same. "Here's what we're going to do. We take this campaign to the entire country," Clinton told supporters. "We're going to fight for every vote, in every state. We're going to fight for real solutions that make a real difference in people's lives."
Since Clinton got in the race almost 10 months ago, her advisers have dedicated the large share of her campaign's time and resources to the first four primary states: Iowa and New Hampshire, Nevada and South Carolina. But as voters cast their ballots here on Tuesday, members of Clinton's team sought to forecast a close race in each of those remaining two contests. They've focused in particular on the Feb. 20 contest in Nevada, a state her aides once regarded with confidence.
Spokesman Brian Fallon, appearing on MSNBC on Tuesday morning, pointed to a story by the Washington Post listing three reasons that Sanders, not Clinton, might have the upper hand in the caucuses there. ("A smart item," Fallon said.)
And how important is Nevada, MSNBC's Chuck Todd asked.
"Nevada is an important state. So is South Carolina, which comes after that."
And are both must-wins?
"There's going to be a narrowing in both places — we're clear-eyed about that," said Fallon. "There's an important Hispanic element to the Democratic caucus in Nevada. But it's still a state that is 80% white voters. You have a caucus-style format, and he'll have the momentum coming out of New Hampshire presumably, so there's a lot of reasons he should do well."
"There's a reason to believe the race will tighten even there," he said again.
The more cautious posture marked a significant shift as Clinton moves into the next phase of her race against Sanders. Until recently, officials cast Nevada as one of several safeguards in the primary calendar — part of the so-called "firewall" aides have cited for months. Clinton, they've said, will benefit from the Latino population and from Mook's experience in the state, where he led her 2008 campaign.
During the November briefing, according to the attendee, Mook assured backers that Clinton's Nevada operation was already well ahead of her rival's. The Sanders campaign, he told them, had only just started organizing for the state's caucuses. (One person close to the Clinton operation said she has approximately 35 staffers in Nevada headquarters. Neither campaign has publicly released a staff count.)
More recently, on a conference call with supporters, campaign officials shared internal polling that showed Clinton up as much as 25 points in Nevada.
There's been no public polling there in the last two months. The last survey, conducted by Gravis Marketing the week of Christmas, put Clinton up 23 points. (A CNN poll in October, meanwhile, showed Clinton with a smaller 16-point advantage.)
The campaign has already started to add resources to the March states that follow Nevada and South Carolina. The Tuesday memo from Mook promised that Clinton would be "competing aggressively" in both states, but stressed a wider advantage in many of the 28 primaries and caucuses planned for the month of March.
"Whereas the electorates in Iowa and New Hampshire are largely rural/suburban and predominantly white," Mook writes, "the March states better reflect the true diversity of the Democratic Party and the nation – including large populations of voters who live in big cities and small towns, and voters with a much broader range of races and religions."
By the end of March, campaign officials hope Clinton will be positioned with a delegate lead that Mook described in his memo as "potentially insurmountable."
In her concession speech here outside of Manchester — far more fiery and spirited than at her pseudo-victory rally last week in Iowa — Clinton pledged to fight on into the next phase of the race, setbacks aside.
"I know I have some work to do, particularly with young people," she acknowledged. "But I will repeat again what I have said this week: Even if they are not supporting me now, I support them. Because I know, I've had a blessed life, but I also know what it's like to stumble and fall. And so many people across America know that feeling. And we've learned it's not whether you get knocked down that matters, it's whether you get back up," Clinton said to cheers across the gymnasium.
But on the last day of her New Hampshire campaign — as she rallied the crowd and worked the ropeline before departing Manchester for New York, then Nevada and South Carolina and all the states that follow — there was still the lingering, if tacit acknowledgement of how differently, and quickly, this race was expected to go.
"Brian, looks like we're in a long slog," Todd asked on Tuesday morning.
"We're ready," said Fallon.
See you in California in June?
"We're ready," Fallon said again, "to wage a nomination contest that goes for several months."