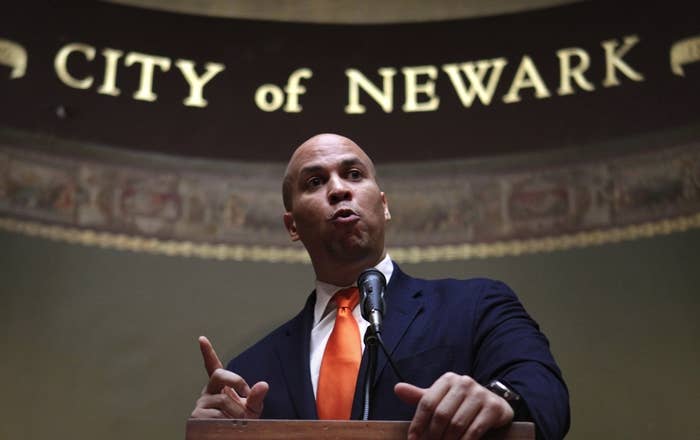 NEWARK — In New Jersey's special election, a 10-week summer sprint to succeed the late Frank Lautenberg, winning won't be Cory Booker's problem.
The mayor of Newark, the state's largest city, leads the polls with more than half the Democratic vote, but as the clock ticks down to the primary in six weeks, and the general in 15, Booker is facing his own dilemma: During a year he pledged to make his most important and productive as mayor, Booker's attention is split between City Hall and a campaign that sends him out of Newark nearly every day. Instead of focusing entirely on his last year in the city, Booker is struggling to do two unremitting jobs at once.
Although Newark has made significant gains since Booker took office seven years ago — economic development is surging; the population is growing for the first time in six decades; and murders are down 17% from Booker's first year, according to city police department statistics — there is work to do yet.
Newark is still troubled by crime and poverty, and its unemployment rate, at 13.1%, is still worse than New Jersey's, at 8.7%. (Though, since the recession, unemployment in the city has improved at a greater rate than in the state.) Now that Booker is engrossed in his statewide campaign for the United States Senate, critics say he won't be able to deliver on second-term promises like the creation of a civilian review board, which he announced earlier this year in his State of the City address.
But Booker says the project and others like it will either see completion by October's election, or at the hand of the next mayor. It's going to "take a lot of work to get that done," he said of the civilian review board, before adding, "If I'm not the mayor, it's still going to get done."
"I am working harder and longer hours," Booker said, standing outside his apartment building in Newark's South Ward, during a few stolen minutes between events late last week. The pained look on the face of his aide, standing by during the brief interview, made it clear that every moment of Booker's day is planned, precious time, best not wasted.
"It's around the clock now. I'm not sleeping," Booker said. "I'm living on caffeine and adrenaline."
And during the last week of June, in the lead-up to the mid-year fundraising deadline, Booker's days are strained as ever: He flits from campaign event to city ribbon cutting, from endorsement presser to City Hall meeting. Car rides up and down the Jersey Turnpike double for call time with donors, and in the final hours of the night — or early hours of the morning — Booker is home, on the phone again, this time for Newark, courting businesses to come to the city.
"I had a call two nights ago at midnight with a business person trying to get them the final negotiations for getting them to the city," Booker said.
The mayor's critics in Newark — a group that includes several members of the Municipal Council, and a small but vocal group of activists who stake out City Hall and attend nearly every council meeting — say they're used to Booker's splitting his time between Newark and efforts outside the city limits. For years, Booker's foes have accused him of spending too much time outside Newark, and of promoting himself as a national figure by delivering speeches across the country, giving cable news interviews, and attending technology conferences, where his impressive Twitter following earns him headlines like "The Social Media Mayor."
"He's never in town," said Newark resident Yvonne Prather, 57, when asked about Booker's campaign before a city council meeting last Tuesday. "You cannot run a city if you're never here."
Colleen Fields, a 59-year-old community activist who attends many of the meetings, argued that Booker has always been distracted from the real happenings of the city. "We know Cory is not here. He's trying to be a movie star, rescuing dogs," she said, referencing a much-covered incident in January, in which Booker rescued a dog from the freezing cold. Fields, who calls herself Sister Colleen, recalled a homeless man who had camped outside City Hall three weeks ago. "Cory could see a dog in the backyard, but he couldn't see the man across the street, pissy and dirty." She says she brought the man to the security desk outside Booker's office. "I rode him in here. I took him to the second floor. I said, 'You see him now?'"
But Booker and his aides say they've stayed focused on the city, despite this summer's ongoing senate campaign.
"I don't think it's a change in quantity," said Adam Zipkin, Booker's director of economic and housing development in City Hall, when asked whether his work with the mayor had changed or lessened since the start of the campaign. "It's more like late at night, early in the morning. I don't know how much he's sleeping at this point, but we're in as much communication."
Zipkin, in an interview Thursday in his City Hall office, said he was on the phone with Booker the night before after 11 p.m., and again the following morning before 7 a.m. "It's constant back-and-forth," said Zipkin. "Rather than replacing his mayor job with a senate candidate job, he's more doing two full-time jobs."
Booker's days do carry with them a shift in scale so disparate — from the hyper-local goings-on of City Hall, to the big ideas of a federal campaign — it can be dizzying.
Last Tuesday, only a few hours before he released his first television ad in the six-figure New York and Philadelphia markets, Booker was in the small auditorium of Rutgers Business School, celebrating a Newark-based manufacturing company that creates ceiling moldings, electrical switch covers, and bolts made with a special groove to prevent leaks. Last Thursday, just before former U.S. Sen. Bill Bradley sent a campaign email lauding the mayor for helping people "think and see beyond themselves," Booker was on Hawthorne Avenue, opening an urban farm on a once-blighted 2.5-acre plot of land. An opening speaker at the farm introduced Booker with a Paul Cézanne quote to scale: "The day is coming when a single carrot, freshly observed, will set off a revolution." The opening speaker at an endorsement event the next day, introduced Booker as the next Obama: "Nobody knew who Obama was and then he became state senator, U.S. senator, and president of the United States," Essex County Executive Joe DiVincenzo said. "Cory Booker has made a name for himself."
But at every stop, whether for City Hall or the campaign, Booker gestures toward a common assurance: He's not leaving Newark behind, now or after the election.
"I am here because of the city of Newark. They gave me a chance," Booker said at his event Friday, where he received endorsements from DiVincenzo and three other major county officials. "I want to pledge to the city of Newark that I may be, God willing with your support, going to Washington, but I'm not leaving New Jersey. My house will still be in Newark, and the ideas and the innovations we've been doing, we're going to carry on here in the city."
Booker's comments allude to his promise late last year, before Lautenberg's death, to finish his second term as mayor. When he chose to run for Senate, and not governor in 2014, he said he ducked the race against Gov. Chris Christie so that he could focus on what he called he called Newark's "historic period of change." The decision rankled state Democrats who saw Booker as their only shot at beating popular Republican incumbent — and it didn't sit well with Lautenberg, then still in office at age 88 and eyeing a run for his sixth term.
Booker, though, said it was the right move — for Newark. Shortly after he announced his decision, he explained the choice plainly to WNYC's Brian Lehrer. "From fiscal stability, to public safety, to jobs and economic development, this is a very important year — probably the most productive year in my time as mayor," he said, "and to leave that for a campaign would be kind of wrong."
Even though Christie's decision to hold a special election in October will cut Booker's term short by more than eight months, he says he "never" seriously considered sitting out the race. "People were speculating that I was considering not jumping into the special," Booker said. "It was a consideration, but it wasn't something I strongly considered. I saw that if I didn't run in this special election, I would not be running in 2014."
But Booker insists that even though he may leave City Hall in three and a half months, he'll still be able to accomplish everything he wanted to in his second term — and possibly more. Because of his abridged timeline, Booker has seen his projects accelerate. Businesses that had been considering a move to Newark now want to come to the city before Booker leaves. His administration currently has $2 billion in commercial and residential developments in the pipeline — more than the $1.5 billion Booker expected for this year, according to Zipkin's office.
Booker calls it an "amazing flowering that I didn't expect."
"There's something really spectacular that's happened in the last month for me," Booker said. "Suddenly, everybody wants to cooperate with me because they see that I might not be here. So we actually have, as a result of this race, this weird dynamic. I felt it yesterday — I started stalking this company I'm trying to get to move here. And suddenly they returned my calls."
"This will probably be one of the most productive four months I've ever had," Booker added. "I'm racking up wins at a rate that's exciting to me."
As for what happens when he leaves, Booker says he'll continue to raise money "as a private citizen" for initiatives inside the city, like the financial empowerment center program, the state's first, that he founded in 2008. "I'm still going to be a resident of Newark, and I'm still going to be raising money next year and helping a lot of these programs thrive," he said.
Booker will also leave what he calls "a nice long letter on the desk of the next mayor" of initiatives to continue and plans to complete. "The police department has to continue to hire up next year," he offered as an example. (Booker laid off 160 police officers in 2010 to help close a budget deficit — one of the most unpopular moves in his seven-year tenure.)
Asked again whether he's worried about his shortened timeline in Newark, Booker dismissed the question. "What's really gotten me encouraged this week [after] talking with everybody — from the council people, who are potentially running for mayor, to others — is that the work is gonna continue."
As if to settle the issue, Booker added, "I see how powerful these four months are."
Correction: Booker's second term would be cut short by eight months were he to win this year's special election. An earlier version of this article misstated the number. This piece has also been updated to clarify the description of the city's unemployment rate. (7/2/2013)