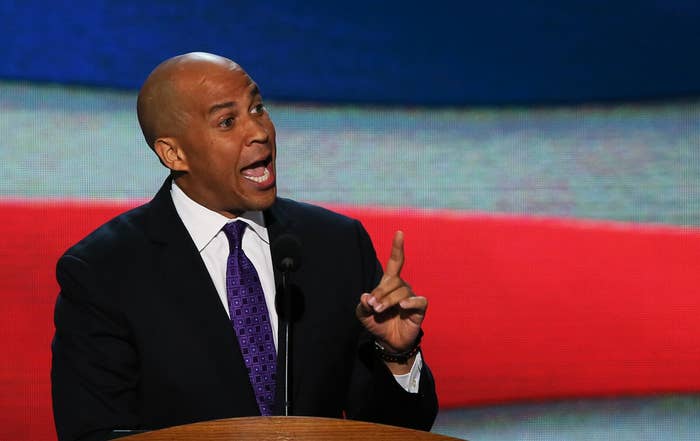 In his seventh State of the City address Tuesday evening, Cory Booker will make the case to Newark residents, and to political observers well outside the city limits, that his record as mayor — under increasing scrutiny as he considers a bid for national office — has been marked by success, grounded in hard data.
According to a city official with knowledge of the speech, Booker will focus on a broad picture of Newark's budget — arguing that his administration has reined in costs, while growing revenue, despite having inherited "dysfunction found across government agencies when his administration arrived almost seven years ago," said the official.
The speech, to be delivered at the New Jersey Performing Arts Center in downtown Newark, will push back against a narrative picked up most prominently in a New York Times article last December: that Booker is better liked outside the Central Ward than inside; that he has ignored his managerial responsibilities in favor of boosting his national profile; and that, as the Times piece puts it, he has "proved to be a better marketer than mayor."
Booker took that criticism hard when the Times story was published, and has aggressively tried to rebut the thesis in subsequent interviews, including one with BuzzFeed earlier this year. In the January interview, he called the story "just the worst thing of this last month," he said. "Just frustrating as heck to see your career, your service, your heart and soul like that."
The State of the City will be an opportunity to argue directly against these and other lines of criticism that have only picked up speed since Booker announced last December that he would prepare a bid for the U.S. Senate.
The mayor, said the official, will offer up an array of statistics that poke holes in the recent critiques: a population increase for the first time in 60 years; a billion dollars of development in the last year; an additional $1.5 billion slated to come; and a decrease in crime over his tenure in office, despite a spike in violence during 2011 and 2012. Statistics from the Newark Police Department, according to the official, show that since 2006, murder in the city is down 17%, and shooting incidents are down 27%.
Booker's office also points to an October 2012 poll, obtained last Friday by the New Jersey Star-Ledger, that shows the mayor in good standing with his city.
The polling — conducted by the national firm Global Strategy Group, for the Newark mayoral race in 2014 — shows Booker with a 70% favorability rating and a 65% approval rating, among local residents. Asked if they would vote to reelect Booker to a third term — which, he says, he has already ruled out — 58% of respondents said they'd give him their vote.
"He took a city government on the verge of financial collapse and made very consistent, very tough management decisions, and has restored stability and accountability," said the official.