Cory Booker Makes Child Poverty His Legislative Priority
The Senate candidate releases his first federal policy plan. "In Newark, I see it every day: So many children, generation after generation, repeating history."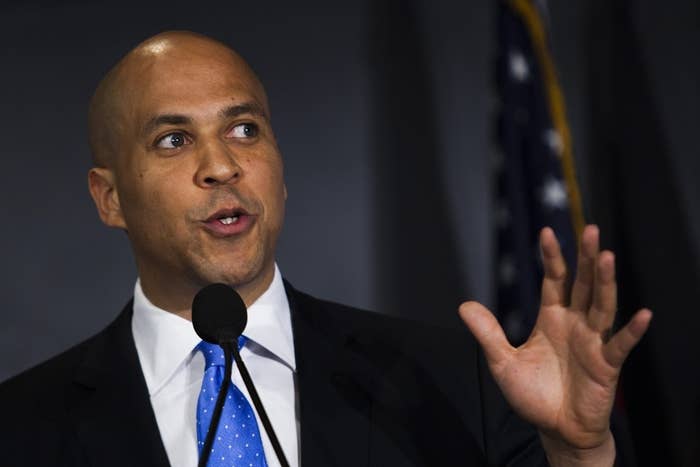 Cory Booker, the leading candidate in New Jersey's special United States Senate election, released a proposal Monday morning to "strengthen American competitiveness by ending child poverty."
The 15-page document, billed as a "roadmap for action," marks the Newark mayor's first major foray into federal policy, and signals his focus on poverty and childhood education — issues he raises frequently in interviews, and will likely make a legislative priority if he is elected to the Senate this October.
"These children are born staring at a mountain they lack the tools to climb," reads Booker's introduction. "In Newark, I see it every day: So many children, generation after generation, repeating history."
In the proposal — titled "For Their Future, For Our Future" — Booker advocates for a federal minimum wage increase to $10.10 per hour, universal access to preschool for 3- to 5-year-olds, principle reductions in underwater mortgages backed by Fannie Mae and Freddie Mac, and a system that would start college trust accounts for children in families receiving earned income tax credits.
Booker faces three Democratic opponents in the special election primary, which Gov. Chris Christie scheduled for Aug. 13 following the death of Sen. Frank Lautenberg last month. The Newark mayor is the first candidate in the race to outline in any great detail a set of policy proposals for the Senate.
"The loss of one person's potential is a tragedy. The loss of millions' is a national emergency," Booker says in the document. "Allowing an American child to grow up in poverty makes victory for the U.S. impossible. It may not guarantee the loss of that child's potential, but it comes awfully close."
Booker goes on to argue that tax dollar are misspent each year, "earmarked for prisons and preventable medical interventions, instead of our schools and universities, instead of countless priorities that would strengthen America's competitive position."
The mayor's focus on subjects like poverty and education has endeared him further to supporters who say those issues are missing from debate among lawmakers in Washington.
The founder of Pac Plus, a national nonprofit that backs progressive candidates of color, has pledged up to $2 million to help Booker be the leading voice on poverty in the Senate. "He is the most unapologetic and eloquent spokesperson about poverty in this country right now," said Steve Phillips in an interview with BuzzFeed last month.
Booker's plan also touts programs he created as mayor — particularly Newark's financial empowerment centers, the state's first, which he founded in 2008 — arguing that the federal government should work to "support the expansion of successful local initiatives" like his own.
"This plan is a roadmap for action," Booker says in the document. "It is a plan not only to alleviate the suffering and improve the lives of individuals, but a blueprint for strengthening our competitiveness, for fostering job growth and economic opportunity."
The mayor will outline the proposals late Monday morning at a town hall event in Bergen County, according to his campaign.
This article has been updated.