Cory Booker Launches Quiet Fundraising Blitz
As many as eight events in support of the Newark mayor's Senate race are slated for March and April. Katzenberg and Weintraub in Los Angeles.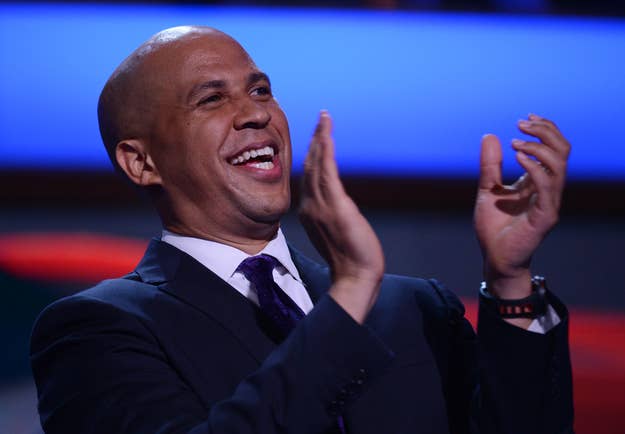 Cory Booker, the two-term Democratic mayor of Newark and all but certain candidate for U.S. Senate next year, has launched a quiet but aggressive fundraising campaign that will take him to as many as eight events, from Manhattan to Florida to California, over the next month and a half, BuzzFeed has learned.
Since announcing last December that he would "consider" a bid for the Senate, Booker has declined to make his candidacy official, saying only that he won't make an announcement until after the New Jersey gubernatorial race this November.
But event RSVP forms posted on the mayor's political website — hidden from the homepage, but still searchable to the public — make clear that his still nascent fundraising efforts are robust, and that his campaign operation is already well underway.
The event listings show that Booker will head to Manhattan on March 21 to Quinn Emanuel, a white-shoe law firm, for a lunch reception; to Newark, N.J., later that night for a dinner at the restaurant, Adega Grill; to Florida for two private-home receptions, first in Ft. Lauderdale on March 22, and next in Palm Beach the following night; to Washington D.C. on April 1, for a reception at the DC Society of Young Professionals; and then back to New York on April 9, for an event at the home of Barry Coller, the physician in chief of Rockefeller University Hospital.
Later in the month, Booker will take a swing through California, first to Los Angeles on April 25, to hobnob with a diverse group of Hollywood bigwigs who in past campaigns have offered their support to an array of candidates from both parties.
The fundraiser, according to its RSVP form, will be held at the home of major motion-picture producer Jerry Weintraub, whose most recent project was a largely positive documentary, 41, on former Republican president George H.W. Bush. According to campaign finance reports, Weintraub has already contributed $5,000 to Booker's political action committee, CoryPAC, and was a supporter of New Jersey's Frank Lautenberg — the retiring Senator whose seat Booker will run for next year — during his most recent and last campaign in 2007. Although the producer did not give to either Obama or Mitt Romney in the last presidential race, he did contribute to John McCain's campaign in 2008.
Other guests slated to attend the Los Angeles fundraiser — where tickets run cost $5,000 — were some of the president's biggest West Coast supporters last year.
The list of star-studded attendees includes Jeffrey Katzenberg, the CEO of DreamWorks Animation who helped launched the pro-Obama Super PAC, Priorities USA; Chairman and CEO of Walt Disney, Bob Iger; Netflix chief content officer Ted Sarandos and his wife, Nicole Avant, the U.S. ambassador to the Bahamas; interior decorator and major Obama bundler, Michael Smith, who redesigned the Oval Office for the president in 2010; CEO of Sony, Michael Lynton; former San Francisco mayor Willie Brown; producer J.J. Abrams; director Rob Weiner; actor Bruce Willis; and HBO executive Michael Lombardo, who hosted the fundraiser with LGBT leaders last year that inspired Vice President Joe Biden to speak out, to the surprise of the White House, in support of marriage equality on NBC's Meet the Press.
Gerald Parsky — the chairman of the private investment firm Aurora Capital Group, a former appointee to five Republican presidents, and a fundraiser for both of George W. Bush's presidential campaigns — is scheduled to attend the Los Angeles fundraiser for Booker, despite having given more recently to Romney in 2012 and McCain in 2008.
Before leaving California, Booker is scheduled to appear in San Francisco the day after the Los Angeles fundraiser, at the law firm, Keker & Van Nest.
The Newark mayor is already well ahead in early polling of his likely primary opponent, New Jersey's Rep. Frank Pallone, who has long expressed interest in the Senate seat. A Fairleigh Dickinson University poll, released Wednesday morning, shows Booker leads the congressman 50 percent to four percent.
But Booker's fundraising blitz this spring will help him play catch up to or exceed the $3.5 million cash Pallone already has on hand. But the success of Booker's campaign swing won't be disclosed until April 15, when the Federal Election Committee requires Senate campaigns to file their first quarterly reports of the year.
A spokesperson for Booker did not respond to BuzzFeed's request for comment.