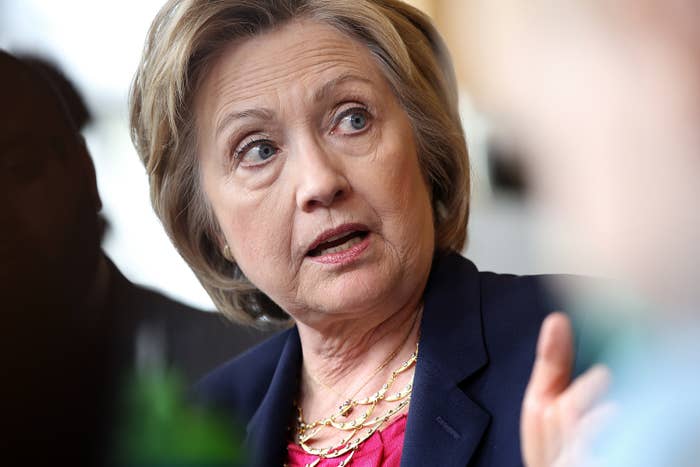 STONE RIDGE, Va. — Hillary Clinton declined Monday to respond directly to questions about Donald Trump's personal attacks, his focus on the scandals of the 1990s, and his recent claim that the former first lady acted as an "enabler."
"I'm running my campaign. I'm not running against him. He's doing a fine job of doing that himself," Clinton said, stopping to speak with reporters after a small roundtable-style campaign event here in northern Virginia on "work-life balance."
As she has in the past, Clinton made clear on Monday that she has no plans to engage with Trump on the subject of her husband. Over the weekend, the presumptive GOP nominee raised the issue repeatedly at campaign stops in Oregon and Washington, claiming that Clinton mistreated the women who have accused her husband of misconduct and sexual abuse.
When a reporter asked if the line of attack is fair, Clinton said she would let Trump "run his campaign however he chooses."
"I'm going to run my campaign, which is about a positive vision for our country with specific plans that I think will help us solve problems that we're facing, knocking down those barriers that stand in the way of people," she said. "I am going to continue to really reach out to people, to listen to people, and make the case for the kind of president that I would be."
Pressed on whether she felt the need to "correct the record" on Trump's claims, Clinton declined again to respond.
"I have nothing to say about him and how he's running his campaign," she said, but noted that she's spent weeks on the campaign trail "answering" Trump on the issues she said voters care about. "I'm answering him all the time."
"I'm answering him on the differences between our records, our experience, what we want to do for our country, how important it is to try to unify the country, and I have been very clear that a lot of his rhetoric is not only reckless, it's dangerous."
"I was asked the other day what I mean by calling him a loose cannon," Clinton told reporters. "Well, somebody who wants more countries to have more nuclear weapons, somebody who wants to pull out of NATO, somebody who wants to return to torture and murdering the families of so-called terrorists."
"I think that's the definition of a loose cannon."