Clinton Shows Warren Love, But Doesn't Get Much In Return
Two of biggest names in Democratic politics did their first ever event together on Friday.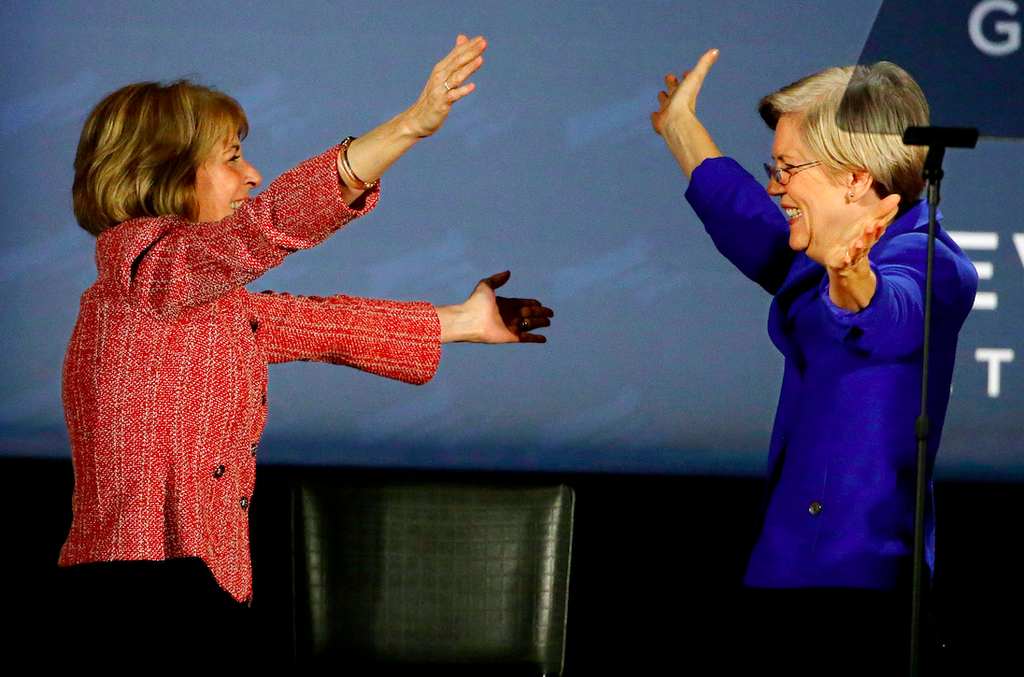 BOSTON — They did not appear on stage at the same time. They delivered their remarks one speaking slot apart. One did not introduce the other. And there were no photo-ops to speak of on Friday for Hillary Clinton and Elizabeth Warren.
At their first joint campaign showing, the two Democrats kept a notable distance.
Clinton, the former secretary of state, and Warren, the U.S. senator from Massachusetts, didn't cross paths in public view at the rally for Martha Coakley, the flagging candidate for governor in this state. But the scene and speeches at Boston's Park Plaza Hotel, where hundreds came to support Coakley, afforded a rare glimpse at the personal and political shades of the Clinton-Warren relationship.
They are two of the party's biggest names, often cast as adversaries in a presidential race to which neither has committed. But before the Coakley event on Friday, the two leading Democrats had never appeared at a public political event together.
The dynamic at the rally would best be described as one-sided.
Light on Clinton, heavy on Warren.
From the beginning of her prepared speech — a 25-minute outline of Coakley's record and a personal appeal for higher wages, better support for working families, and equal pay legislation for women — Clinton went out of her way to praise Warren.
In a series of nods to other officials headlining the rally, including Sen. Ed Markey and Gov. Deval Patrick, Clinton gave a line or two to each person. The last attendee she mentioned was Warren. "And I am so pleased to be here with your senior senator," Clinton said, her voice louder, hitting every word almost too hard, "the passionate champion for working people and middle-class families…"
"Elizabeth Warren!" she said, sounding out the syllable of the name. The crowd roared below. Clinton waited for quiet and then went on. "I love watching Elizabeth, you know, give it to those who deserve to get it — standing up not only for you but for people with the same needs and the same wants across the country."
Warren did not talk about Clinton in her speech.
She acknowledged her briefly, along with Coakley and Patrick, in a string of introductions: "I'm happy to welcome Secretary Clinton back to the Commonwealth," she said, setting off a round of applause in the hall of the Park Plaza.
Warren, the bankruptcy expert and a former law professor, has become a power in the upper chamber since arriving there at the start of last year. Liberals have branded her policy proposals on financial regulation and student loan debt relief under a catch-all slogan, "I'm from the Elizabeth Warren Wing of the Democratic Party." Many hope she will make a national campaign of her long and public crusade against big banks and what she calls the "rigged" economic game.
The senator hasn't been afraid to needle Clinton on economic issues in the past.
In 2003 book, The Two Income Trap, Warren writes that Clinton supported a bankruptcy bill as senator that she opposed as first lady. "As New York's newest senator…it seems that Hillary Clinton could not afford such a principled position." And this summer, after Clinton said that she and her husband left the White House "dead broke," she spent weeks clarifying the comment at other appearances as she tried to promote her new memoir.
When a reporter asked Warren about the remark, the senator paused for a full 19 seconds, then said, "'Um, I was surprised."
When Warren was asked in an interview, published this month in People, to describe her relationship with Clinton, she said there wasn't much of one.
"We have talked. It's not much more than that. Not much more."
The former secretary, who has said she'll make a decision about running for president after the end of the year, has visited about a dozen states to campaign or fundraise for Democratic candidates this month. At each event, Clinton has made subtle tweaks to her remarks. But each speech has hardened around the same set of core issues, and a rotating sample of anecdotes and one-liners.
On Friday, however, Clinton made a point of commending Coakley for her work as attorney general in the financial sector, referencing Warren's speech earlier in the day.
"That's why she did, as Elizabeth said, go after corruption and keep financial institutions accountable for the damage that they have done to our economy and to individual lives across the commonwealth and across the country," Clinton said.
She also stumbled on a line she hadn't used in prior speeches.
"Don't let anybody tell you that, you know, it's corporations and businesses that create jobs," Clinton said. "You know that old theory of trickle-down economics. That has been tried. That has failed. It has failed rather spectacularly." A Clinton aide said later on Friday that she'd meant to refer to tax breaks for corporations.
During her speech, Warren stayed focused on Coakley and did not embrace themes of Clinton's tenure in the Senate or the State Department. She approached the podium, as Tom Petty's "I Won't Back Down" played overhead, and delivered a short but hard punch of a speech. It was just eight minutes long, but Warren had the crowd cheering with lines about the times Coakley "stood up to the big national banks that tried to trick and tramp and cheat our families here in Massachusetts."
Warren framed her own efforts as in tandem with Coakley's. They were a team, united by the common experience of "taking on the big banks," which makes you a lot of enemies, Warren said. "I know that and Martha knows that."
In her own speech, Coakley welcomed the association.
"She and I took on the big banks," she said of Warren.
And Clinton?
Coakley had already made reference to her earlier in the speech. "It's days like today that I wish my dad and mom could be here," said the candidate. "I get to stand up here following Senator Elizabeth Warren, and then introduce… you-know-who."
She paused. "Hillary Rodham Clinton!"