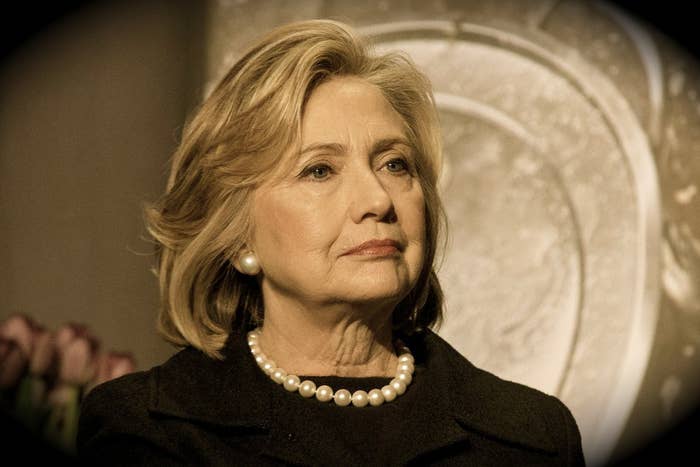 The first item on the agenda was titled "Why We're Here."
That's how it started, one year ago this month. Except no one at the Parker Meridien that day in New York seemed to know the answer.
Political operatives wandered the halls of the hotel between meetings, while two or three reporters hung around near the elevators, aimless. What they were covering, how it would all work, and exactly to what end wasn't clear at the time. But that small, scattered scene at the conference — a daylong series of panel discussions billed as a 2016 "strategy session" — marked the loose beginnings of a coordinated, unprecedented early effort to elect a U.S. president.
The Hillary Clinton "shadow" operation — call it a pre-campaign, or the "queen's machine," as one Republican news site has put it — is better defined now.
Three organizations make up what, together, is considered a formidable triad: Ready for Hillary, Correct the Record, Priorities USA. Respectively, the groups have amassed Clinton supporters, defended her in the press, and made preparations to raise millions to augment her possible campaign.
Last Friday, the stakeholders convened in New York again.
The occasion was the same: the Ready for Hillary national finance council meeting — a day of closed-door panel discussions with Clinton supporters, donors, and strategists who work at the other two outside groups.
But one year later, the pro-Clinton enterprise was larger — more organized and better synchronized. The aimlessness of the first meeting had been replaced by an air of authority. It was all very official. There were Ready for Hillary-branded centerpieces at each table. There were more people, and more reporters. Surrogates of the shadow campaign like Buffy Wicks, executive director of Priorities, cycled through the pressroom to take questions. The day before, Correct the Record aides set up a lunch with a few dozen donors.
Ready for Hillary had even moved the conference from the Parker Meridien to a larger, perhaps more symbolic venue: the Sheraton in Midtown — the place the Clintons host their foundation's annual Global Initiative meeting.
The trio of groups was a long way past the "Why We're Here" panel last November. At the meeting, Wicks described the alliance between the pro-Clinton groups as a "three-legged stool" that would be kept stable and well-resourced.
Together, the three organizations have appeared powerful and effective. The coalition has tacitly communicated something important: that a team of strategists have "laid the groundwork," "set the stage," and "built the foundation" for a campaign. And the perception of that Clinton machine is valuable.
But individually, the impact of each group is harder to grasp, and less discussed. In more than two dozen interviews and conversations this month about Priorities, Correct the Record, and Ready for Hillary, Democrats inside and outside the Clinton effort said the campaign cliches reveal little about what each organization did and did not actually accomplish in the last year.
Now Clinton's real campaign could be just months away. And in the waning days of the "shadow" efforts, the role and shape of all three groups is rapidly shifting.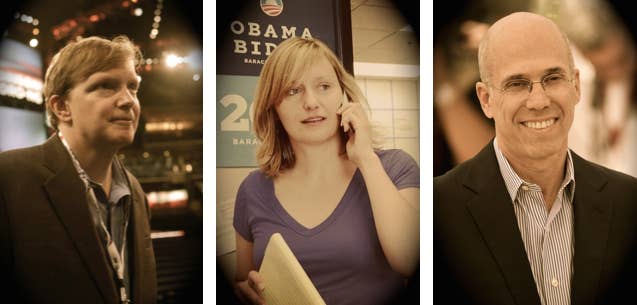 The super PAC had a new board of directors, a new office, and a new candidate: Hillary Clinton. But three months after the closely watched retooling, when the first quarter closed this year, Priorities USA Action issued a statement trumpeting how little it had raised. The finally tally was just over $4,000.
After the second quarter, they did it again, raising just shy of $2,000. In the third quarter, the number was even lower: $216.
This is the same PAC that spent $67 million on President Obama's re-election.
The slow fundraising was a sign of good faith — evidence, as the group's spokesman, Peter Kauffmann, said this summer, that the PAC was continuing to "focus our efforts on supporting Democrats in 2014," rather than distracting from the midterms by raising money for an unconfirmed Clinton bid.
Earlier in the year, Priorities received a spate of unwanted headlines after the group announced it wouldn't be funding midterm candidates directly. (Democrats ended up losing at least eight seats in the Senate and twelve in the House.) Instead, officials at the PAC encouraged their donors to give to midterm races, while also taking informal meetings with contacts about 2016.
Now the real work begins for Priorities: raising a massive sum of money.
Officials have not made a fundraising goal public. The number $300 million has been discussed as a possible benchmark, according to two people familiar with the group's plans. Wicks wouldn't talk dollar targets on Friday. "The answer is enough resources to communicate the message," she told reporters.
Even for Priorities, considered one of the most potent big money groups in either party, raising $300 million would be an enormous feat. But this time around, the organization will benefit from more accepting attitudes toward super PACs.
During Obama's re-election campaign, when two former White House aides formed Priorities, the president was among the loudest opponents of outside, unlimited spending. Even after he endorsed Priorities in early 2012, donors were still nervous to give to the PAC — would it be held against them?
The group would eventually secure 29 checks for $1 million or more from individual donors. Each one required significant legwork from the Priorities co-founders and two other key figures: Jeffrey Katzenberg, a Hollywood executive and a longtime donor and fundraiser, and Paul Begala, the former Bill Clinton strategist who serves as a senior adviser to the PAC.
"Priorities had to devote a lot of energy to justifying its existence, in addition to doing the work of helping re-elect Obama," said Geoff Garin, a pollster who served as Clinton's top strategist for the final two months of her campaign. "In 2016, Priorities will start off from a better position of strength and credibility."
Ahead of the next election, it's not clear who will lead on what could be one of the most ambitious outside fundraising projects in politics.
The Priorities co-chairs both work on the PAC in a part-time capacity. Jim Messina, Obama's re-election campaign manager, runs his own consulting firm, and Jennifer Granholm, the former governor of Michigan, teaches at Berkeley.
Jonathan Mantz, the national finance director on Clinton's last presidential race, is currently the PAC's senior adviser to finance. He and Diana Rogalle, Priorities' finance director, are expected to direct the group's fundraising strategy. And Begala and Katzenberg, one source said, will help secure checks again this cycle.
But how Priorities will get the big checks, and with whose help, is the question occupying officials there now, two sources close to the group said.
Donors anticipate that the Clintons, and particularly Bill Clinton, will play a direct role in Priorities fundraising efforts, according to three people with knowledge of discussions among the PAC's network about the idea.
One suggested that Bill Clinton, among the most popular political figures in the country, would be the bold name the PAC needed to help bring in big checks.
"I would expect them both to be involved," one Democratic donor said.
Kauffmann, the spokesperson, said Priorities officials hadn't discussed the possibility that the former president would help with fundraising.
"There have been no conversations about President Clinton raising money for Priorities," Kauffmann wrote in a statement last week.
As long as Clinton is not a candidate, she and her husband would be free to raise unlimited amounts of money for Priorities. They could speak at events and make solicitations — a scenario people close to the couple dismissed as unlikely.
If Clinton runs for office, opening an exploratory committee or a campaign, she and her husband would be barred from directly raising money for the PAC. But they would both be able to appear and speak at Priorities fundraising, so long as they don't make the ask for contributions, according to a 2011 Federal Election Commission ruling.
Mitt Romney did it in 2012. He spoke at multiple events for Restore Our Future, the outside group supporting his candidacy. That year, Bill Clinton also attended multiple events for Priorities. Obama appeared at only one, a lunch hosted by Katzenberg. The White House later described it as a "thank you event for the campaign's supporters," not a fundraiser.
Clinton could have a different approach to the optics of outside spending.
"She will take a more favorable view of these super PAC activities than Obama ever did," said a source with knowledge of her thinking on the topic.
The group has already started soliciting major donors, one source said. But officials also said Priorities won't move at full pace until Clinton runs.
"Priorities is meeting with key supporters to discuss the dynamics of the 2016 presidential race," said Kauffmann. "We played a critical role in helping elect a Democratic president in 2012 and we look forward to doing the same in 2016."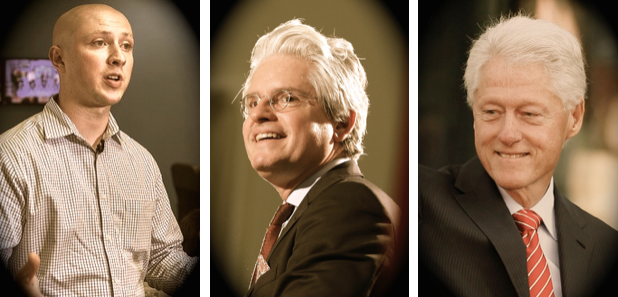 On a Friday in late May, Democrats from an array of left-leaning groups in Washington met for a national security briefing at the offices of Third Way.
The centrist think tank regularly holds briefings for strategists. But the gathering last spring, first reported by Politico, took place about two weeks ahead of the release of Hillary Clinton's new memoir, a chronicle of her four years as secretary of state. And the discussion focused in part on how best to respond to Republicans about the most controversial moment of Clinton's tenure: the 2012 attack on the U.S. consulate in Benghazi, Libya.
Clinton's longtime spokesman, now a top adviser, Philippe Reines, attended the Third Way briefing, along with a number of her former aides.
A new partner was also at the table: Correct the Record.
The group — an arm of the the super PAC, American Bridge — was one of many represented at the May briefing. But their presence at the Third Way offices signaled the extent to which the organization has served as, and was sanctioned to be, a de facto Clinton communications shop for much of the last year.
Clinton has voiced her approval of the group's work. "She has told donors that this needed to be done," someone familiar with the conversations said.
Susie Tompkins Buell, a major Democratic donor and Clinton's close friend, provided Correct the Record with early, significant backing. "My instinct is to protect Hillary," said Buell. "She's such a target, and she needs to be protected by those who believe in her so she can focus on doing her important work."
Buell said she hasn't talked to Clinton about backing Correct the Record. (She is also a co-chair of Ready for Hillary's finance council.) "It wouldn't be appropriate," she said. "I know she's an appreciative person, so I don't need to hear anything from her. I don't expect it and don't need it."
Correct the Record is led by David Brock, the founder of American Bridge and Media Matters, an organization that monitors conservative news outlets.
The group has two components: a research team that has compiled material about Clinton's political history, and a "rapid response" communications operation that aims to defend her in the press.
At first, the group occasionally launched hits in the press unprompted against possible Republican presidential candidates, including Gov. Chris Christie and Sen. Rand Paul. When Christie got in trouble for closing lanes on the George Washington Bridge, Correct the Record released a graphic showing traffic signs that read "Political Retribution" and "Lanes Closed. Expect Christie?" The picture drew headlines like "Clinton-linked group attacks Christie."
Since then, Correct the Record has stayed focused on Clinton.
The organization has released pages on pages of research to surrogates and reporters this year. But some of Correct the Record's material remains internal, for use by stakeholders in the pro-Clinton effort. In interviews this month, Democrats said the group has been most effective outwardly as an on-the-record voice in the political debate, filling a void where Clinton hasn't engaged for much of the year.
After leaving the State Department, Clinton stayed out of the fray.
She worked at the Clinton Foundation, wrote her book, and gave paid speeches. When she was criticized in the press — whether by a Republican lawmaker or a right-leaning group — it was most often Correct the Record that responded with a quote or memo. Political reporters were more likely to get a comment from the outside group than a reply from a Clinton spokesperson.
But since her memoir came out this summer, Clinton has waded back into the debate. In September, she returned to the campaign trail, holding fundraisers and rallies for more than 26 candidates. And last week, when Obama announced a series of executive actions to slow deportations, Clinton's personal office released a statement to reporters saying she supported the move.
As a campaign gets closer, Clinton will become even more engaged. And if she runs, she'll build up her own communications team.
Correct the Record has plans to stay active alongside her campaign, as first reported in the New York Times. The group, Clinton supporters said, now faces the challenge of staying out of her staff's way while still being helpful.
"Correct the Record's mission all along has been to fight the right against false and unfair attacks on potential presidential Democratic candidates, most notably Hillary Clinton," the group's communications director, Adrienne Elrod, said in a written statement. "Our mission is far from complete."
"Moving forward, Correct the Record will remain central and fundamental to taking on the right-wing and others who seek to mislead the public."
The organization will likely focus on responding to attacks from other outside groups, like the anti-Clinton firm America Rising. Supporters said that if Correct the Record is successful in engaging Republican attacks, Clinton's campaign would be able to focus on its message, staying as "positive" as possible.
"The campaign itself might not want to be in perpetual response mode," said Garin, the pollster and former Clinton strategist. "In that sense, it's helpful to have a third party correcting falsehoods about Clinton from outside entities and right-wing news outlets whose oxygen will be attacking Hillary."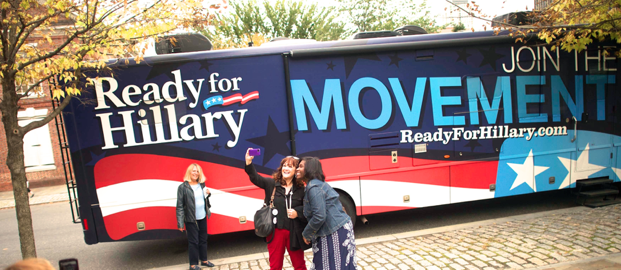 Ready for Hillary was just a few months old. It was late spring in 2013, and no one quite knew what to make of the thing. Was it a draft movement? A fundraising venue? A campaign-in-waiting? The group had only 200,000 people on its email list — but each week more and more followers signed up.
Clinton's advisers and former aides were watching warily.
By May, the group received valuable stamps of approval from Clinton loyalists like James Carville, Harold Ickes, Ellen Tauscher, and Buell. Bill Clinton's old political director, Craig Smith, had also signed on as a senior adviser.
Early that summer, a leading New York donor sent an email to a group of fundraising contacts: "I just spoke with Craig Smith who is now advising Ready for Hillary PAC and, just so you know, it is okay for us to be supporting this now."
The mass email from the donor, a longtime Clinton backer, is emblematic of the slow, begrudging way in which her world eventually accepted Ready for Hillary.
The group, co-founded by 29-year-old former Clinton staffer Adam Parkhomenko, still has detractors — including, for a time last year, the officials at Priorities. But most Clinton allies have embraced the group. In the absence of a real campaign, and with a growing list of supporters and strong marketing acumen, Ready for Hillary became impossible to ignore.
Clinton's supporters also saw the value of a single hub for a pre-Clinton PAC, rather than an array of smaller, less reliable groups, which were already sprouting up in election filings by the spring of last year. Eventually, it became clear that Ready for Hillary was considered the dominant organization.
A year and a half later, the self-described "grassroots super PAC" has grown to a massive size. Local and federal elected officials, including 16 U.S. senators, have directly endorsed the group. The PAC has appeared in every state, assembled a list of more than 3 million Clinton supporters, built a squad of about 35,000 volunteers, and hired a staff of 29 full-time employees. Their operating costs total roughly $23,000 each day.
The Ready for Hillary mission is straightforward: to build a list of people who support Clinton — and to provide fans a viable outlet for their enthusiasm.
"The storyline remains familiar and simple," said Tracy Sefl, a Democratic strategist who has served as a senior adviser to the group since last year. "And for some time now, Ready for Hillary has been doing what we do."
But of the three pro-Clinton entities, the group is perhaps the most misconstrued. The group is often credited with "laying the groundwork" for a Clinton bid, or building a "campaign infrastructure" two years in advance. But the generalizations glaze over the actual work of the PAC, which will come to an end when a Clinton campaign begins.
Ready for Hillary's most valuable asset is its list of 3 million Clinton supporters.
Each person on the list has, at the very least, supplied an email address and mailing zip code — or, if a supporter signs up through the mail, a physical address where he or she can be contacted. (The 3 million figure does not include Facebook users who have liked the group's page, an official said.) The PAC also collects data about whether a member has made donations, volunteered, attended events, or purchased merchandise on the Ready for Hillary website.
Officials with the PAC expect Clinton will want the list.
The group has taken steps to ensure the quality of the data. Through an internal system, built by NGP VAN, the leading technology company for Democrats, the Ready for Hillary list "instantaneously" marries up, or syncs data, with a 50-state voter file, according to a person familiar with the system.
Ready for Hillary purchased the voter file from NGP VAN last year. The file is a comprehensive database that includes information about voting history. An official with the PAC would not disclose what percentage of this list matches the voter file — a possible indicator of the list's value to a campaign.
Officials expect they will be able to transfer the data to Clinton through a list swap. The process could be logistically and legally complicated. But the group has, one aide said, already walked through the ways a swap could work with Jim Lamb, the former Clinton lawyer Ready for Hillary hired last year. Organizers said they hadn't discussed the list with anyone inside Clinton's direct orbit.
"It's a safe assumption that someone should acquire the data and utilize it fully," said Sefl, the Ready For Hillary senior advisor.
The list's value is often confused for a field operation in the making. Aside from the work of a few regional staffers, the PAC hasn't built an infrastructure that resembles the scale of a presidential campaign's field organization.
"People think there's this huge campaign structure that Ready for Hillary has built, but if there is, not a lot of folks have seen it," said a senior Democratic operative. "They're not building a huge field operation. They're building a list."
"But it's an important list. Martin O'Malley and Jim Webb would kill to have that."
Scott Brennan, the chair of the Democratic Party in Iowa, described the PAC's work in clear terms. "They've built lists," he said. "They have volunteers."
In Iowa, where the first event of the nominating process is historically held, voters can get "a little squishy," Brennan said, about nontraditional campaign methods, such as a super PAC supporting a campaign that doesn't yet exist.
"Obviously, people want to see candidates here, and she has been here," he said.
As the next presidential race gets closer, more and more voters will want the candidate, not the PAC. Ready for Hillary officials are now preparing for that next phase. The group is planning to shut down when a campaign begins, though it still has events planned in cities across the country through at least January.
After a year on the road promoting its "Ready" brand on a state-to-state bus tour, the group is quieter now, shifting into its role in the background.
When Bill Clinton spoke in New Hampshire this fall, Ready for Hillary co-hosted the event and stocked the venue with posters bearing its trademark.
But a month later, when Hillary Clinton returned to the state to headline a campaign rally for two Democrats, the super PAC's presence was far more faint.
There were no signs or posters, no "Ready" branding on the walls. From the venue, you could barely spot the group's bus, idling on the far edge of the parking lot, allowing more space than usual to the candidate-to-be.