Clinton Has Little To Say Directly About Allegations Against Trump
As a growing list of sexual misconduct claims against her opponent dominates the news, Hillary Clinton has adopted a limited response: to talk about others' reactions to Trump.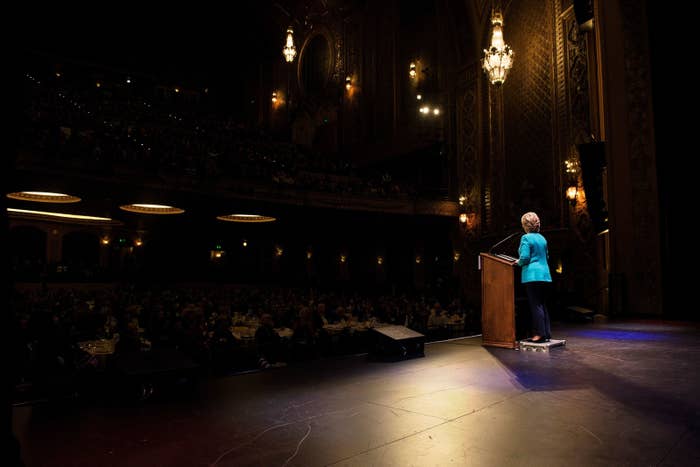 LOS ANGELES — The image of Michelle Obama flashed on-screen in the studio. She looks sick to her stomach in the video, disgusted and angry. "I can't stop thinking about this. It has shaken me to my core in a way that I couldn't have predicted."
She cannot believe, she says in a clip already shared by millions, that "a candidate for president of the United States has bragged about sexually assaulting women."
The screen cut back to the set, where Ellen DeGeneres, host of The Ellen DeGeneres Show, then began to gently press her guest, Hillary Clinton, for a reaction to the first lady's emotional rebuke of Donald Trump and the allegations against him.
"So, I mean, she's very emotional about this," DeGeneres said. "I mean, it's disturbing."
"It is," the candidate replied.
DeGeneres tried again. "So…"
"Well, the speech that she gave, I think, put into words what so many people are feeling," Clinton finally said, touching briefly on Trump's way of speaking about women before shifting back into a more general attack on the Republican nominee. "It's not just what Trump has said about women, as terrible as that has been."
As women have stepped forward late this week with stories of unwanted advances, Clinton strictly avoided the substance of the allegations facing Trump. At her Ellen taping here in Los Angeles, and at a pair of fundraisers in San Francisco and Seattle, the words "sexual assault" did not come from the candidate's mouth. Most often, Clinton addressed the situation in passing, urging voters to watch the first lady's remarks online, but offering none of the same outrage that made the speech light up the internet on Thursday.
"If you haven't seen it, I hope you will see Michelle Obama's speech today in New Hampshire. Once again, she not only made a compelling and strong case about the stakes in the election, but about who we are as Americans," Clinton told a group of volunteers on Thursday morning in San Francisco, not mentioning the women who had come out with new claims of sexual assault against Trump this week.
At a fundraiser later that day, Clinton inched closer to mentioning the charges — "the disturbing stories just keep coming" — but then changed course, reverting to a joke.
"There's hardly any part of America that he has not targeted. Now, it makes you want to turn off the news. It makes you want to unplug the internet. Or just look at cat GIFs," she said to laughter from the crowd of donors. "Believe me, I get it — in the last few weeks, I've watched a lot of cats do a lot of weird and interesting things."
By Friday, two more accusers joined a growing list, and Clinton's approach to the topic was still the same.
The candidate's distant posture toward the news unraveling Trump's campaign is tangled up in the ugly and fraught 25-day homestretch to Election Day. To start, aides have said, Clinton is reticent to step in the way of Trump as he does damage to his own campaign. (On Friday, he attacked the women accusing him of sexual assault, calling them liars and unattractive.) But complicating matters further is the fact that Trump has made the women who have accused Bill Clinton of sexual misconduct a centerpiece of what he and his advisers are calling a "scorched-earth" strategy in the final weeks of the race.
Sexual assault is one of the major policy topics Clinton has addressed over the course of her campaign, releasing a plan to address campus sexual assault in September of 2015 — but the issue itself is one she rarely discusses on the trail. A tweet posted last year, in which the candidate said that every survivor has "the right to be believed," has at times been thrown back at Clinton by trolls and critics.
For months, Clinton has handled Trump's focus on her husband by simply dismissing it. "He can run his campaign however he likes," she likes to say.
Still, the seriousness of the claims against Trump may require Clinton to engage with the subject in more specific terms.
On Friday, asked if Clinton planned to address the allegations "directly," Jennifer Palmieri, the campaign's communications director, only pointed to the last debate.
"I think she addressed it pretty clearly and directly to Donald Trump's face on the debate stage. And you should expect that she'll continue to do that," she said, speaking to the candidate's traveling press corps on the flight to Seattle.
A reporter cut in: The debate was days before the new allegations came out.
"I think," Palmieri said, "you should expect to see her do it."