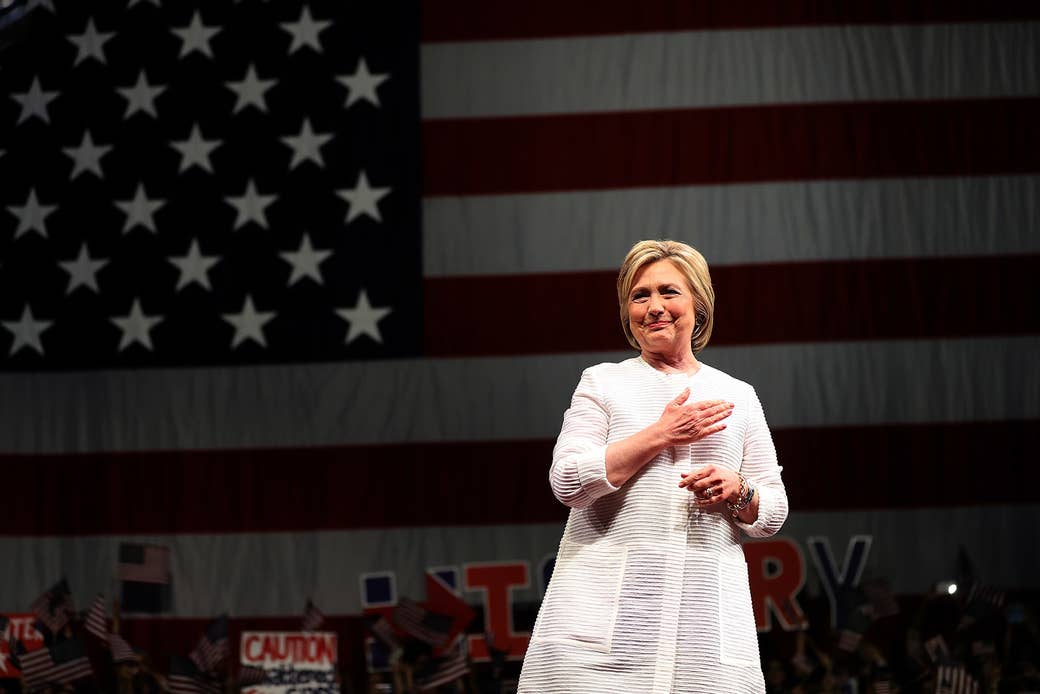 BROOKLYN, New York — Women here had tears in their eyes as Hillary Clinton, eight years to the day after falling just short of "that highest, hardest glass ceiling," finally made history, becoming the first woman to claim to a major political party's nomination for president of the United States.
"Tonight's victory is not about one person; it belongs to generations of women and men who struggled and sacrificed and made this moment possible," Clinton said onstage at Brooklyn's Duggal Greenhouse, where the venue's glass ceiling set the backdrop for a sweeping victory speech late Tuesday.
"Tonight belongs to all of you."
A crowd of 3,600 filled the hall, wrapped around the press risers, and spilled out into the outdoor patio in Brooklyn's Navy Yard. Clinton, smiling wide, seemed in awe of the scene as she took the stage, raising both arms in the air. Signs popped up from the crowd. "Caution: Shattered Glass," one read. Another simply spelled, "H-I-S-T-O-R-Y."
The 18-minute speech, an optimistic call for a "big-hearted, fair-minded" country, positioned Tuesday's benchmark as the next step forward in the long-fought women's rights movement, starting with Seneca Falls in 1848, she said, "when a small but determined group of women and men came together with the idea that women deserved equal rights."
The message then, and now: "Don't let anyone tell you that great things can't happen in America," Clinton said, speaking softly and slowly into the microphone. "Barriers can come down. Justice and equality can win. Our history has moved in that direction, slowly at times, but unmistakably. Thanks to generations of Americans who refuse to give up or back down."
The speech marked a milestone for a candidate who hasn't always embraced the symbolic mantle that's defined much of her career in politics.
Still, Clinton's gender has always shaped, defined, and complicated her life in public service — from the '70s, when she drew criticism for declining to take her husband's last name; to the 1992 presidential race, when she dismissed the thought of staying home to bake "cookies" and make "tea"; to the 2008 election, when, at the advice of her campaign advisers, she downplayed her potential to make history as the first woman president.
Only in her concession speech, delivered on June 7, 2008, at the National Building Museum in Washington, did Clinton acknowledge the full significance her candidacy carried for the country's women and girls.
Eight years later, calling back to that speech, Clinton did not hesitate to speak in historic terms about her candidacy. "You are writing a new chapter of that story," she told her supporters. "This campaign is about making sure there are no ceilings, no limits on any of us, and this is our moment to come together."
She framed the general election against Donald Trump as one that goes beyond traditional partisan terms — or even normal elections. This race, she said, is "really is about who we are as a nation. It's about millions of Americans coming together to say, We are better than this. We won't let this happen in America."
When rebutting Trump's famous slogan — "Make America Great Again" — Clinton has often argued that America is already great. On Tuesday, she told supporters instead that what Trump really means is "Let's take America backwards," to a time when "opportunity and dignity were reserved for some, not all," including economic promises she said he can't deliver.
Addressing people she's met over the past year, Clinton said she'd learned about the "persistent problems and the unfinished promise of America" for many.
"So many of you feel that you are out there on your own, that no one has your back," she said. "Well, I do. I hear you. I see you. And as your president, I will always have your back."
Ahead of Tuesday's primaries, Clinton officials said they had secured more than 13 million votes, a popular vote lead of more than 3 million, along with 1,809 pledged delegates.

Early Wednesday morning, Clinton was declared the winner of California, beating Bernie Sanders 56 to 43, and adding to a lead of 289 pledged delegates — already three times
larger, aides noted, than Barack Obama's lead of 106 when he clinched the nomination in 2008.
The Associated Press called the race on Monday, a day earlier than anticipated, marking the end of a long and bitter Democratic primary that, at points, has felt like a slog to participants, marred by the controversy over Clinton's personal email server, her dropping favorability numbers, and a tighter-than-expected race against Sanders.
In her speech Tuesday, Clinton congratulated Sanders for his "extraordinary campaign" and praised his commitment to "progressive causes and principles," prompting cheers from the hall. "He's excited millions of voters, especially young people," Clinton said, acknowledging one of her weakest points in competing against the Vermont senator this year.
"Let there be no mistake," she added. "Sen. Sanders, his campaign, and the vigorous debate that we've had about how to raise incomes, reduce inequality, increase upward mobility, have been very good for the Democratic Party and for America."
After 14 months — with 419 rallies, roundtables, and town halls in 42 states and territories — the weight of the moment started to hit staff and supporters over the weekend, as Clinton and her husband finished a five-day swing through California, logging roughly 40 combined rallies and retail stops.
"We have done this for 14 months: rinse and repeat, rinse and repeat," said Nick Merrill, a campaign spokesman who has traveled alongside Clinton to nearly every one of her campaign events. "While we all intellectually understood that winning the nomination would be a big deal, I think the history of it is setting in among the staff and the candidate."
"It's a really, really big deal — and we're going to treat it as such," Merrill said.
During her first run for president, under the counsel of many of her advisers, Clinton approached her status as the potential first woman president almost like a liability, particularly with white male voters, a key slice of the electorate in the fight against Obama.

In a study, two university researchers tracked Clinton's speeches, ads, and campaign literature, looking for mentions of the historic nature of her campaign. The professors, Melody Rose of Portland State University and Regina Lawrence of Louisiana State University, concluded that Clinton had taken a "gender neutral" approach.

Patti Solis Doyle, a longtime adviser who served as campaign manager in 2008, described Clinton as torn over the issue: "It was a battle between heart and mind for her. Her heart was saying, 'This is a big deal.' She knew it, we knew it, women on the campaign knew it, women across the country knew it. But her mind — the polling, the data, the strategists — was telling her not to. It was a real battle for her."
Eight years later, Clinton has been far more willing to talk up her potential to make history. Last summer, she starting using a regular stump line from 2008 — "I'm not asking people to vote for me because I'm a woman" — but this time with a new addendum: "I'm asking people to vote for me on the merits. And I think one of the merits is, I am a woman."
Last summer, after using the line at a town hall in New Hampshire, Clinton acknowledged the small but significant shift. "I think the country is more ready today to think about what it would mean to have a woman as president and commander-in-chief," she told reporters. "The public acceptance and even interest in embracing that potential has become obvious to everyone. So I want to be explicit about it.
"I want to entertain questions about it, and I want to inspire not just young girls and women, but young boys and men as well, to think about making history again."
On Tuesday, in the final lines of her speech here, Clinton came back to her own family history, recalling the story of her late mother, Dorothy Rodham, who was abandoned as a child but "somehow managed not to become bitter or broken."
It's because of Rodham, Clinton often tells voters, that she decided to undergo a second presidential campaign.
This past Saturday, June 4, would have been Rodham's 97th birthday. "On the very day my mother was born in Chicago, Congress was passing the 19th Amendment to the Constitution. That amendment finally gave women the right to vote," Clinton said as the greenhouse filled with the sound of cheers.
"I really wish she could be here tonight. I wish she could see what a wonderful mother Chelsea has become and could meet our beautiful granddaughter, Charlotte.
"And, of course," she said, "I wish she could see her daughter become the Democratic Party's nominee."