Clinton Camp Demands Sanders Undergo "Independent Review" For "Stolen" Data
Hillary Clinton officials said on Friday that Sanders's exploit of a software glitch to access its voter data files may amount to "a violation of the law."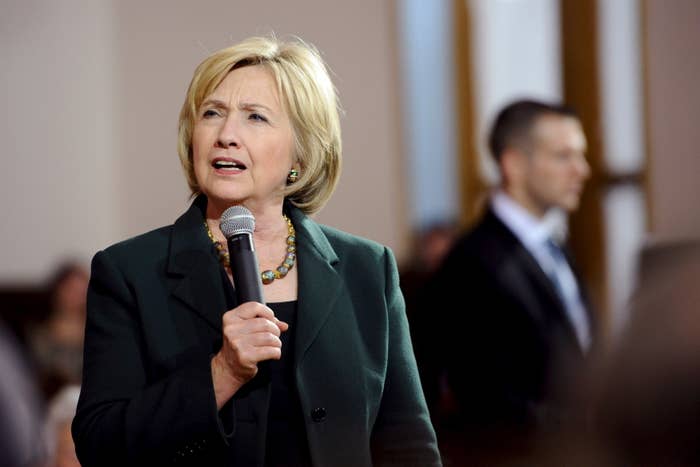 Hillary Clinton's campaign is calling for rival Bernie Sanders to undergo an "independent review" following the data breach that her top officials described on Friday evening as theft and a possible "violation of the law."
Clinton's campaign manager, Robby Mook, and spokesman, Brian Fallon, laid out the demands in a conference call with reporters on Friday: Sanders, they said, must provide a full accounting of the incident and submit to an external review to ensure that his campaign aides no longer have access to or copies of Clinton's data.

The breach occurred on Wednesday when a software glitch in the NGP VAN, the technology company that gives campaigns access to a 50-state voter file, exposed the campaigns' internal "voter ID" data. During that period, Mook said Friday, the Sanders campaign "made 25 intentional and targeted searches of our data."
"And while they told us that they didn't save anything, we have been told that they did in fact store the data," said Mook, referring to an audit report provided by the NGP VAN. Sanders, he said, accessed the "fundamental keys to our campaign."
According to Fallon, the Clinton spokesman, the Sanders campaign also attempted to copy and past voter data into an excel spreadsheet in an effort to "try to preserve it offline."
In response, the Democratic National Committee has cut off Sanders's access to the voter file until his campaign officials can "prove" they've deleted the Clinton data, a DNC official said on Thursday. It is not clear what party would conduct the "independent review," or what such a review would entail — or whether it is possible to prove that the Sanders campaign no longer has the data.
"At this point we still don't know if they have access to this data," Mook told reporters, describing the voter ID data as worth "millions of dollars and hundreds of thousands of volunteer hours." Since its launch in April, the Clinton campaign has focused the large share of its time and resources into a robust organizing program in the first four caucus and primary states, particularly Iowa.
According to NGP VAN, Sanders's campaign was "unable to export lists of people," only a "one page-style report containing summary data," or modeling data.

On Thursday, the Sanders campaign fired its data director, but also cast the incident as inadvertent — a direct result of the NGP VAN's glitch. Mook, however, pointed to the 25 searches, arguing that the breach was "not an inadvertent glimpse into our data."
"They have tried downplay what this means," he said, describing the data as "stolen."
Mook and Fallon also raised questions about whether the breach may amount to "a violation of the law." (The NGP VAN is structured as a legal agreement, with campaign adhering to rules in each state.)
On Friday, the Sanders campaign filed a lawsuit against the DNC for breach of contract, alleging that their response to suspend access to the voter vile violated a rule that campaigns be given 10 days notice first. A Sanders spokesman said that the campaign will also file a motion for injunctive relief to restore NGP VAN access.