Clinton Ally Knocks Claire McCaskill Over Sexual Assault Bill
"I'm disappointed Senator McCaskill decided to put politics over protecting the women and men of our armed forces," says Buell.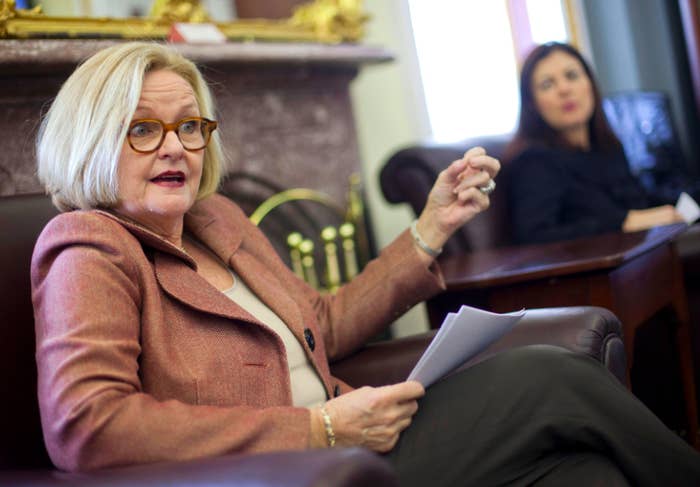 At a fundraiser for female senators and candidates on Friday, Susie Tompkins Buell paused to say a few words about Sen. Kirsten Gillibrand's military assault bill — and to break partisan ranks to criticize a top Democratic woman who didn't support it: Sen. Claire McCaskill.
Buell, the California-based co-founder of Esprit and the North Face, is one of Hillary Clinton's closest friends and one of the party's top donors. Between campaigns for Clinton, John Kerry, and Al Gore — and organizations like Media Matters and Democracy Alliance — Buell has given millions to Democratic causes. She hosted 10 female senators and two candidates in San Francisco on Friday afternoon at a fundraiser for the Democratic Senatorial Campaign Committee.
Before introducing Gov. Jennifer Granholm at the event, Buell thanked the attending senators for supporting a year-long campaign by Gillibrand, the freshman senator from New York, that would have made sweeping changes to military sexual assault policies. The bill failed, with five votes short, last Thursday. McCaskill, a Armed Services Committee member who sponsored an alternative bill, was the only woman in the Democratic Senate caucus to vote "Nay" on the measure.
"I also wanted to thank all of you senators that are present so very, very much for standing up with Kirsten Gillibrand's military assault bill," said Buell at the event, according to an attendee who provided a record of the remarks.
"And, I just want to go out on a limb here, because I'm 71 and I get to do that," Buell went on. "Our friend Madeleine Albright once said, 'There's a special place in hell for women who don't help other women.' And I believe that."
Reached by phone on Saturday afternoon, Buell confirmed the remarks were aimed at McCaskill. "I'm disappointed Senator McCaskill decided to put politics over protecting the women and men of our armed forces," Buell said.
McCaskill has been in the crosshairs of Clinton's allies before. In 2006, she infuriated the Clinton camp when she said she wouldn't want her daughter near Bill Clinton. Two years later, at the start of the presidential primary, McCaskill endorsed then-Sen. Obama over Hillary Clinton. She has since apologized for the remarks. McCaskill even became the first member of Congress to endorse "Ready for Hillary," the political action committee backing Clinton's possible 2016 campaign.
Senators at the Friday event, according to one attendee, included Dianne Feinstein and Barbara Boxer of California, Debbie Stabenow of Michigan, Barbara Mikulski of Maryland, Tammy Baldwin of Wisconsin, Amy Klobuchar of Minnesota, Kay Hagan of North Carolina, Mary Landrieu of Louisiana, Jeanne Shaheen of New Hampshire, and Mazie Hirono of Hawaii. Two candidates for senate, Alison Lundergran Grimes from Kentucky and Natalie Tennant from West Virginia, also attended.
Buell, a longtime confidante of Hillary Clinton, has been a strong voice in the Democratic Party for years. In early 2012, when President Obama flew to California for a series of high-dollar fundraisers, Buell criticized him in the San Francisco Chronicle for failing to do more on climate change.
"I would just love to write my big check," she told the paper. "I can't."
The year before, Buell helped lead a high-profile protest of the Keystone XL pipeline, the TransCanada crude oil project opposed by environmentalists, while Obama stopped through San Francisco for another reelection fundraiser.
Buell's comments about McCaskill highlight how bitter the rivalry between the two senators became in the lead-up to last week.
As the senate debated both bills last Friday, McCaskill stressed reforms on which both sides could agree. Gillibrand offered a tart response: "This is not an opportunity to congratulate ourselves on the great reforms we've done," she said.