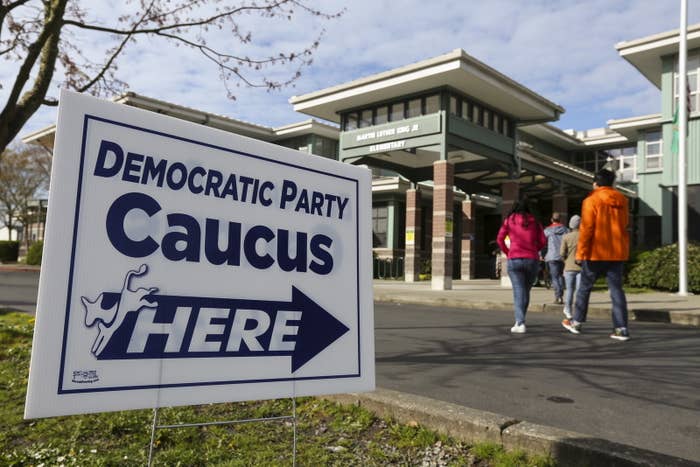 A quiet but significant shift across a handful of states could reshape the Democratic nominating process ahead of 2020: The party is now poised to see a historic reduction in the number of states that use caucuses over primaries to pick a presidential nominee.
By next year, Democrats could see the number of caucus states cut in half.
Four states have already moved from a caucus system to a traditional primary: Maine, Minnesota, Colorado, and, as of last month, Idaho made the switch. Party officials say two more states — Nebraska and Washington — are now considering the same change. And as Democratic Party members prepare to adopt changes to the nominating process at their annual summer meeting next month — including a new rule to "encourage" the use of primaries over caucuses "whenever possible" — caucus states may face new outside pressure to embrace state-run primaries.
The shift could leave just seven caucus states on the nominating calendar. For more than 20 years, Democrats have held caucuses in no fewer than 14 states.
The number has steadily decreased over the course of the party's last six competitive presidential primaries, from 18 states in 1988, 17 in 1992, 16 in 2000, 15 in 2004, and 14 in 2008 and in 2016 — a slow crawl away from the complex and singular voting process that has both strengthened Democratic activism and drawn critics who see an undemocratic system that makes voter participation harder, not easier.
In caucus states, Democratic voters don't simply cast a ballot for a presidential candidate: They are asked to attend a caucus site at a designated time and place and express their preference during several rounds of voting. It's an interactive and lengthy process that some say has helped build stronger Democratic state parties in rural Republican-controlled states like Iowa and Nebraska. But even proponents of the system have acknowledged that it could be far more accessible and flexible.
The reduction in caucus states could be a critical factor in the 2020 Democratic primary — a race expected to attract a record number of candidates.
In 2016, the 14 caucus states gave Bernie Sanders an advantage over Hillary Clinton. In every caucus state but Iowa and Nevada, where Clinton invested heavily in her own caucus program, ardent Sanders voters out-organized the Clinton effort, propelling his campaign forward against a candidate with more money and institutional support.
The caucus system has been a central focus of the party's Unity Reform Commission, a group formed by Clinton and Sanders after the 2016 primary to make the Democratic nominating process more fair and transparent.
The group proposed a number of changes to the caucus system that would require states to offer same-day registration, to publicly report the results of caucus voting, to create a new mechanism for absentee voting, and to ensure that every caucus site is accessible to people with disabilities and English-language limitations.
The proposals, part of a package of recommended changes that would broadly reshape the party's nominating process, also outline a new mandate for state parties: "Encourage the expansion of the use of primaries wherever possible."
How the party attempts to enforce that rule is a question that will play out next year, officials said, when states present their delegate allocation plans to the Democratic National Committee. In the case of a state like Utah, Democrats typically hold a caucus, but the Republican-controlled legislature recently approved funding for a state-run primary. Some DNC officials believe the party's proposed rule changes would then force Utah Democrats to participate in a primary if one is available.
On Tuesday, during a public conference call for members of the Unity Reform Commission, DNC Chair Tom Perez praised the party's shift from caucuses to primaries. "That was the kinetic energy from this committee," he said. "It's about making sure that people are able to participate."
Next month, at a party-wide meeting in Chicago, DNC members will vote on the Unity Reform Commission recommendations, bringing a laborious two-year process to its conclusion. The proposals presented next month — which include a significant overhaul of the so-called superdelegate system — were finalized by the DNC's Rules and Bylaws Committee over the last six months during a string of seven meetings that spanned a cumulative 80 hours, according to committee chair Jim Roosevelt.
To pass, the changes require support from a simple majority of the DNC's 447 members.