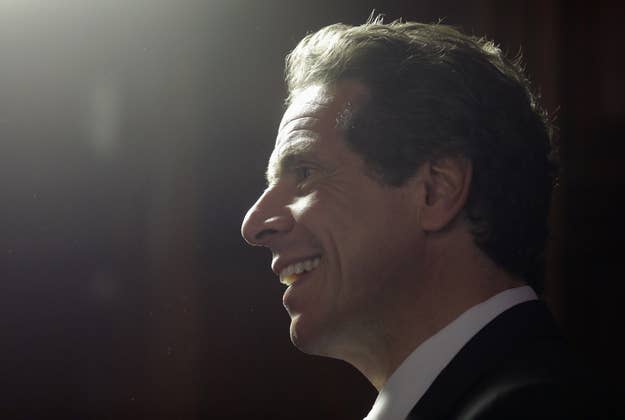 Governors from both parties convened in Milwaukee last weekend for the twice-a-year National Governors Association meeting — a rare opportunity for the nation's heads of state to exchange policy ideas, talk shop, and lap up the attention of the national media for three days away from home.
But one of the country's most prominent governors — and one of the Democratic Party's most established names — could not be found roaming the halls of the Wisconsin Center alongside his colleagues: New York Gov. Andrew Cuomo did not attend the meeting. And Cuomo has never, in fact, attended an NGA meeting, despite paying the organization tens of thousands in membership dues.
For a man who is routinely mentioned as a 2016 presidential contender — and who seems to have his eyes set on higher office — it's an odd strategic decision relative to state and federal lawmakers vying regularly for the national spotlight.
"One of Cuomo's hallmarks as governor is to stay in New York and focus on New York," said Gov. Peter Shumlin, who chairs the Democratic Governors Association, the political organization charged with recruiting and electing Democratic gubernatorial candidates. "We all have our strategies."
Leaving the capital, let alone the state, for a weekend in some other governor's city wouldn't be Cuomo's style. Since taking office in Albany in 2011, Cuomo has not spent a single night outside the state, his office confirmed.
When elected, Cuomo made a point of moving his family into the New York State Executive Mansion, the six-acre Albany estate rejected by past governors in favor of houses elsewhere and apartments in New York City. When Cuomo's work takes him to Washington, he's back in the governors' mansion later that day. When he goes on vacation, he does so in New York, often in Long Island or the Adirondacks. And when he went to North Carolina last year for the Democratic National Convention, he gave a 20-minute talk to New York delegates and then left, turning down the party's offer for a main speaking slot, according to two former DNC operatives.
To sum up Cuomo's strategy as governor, one need only look to his public schedules, which, sent by email to reporters each morning, rarely include more than one sentence: "Governor Andrew M. Cuomo is in Albany."
"As governors, we all focus on the state," said Shumlin. "But he's made it a clear policy to say, 'Listen, I'm not traveling around. I'm here to solve New York's problems.' He's got plenty of them, and he's doing a great job."
That policy has certainly helped Cuomo develop successful relationships within the state legislature, allowing him to mitigate corruption in Albany and pass progressive legislation like his same-sex bill two years ago. But the governor's aversion to travel, Democratic operatives say, is also central to the political argument he'll make during his reelection campaign in 2014 and, possibly, a during a presidential campaign in 2016.
"If Andrew Cuomo were to run for president, it would be on the argument that he tamed the beast of New York, stayed home, and minded the store," said one top national Democratic operative. "His focus is on the state of New York, and that has benefit both substantive and political should he decide to launch a national campaign."
"He stayed home and did his work — it's going to be his 2014 campaign, and if there's a 2016 campaign, it'll be that too," said Doug Muzzio, a political science professor at Baruch College and a longtime Cuomo observer.
Cuomo's father, three-term New York Gov. Mario Cuomo, also preferred to stay in-state, noted Bill Cunningham, a veteran New York political operative who worked for the former governor. "Mario did leave Albany, though he made a point to get back that night," said Cunningham. "So it doesn't strike those of us who have been around the Cuomo family as odd at all — it's natural."
But the younger Cuomo has applied the custom more stringently than his father, said Muzzio. "With Andrew, the lack of involvement and participation at all these governmental meetings is striking. One would expect him to be there," he said.
Cuomo is widely thought to be weighing a bid for the White House in 2016, particularly if Hillary Clinton opts out of the race. But despite his national ambitions, he has yet to make time for the kind of high-profile party-wide events his father dabbled in leading up to the 1988 presidential election. The elder Cuomo delivered his famous 1984 convention speech in San Francisco and made multiple trips in 1987 to Iowa, the key presidential swing state.
"I don't think Andrew has tested the waters outside the Adirondacks. Maybe the Hudson River," Cunningham joked.
Other candidates eyeing the 2016 Democratic nomination have already put in far more time on the national stage. Martin O'Malley, the governor of Maryland, was a prominent surrogate for President Obama's reelection campaign, has made trips to speak in primary states like South Carolina and Iowa, and has spoken candidly about his possible candidacy.
Cuomo, meanwhile, has done less to introduce himself to voters in other states or to endear himself to the national party apparatus. Although he was technically a surrogate for Obama's campaign last year, the governor did little for the reelection operation compared with the president's other boosters.
"What he's doing is part of his brand, but it also plays into the negative view of him, which is that he only cares about himself," said one national operative who worked on the reelect last year. "Democrats will remember that he didn't lift a finger for Barack Obama in 2012, and he has done very little to elect other Democrats across the county. There are Democrats that did a lot for the president, and he wasn't one of them."
Asked whether Cuomo has been involved in the DGA's efforts to support Democratic gubernatorial hopefuls, Shumlin did cite an event Cuomo hosted in New York last year for the organization. "He was a huge help to us," said Shumlin.
Cuomo's distance from the national party could hurt him if he decides to make the jump to the national arena after his reelection next year. Though if early polling is any indication, Cuomo is faring just fine next to other Democrats considering a run for higher office. A McClatchy-Marist survey conducted last month shows Cuomo polling third to Clinton and Joe Biden, besting O'Malley's 1% of the vote by five points.
Still, the former Obama campaign staffer cautioned, "When you go out and do other things for other candidates, they're then more likely to be supportive of you, and the local Democrats in their communities are more likely to remember you if you decide to go for something nationally down the road."
"With Cuomo," the operative added, "you won't have people saying, 'Oh yeah, I remember him.'"