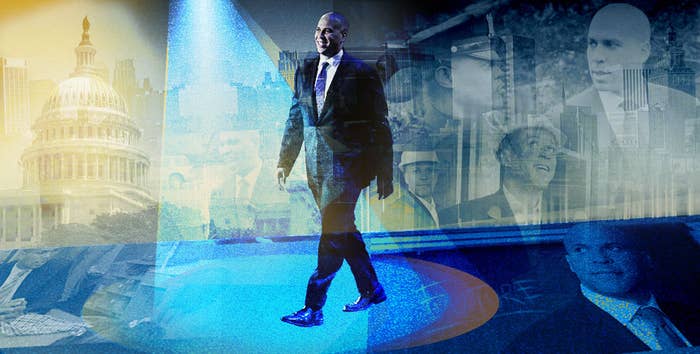 CORY BOOKER IS in a meeting when the column goes online. A big-name, top-notch brand wants to build a "massive site" in Newark, New Jersey, and Booker is busy courting a potential billion dollars in development for his city. By the time the article goes live — The Stanford Daily with the scoop! — the mayor's staff is already aware. Booker had them up all night and day on the phone about it.
"That took 48 hours of our time," says Modia Butler, Booker's chief of staff.
Booker wrote the 700-word article in 1992, during his final year at Stanford. He was keeping up a weekly column for the Daily — published maybe 15 pieces in total — and says he wrote about "every hot-button issue there was, from rape to race."
This one happened to focus on Booker's struggle with homophobia. BuzzFeed's Andrew Kaczynski had actually found it first, but was waiting on comment from Booker's office before a cub reporter at the Stanford paper jumped the gun and published it himself.
It was a good find: The mayor of Newark was a dramatic 22-year-old. "I was disgusted by gays," reads one of the opening lines. "Allow me to be more direct, escaping the euphemisms of my past — I hated gays." But in the rest of the column, Booker details in much eloquence the way in which his teenage self underwent a radical transformation on the issue. "It didn't take me long to realize that the root of my hatred did not lie with gays but with myself," it reads — and ends with a flourish: an oath to "continue to struggle for personal justice."
With the column online, the mayor's staff is calm — like nothing ever happened. Booker is calm too. The response to the piece on Twitter is, somehow, overwhelmingly positive. "Cory Booker was even super awesome in 1992," one fan tweets. Booker responds, "I was writing about my teenage struggle for integrity. Thanks."
But this doesn't surprise Booker. He may not trust reporters to tell a true story about him or his career or his city, but he does, unequivocally, trust himself — that, even two decades later, he can control.
"The problem is, I really like my 22-year-old self," Booker says in between handfuls of lunch: a can of Planters. The mayor sits at the head of a mahogany conference table in his large office. City Hall, at the heart of downtown Newark, is an improbably beautiful rotunda-style building with carved marble and a dome gilded in 24-karat gold — all the fixings for America's favorite mayor.
Booker leans back in his chair, his hands clasped behind his head.
"I took my columns as a way to address what I considered social justice issues that weren't being talked about," he says. "I hadn't read that one in 10 years probably. I was pretty proud of myself."
But to have a long-forgotten piece of writing dredged up from two-decade-old archives is the sort of media phenomenon still foreign to the 43-year-old mayor of New Jersey's largest city. The disadvantage of being a rising national star, and an all-but-certain candidate for U.S. Senate, is that you have reporters and opposition researchers exhuming your early years — and all of your years — for something that will stick.
Booker, it would seem, now has too much of what he once lacked.

When he first ran for mayor more than 10 years ago, the then-city councilman had a problem that he has since attacked with admirable, obsessive diligence: Name recognition, his polling indicated, was the snag in Booker's failed campaign against five-term incumbent mayor Sharpe James, a corrupt yet popular mainstay in the rough-and-tumble political class of Newark.
Booker would knock on every door in vain that year. In the opening scenes of Street Fight, a documentary film that follows the 2002 campaign, Booker pokes his head into half-open doors and yells into dark windows. "I'm Cory Booker, you ever hear my name?" he asks. "I'm not sure if you've ever heard of me, but I'm the city councilman from the Central Ward, but now I'm running for mayor."
In the decade that followed his loss — he would run for mayor again in 2006, this time successfully — Booker took steps to create and shape a public narrative around his career of service: He founded a grassroots nonprofit, Newark Now; starred in the Sundance Channel's documentary series Brick City; became a prominent surrogate during President Obama's reelection campaign; created his own digital media company, Waywire; and built a national constituency on Twitter, where he sends inspirational quotes to his 1.3 million-plus followers at all hours of the night and DMs his cell phone number to Newarkers in need.
When residents alert their mayor to neighborhood trouble — a broken streetlight or dangerous pothole, a pit bull roaming the streets — the mayor's typical response on Twitter is, simply, "On it." Rarely does Booker reply directly to complaints — he retweets them, with his own response tacked on to the front of the message. Better all his followers get to see. In Newark, the mayor is on it — and the whole world knows it too.
Booker's crusade to lead his life and his mayorship in the public eye has no doubt launched him and his city into the spotlight. But since announcing his bid for U.S. Senate last month — in its nascent stages, already high drama — Booker has been thrust into the curious moment in which his career, extending for the first time beyond the city limits, is catching up at last to the national persona he helped craft for himself.
The decision to run for Senate in part precipitated what the mayor calls a period of "adjustment." Booker is a man who wants to control the narrative around his life and career — he writes his own tweets, picks fights with reporters over unfair stories, and has outlined his next career move so rigorously in his own mind that he'll sometimes talk as if he's already gotten the job, letting slip a line about what he "will do" when he is senator. But amidst mounting media scrutiny, Booker is still learning what it takes to keep running the show from his new spot on the national stage.
THE REALITY THAT most reporters would rather talk to Booker about the "agita" that was the Stanford Daily column than about the development meeting in progress as the column hit the web is a fact that Booker understands, yet is nonetheless troubled and disturbed by.
Most conversations with Booker — no matter the topic, no matter the place — typically launch him into a thrilling, sometimes feverish recitation of statistics and indices and benchmarks that attest in one way or another to the good health of Newark. He is all about the hard numbers — he memorizes Newark statistics like he does quotes from famous poets and authors and activists, rattling them off when he can find room for another breath during a meeting or a speech.
Booker says 2013 could be his "most productive" year as mayor. He wants to finish off a $200 million budget deficit, introduce a truly balanced budget, and get a Moody's rating upgrade. Booker is going on his seventh year as City Hall's top dog, and has about 18 months left in office before he finishes his second term.
"It's just like the law of inertia," he says. "It's hard to move a stationary object, but once that object gets moving, you just gain momentum."
Booker lists off a few achievements he claims reporters would never write about because "they're not sexy." That Newark farmers markets now accept food stamps, Booker says, is "something that you guys would never write about!"
Two weeks after his college newspaper column resurfaces, Booker takes another jab at the media during a City Hall press conference for Newark's volunteer income tax assistance program. "Answers to our challenges are not sexy," he says. "It's not one of those press conferences where somebody gets shot and I've got 10 different cameras, 20 different cameras, 30 different cameras showing up — but this is the kind of stuff that's actually helping."
There are four local television cameras there this time, and most of the crowd is made up of volunteers with the program. To the right of Booker's podium are two foam signs — a collection of statistics and facts on each one. "In the last nine years, 24,811 tax returns equaled $34 million refunded to Newark," reads one.
The way the mayor tells it, the national spotlight he's currently enjoying casts a shadow only "over the things that I wish people would focus more on," he says, citing programs like the city's Office of Reentry, which helps the formerly incarcerated reunite with family and find work, and Fathers Now, a program that aids men in regaining employment.
"That's making a measurable impact, and yet no one has written a story about it," says Booker.
THE POLITICAL MEDIA'S fascination with Booker as a national figure — and not city mayor — came to a head last year when speculation about his political ambitions became a favorite parlor game of the chattering class.
Reporters and pundits beat the drums of war for months over a possible made-for-TV gubernatorial race between Booker and incumbent Chris Christie. Then, as Booker came to the decision this winter — a process played out in part on the sets of cable news shows — to instead run for U.S. Senate, the D.C. media went wild over a potential intra-party feud between Booker and Frank Lautenberg, the 89-year-old senator whose seat Booker is "exploring."
"I never thought I would have people asking me for quotes from places like The Hill and Roll Call," he says. "Frankly, nobody in New Jersey reads those."
Booker doesn't like talking much about Frank Lautenberg.
It quickly became known that the Booker-for-Senate announcement not only rankled establishment state Democrats, but also insulted Senator Lautenberg, who has not announced any retirement plans. In early January, before the senator did eventually voice his frustration, Booker dismissed the rumors about his upset colleague. "Has he said that? Has he said that on the record? I haven't read that anywhere," says Booker.
The spectacle surrounding the mayor's first few months as a contender for national office — worsened by what some claim was a mishandled and too-quick-on-the-trigger announcement by Booker that he'd "consider" running for the seat already occupied by Lautenberg — is more likely than not the start of a long period of horse-race journalism drama that has the mayor at its very center.
Booker cites a term he often uses as a stand-in for the Washington D.C. media-operative gaggle — "the Washington swirl." Multiple senators have warned him about the swirl, Booker says. "Every day, Roll Call is speculating about something — everyone's always speculating."
Booker says he had planned to meet in person with Lautenberg prior to his Dec. 20 announcement. "The senator has — and these are facts — missed some votes. He had the flu or the cold, and so when the meeting was scheduled, he couldn't go," Booker says.
But after a month of silence — filled in part by unsourced quotes from various "Lautenberg aides" trashing Booker in whatever possible way — Lautenberg finally told a reporter what he thought of his friend, Mayor Booker.
"I have four children. I love each one of them. I can't tell you that one of them wasn't occasionally disrespectful, so I gave them a spanking and everything was okay," Lautenberg told the Philadelphia Inquirer.
On the ride over to Booker's monthly WBGO radio show interview last Wednesday — on a day that also happened to be Lautenberg's 89th birthday — Booker was mum on the senator except to say, "He and I both need to focus on the jobs we have. One of my staffers read me the whole body of what he said, and what he said in that interview about wanting to focus on the job at hand — that's the spirit with which I see it right now," says Booker.
Asked if he wished the senator a happy birthday, Booker says, "I did not have a chance to talk to him."
Booker argues that the narrative surrounding his Senate run is "being carried on by the press and the media." He adds, "I'm not gonna get caught up in the swirl there."
But as Booker keeps his distance from the swirl, Lautenberg is making sure the water stays running. The senator suggested not so subtly to the National Journal last Thursday that Booker wasn't around Newark enough — a familiar line of attack for foes who claim the mayor spends too much time on cable news or at fundraisers outside the city. "Maybe if the mayor can solidify the fact that he wants to improve Newark by being there, things would be different," said the senator. "But he's free to do as he wants to do."

Fair or not, the media's inquiry into Booker has already extended from the realm of the professional into the personal. The New York Post's "Page Six" did a write-up of one of the mayor's dates at a bowling alley in Manhattan with a woman identified in the article as Diane.
"It puts a big damper on your personal life," Booker says. "It'd be much easier if I was married already and I didn't have to go on a first date and have people coming up to your table."
Booker's personal life has long been an object of curiosity in and outside New Jersey. At 43 years old, Booker has never been married and is only known to have been in a handful of long-term relationships — Gayle King, cohost of CBS This Morning, is reportedly one former girlfriend.
There is a light and candid attitude with which Booker addresses his personal life. It's not uncommon for the mayor to joke or remark as an aside that he wishes he were married. Asked recently on Twitter what his favorite "mythical creature" is, Booker responded, "My future wife who will endure a sci-fi nerd, coffee addicted, work-a-holic."
Booker will also tell you that one difference between himself and President Obama is that the president is "married to an amazing woman and has two kids, and I have dead plants and fungus growing in my fridge."
But rumors about Booker's personal life have followed his career for more than a decade now. During his city council race in 1998 — his first campaign — Booker was charged with being gay, white, and a member of the Ku Klux Klan. Four years later, Sharpe James, the then-incumbent mayor who has since landed in federal prison, also claimed Booker was gay.
The rumor resurfaced more recently following the release of Booker's Stanford Daily column, which prompted Jezebel to run the headline "Cory Booker Tackles Cory Booker's History of Homophobia — So Is He Gay or What?" It's not a subject political operatives in the state will shy away from gossiping about, either. When asked about the mayor's sexuality, a spokesman said he "would not comment on such matters." Booker, of course, talks openly about dating women.
But it was last month's brutal New York Times takedown of Booker's tenure in Newark — "Promise vs. Reality in Newark on Mayor's Watch" — that nearly unraveled Booker. The piece argued that Booker "has proven to be a better marketer than mayor." He responded by going on the offensive, crafting a point-by-point rebuttal with his team to send to a Huffington Post media reporter. The paper says it stands "wholeheartedly" by its reporting on the mayor's tenure in Newark, though it did issue a correction regarding the full context of a tweet, as well as other details unrelated to Booker's record.
Booker, who just can't stand to feel he's being misrepresented, responded to a 2008 Esquire article in much the same way, sending a letter to the magazine's executive editor that began, "ENOUGH!" More recently, Booker took on a New Jersey Star-Ledger reporter who said the mayor was softening his gun control stance. Booker took to Twitter: "One of the worst mischaracterizations of my views by Star Ledger Reporter." Another tweet: "I'm so angry about article. Reporter didn't talk 2 me & mischaracterized my views."
Booker calls the story in the Times "just the worst thing of this last month."
"Just frustrating as heck to see your career, your service, your heart and soul like that," says Booker. "I was up in the middle of the night tweeting back to constituents who had concerns because of it."
"So that for us was a good lesson, because we knew that was a harbinger of things to come," he says.

The Times piece picked up two lines of criticism that have followed the mayor around since he first ran for city council — that he is better liked outside the Central Ward than inside; and that Newark is just a place Booker can hang his hat while he readies for higher office, or for the highest office.
Booker came to Newark in 1997, while he was finishing his last year at Yale Law School. He commuted back and forth to New Haven on I-95 every week for class. When he graduated a year later, he moved to a housing project, Brick Towers, ran for city council against a four-term incumbent, and won, becoming the youngest member in the history of the Newark Municipal Council.
"We realized at the end of the day, one of the critiques of me is that I was just using Newark as a stepping stone," Booker says. "It's the same way people said, 'You've just lived in the projects for a gimmick and a stunt.' I'm like, I lived there for eight years."
That fact that Booker has operated in New Jersey from somewhat outside the party infrastructure — offending Lautenberg and shirking state Democrats on the gubernatorial run they wanted from him — is enough for some to suggest that Booker has political aspirations that far exceed the Garden State.
Louis Shockley, a community organizer and fierce critic of Booker's, says the mayor "doesn't care" that he has enemies in City Hall — namely, city council members Mildred Crump and Ras Baraka, both critics of Booker's administration — because he "has other people who have been grooming him."
Shockley has missed only six city council meetings since Booker took office in 2006 — he shows up wearing a T-shirt with Booker's name or face on the front, crossed out in red — and says that Booker has been too involved with political figures outside New Jersey, like Mayor Michael Bloomberg of New York City.
Loretta Weinberg — a Democratic state senator and an outspoken critic of Booker's decision to run for Senate — urged Booker earlier this month to "stop the U.S. Senate distraction."
"You are a visionary thinker and a great orator," she wrote on the blog Blue Jersey, "but New Jersey and our residents are really bigger than whatever your future is to be. So join the fray."
Booker is a star, sure, but he tries not to frame it that way — at least not so people would notice, anyway. Booker was floated as a candidate for president before he even became mayor. In 2002, his face appeared on the cover of Shout Magazine over the headline "Cory Booker: The First Black President of the United States."
Although Booker could be a possible contender for the presidency in 2016, it would very likely depend on whether or not Secretary of State Hillary Clinton decides to get in the race — and for now, a presidential bid is something Booker won't even entertain in conversation.
Martin O'Malley, the Democratic governor of Maryland who is almost certainly running regardless of what Clinton does, is a guy Booker thinks about and even brings up voluntarily.
"He will be a presidential candidate," he says in his office, with great assurance. "It'll be him versus Hillary! He was such a good mayor," Booker adds.
O'Malley is, in part, Booker's predecessor — both effective, young, and charismatic mayors in cities suffering from crime and drugs. During his seven years as mayor of Baltimore, O'Malley developed the successful crime tracking system CitiStat, which Booker saw as a model when he first entered office in 2006.
In a short film he made at the DNC last year for his company Waywire, Booker is riding in an SUV with staff when he starts rambling. "I'm a utility player. You see? There's marquee players, there's the leading role. We got a Clinton, we got, you know, a Governor O'Malley. And then there's sort of a utility player," says Booker. "Need somebody to carry the water? I'm there. Keep the bench warm? That's me."
Booker was neither a utility player in the actual sense of the phrase — he received All Pac-10 honors playing tight end for Stanford's varsity football team — nor in the way he means. Booker has as much a sense of destiny about himself than he very likely wants to admit. In Street Fight, Booker appears downtrodden in one of the film's final scenes, the day after he loses lost to Sharpe James; he's at his living-room table, the curtains are drawn, his head in his hands — a copy of that morning's Star-Ledger is unfolded on the table: "IT'S STILL MAYOR JAMES."
"I've never had an experience in my life where something bad happened or against my expectations that didn't turn out to be better," Booker says in the film.
Booker knows from church that "we all should have a sense of destiny about our lives," as he says. But Booker, it seems, is driven by a stronger sense of purpose or calling. "I have a sense that I was born for a reason, that God has called all of us — me included — to make our lives worth something, to make our lives meaningful," he says.
But whether or not Booker envisions his destiny as the White House is impossible to know and impossible to ask. (All Booker has said for sure is that he'd like a Ben & Jerry's flavor named after him.)
Booker points to his buddy Michael Bloomberg as an example of a man "who might not be president of the United States, but he is a man of great destiny — great destiny," he says. "And by the way, God's not finished with him. He's destined to do some extraordinary things through his foundation and political activism. I want my life to be meaningful, but meaningful to me is not the next political rung."
Booker is often compared to President Obama because they've taken similar tracks on politics — especially if Booker becomes a senator next year — and also, as Booker points out, because they're both black. "There are more differences than there are similarities except for the color of our skin," he says.
Although the Newark mayor will dismiss the parallel to Obama as founded on race alone, he'll more frequently make a welcome joke of it — particularly one he's told on several occasions, which he repeats in his office in early January:
"I'm tired of people comparing me to Mr. Obama. Let me tell you the distinctions. Obama went to a privileged, affluent, elite law school: Harvard. I went to an inner-city, gritty, tough law school: Yale. When President Obama left law school, he went on to become a community organizer. I went on to be a neighborhood coordinator. And President Obama was born in the United States of America. And I was born in Washington, D.C. "
The joke got a round of laughs from the crowd at the Gridiron dinner in 2011, and Booker told it again during his "Ask Me Anything" chat on Reddit. He tells it with a fondness that makes it clear to all on the receiving end that he's pleased to be uttered in the same breath as the man whose job he might one day want.
IN THE LOBBY OUTSIDE Cory Booker's City Hall office, Louise Scott-Rountree may as well be the mayor of Newark.
In addition to manning the front desk for the Honorable Cory A. Booker, Ms. Rountree is an associate minister at the Good Neighbor Baptist Church on Chancellor Avenue. Her father is Reverend Malachi D. Rountree, and her mother, the late Mrs. Louise Scott-Rountree, was a "beauty-parlor magnate" and, reportedly, the first black woman in Newark to become a millionaire.
On a January afternoon, with a voice loud enough to echo through the halls of all five floors of City Hall, Ms. Rountree spends an hour and change on the phone trying to get a girl back in school.
"Meanwhile, this kid is out of school already in the middle of the school year…"
"Do you know what month this is? We got four more months left in the school year. And this kid hasn't been to school since September…"
Pause.
"There's really some mess going on here."
"And I just had another case like this yesterday. At the end of the day, it's about what's in the best interest of the child, and right now she's been out of school for a half a year, which is not in her best interest."
Pause.
"Our concern is this child getting back in school."
"The issue with this office is that this child has not been in school since September."
The issue with this office — Mayor Booker's office — is that a child is not in school; that a family's heat went out; that a street is dark; that someone, somewhere needs some help. Booker's hyper-local, hyper-engaged, hyperactive way of serving the residents of New Jersey's biggest city extends beyond the mayor's office door to Ms. Rountree's front desk.
Booker deals in the currency of results — in those "not sexy" stats like 24,811 tax returns, and in the proximity of a constituent's concern to its solution. He told PBS's Bill Moyers in 2008 that America should build what he called the "Statue of Obligation" on the other side of the Statue of Liberty. If Americans are going to "sit back and just let this be a spectator sport," Booker told Moyers, "we will devolve in the same way the great Roman empire did."
Booker's worry about a Senate run was that he would, quite literally, not be able to get anything done — to fulfill his obligation while mired in the Washington swirl. Booker says his hesitation surrounding the Senate lasted for "years."
In an interview last May, Booker told Oprah Winfrey that he used to ask people, "Well, what does a United States senator do?" No sarcasm intended.
Booker's period of exploration around the job has, he says, come to an end. And his plan for the Senate — should he run after all next year, and should he be elected — would call for a reinvention of the role: to act in addition to and outside of a senator's official duties as prescribed in the Constitution, to push for urban and criminal justice reform, and to stay on Twitter.
"Look, I'm not different from most Americans who catch glimpses of what goes on down there and worry what is going on in that body," says Booker. "But I've evolved about how that body can make changes on the issues I'm passionate about."
"So I'm telling you right now," he adds, "if a snowstorm hits and I'm here, I'll be on Twitter saying, 'Hey, who needs help?' And I'll get out in my 4x4 and be able to band together more volunteers than most people could."
As Booker is invited on more Sunday shows and does more cable news hits — and as, maybe one day, he starts to make some speeches on the Senate floor — he sees himself increasingly as a national voice who can actually shift and shape public discourse. He points to his "Food Stamp Challenge" — a week in early December during which Booker ate only meals paid for using the federal government's Supplemental Nutrition Assistance Program. Booker, of course, kept his followers updated on the challenge with tweets, pictures of his meals, and videos on YouTube.
"Everybody that month seemed to want to talk about a pregnant princess," says Booker, referring to Duchess of Cambridge Kate Middleton, whose pregnancy was announced by the royal family the day before Booker started his campaign. "That was the lead story until the food stamp challenge came, and then we were being debated, argued, attacked on Fox News. But people were talking about it!"
"It's a very good thing when urban issues are in the national conversation," says Booker. "I don't see pundits talking about these issues — it's almost like people want to act like there are no poor people in the United States."

BOOKER SAYS HE'S CERTAIN he made the right choice in deciding to run for Senate — although he still insists he could have beat Chris Christie. ("While the governor was polling his highest polling ever, he could only poll 53% in a head-to-head match up with us," Booker says.)
What is clear is that a run for Senate in 2014 — the same year that Booker's second term expires — simply gives him more time to grind away at "Finishing the Work We Started," as his most recent YouTube upload, the announcement of his Senate run, is so very consciously titled.
Booker often refers to his tenure as mayor as a story — an "extraordinary story of urban change" — that started in 2006 and will wrap up in a year and a half.
Running for governor this fall would have cut that story short in a way that wouldn't be acceptable to the mayor or his staff. "Somebody on my internal team said we'd be 'betraying' what we said we were going to do," says Booker. "Which means, in other words, that the stuff I've been talking about would just not get done."
On a cold night in January, finishing that work is on the mayor's mind. His black SUV inches toward the curb across Military Park in downtown Newark. Booker is talking again about 2013 as his most productive year yet — and it's only January.
"You ever have one of those years?" he asks. And as the car comes to a stop, Booker is talking fast and pointing; pointing to his left, his right, behind him; pointing in every direction. "We're gonna transform this park with the same people that did Bryant Park," he says, pointing across the street. "We're gonna transform the park we just drove by across from the arena. We're gonna build literally a tower right across from this park. Prudential is building its second tower — there'll be cranes in the air!"
"All these things are gonna be a great story of a city turning around," says Booker. "That's why I am more happy every day with my decision not to run for governor — because I wouldn't be able to do this — this is the year to just solidify the truth of Newark."
Booker describes the "story of Newark" as a "bridge chapter in Newark history." He says, "I'm the first mayor since the 1960s that hasn't been indicted. We've had a lot of challenges, but this is a bridge to a new era."
Mayor Booker likes the story of Newark because, for now, it's as much in his control as it can be, a luxury he won't have if he's lucky enough to move into the D.C. swirl he so distrusts.
When the mayor discusses articles he's read about himself, he'll occasionally slip into the third person: "It would add credence to the idea that he was just going for higher office," he said at one point about the Times article — as if the person in the story wasn't Mayor Cory A. Booker at all.
Asked what news article he thinks describes him best, Booker can't name any — he says he prefers his own writing.
"The challenge with articles, positive or negative, is they never really capture it," he says, parked outside the WBGO radio studio. It's his last event of the night — another interview.
"The things that are most authentic to read are the things I write myself, whether that's a tweet or an unearthed column from 20 years ago when I wasn't even thinking about going into politics," Booker says. "And that's me."
This article has been updated to clarify the nature of the New York Times's corrections.