Bobby Jindal: Terry McAuliffe Has "Disqualified Himself" From Virginia Governor's Race
The Republican Governors Association goes on the air with a new ad about an SEC investigation into McAuliffe's former company. But no word on his candidate's ties to another controversy in Virginia.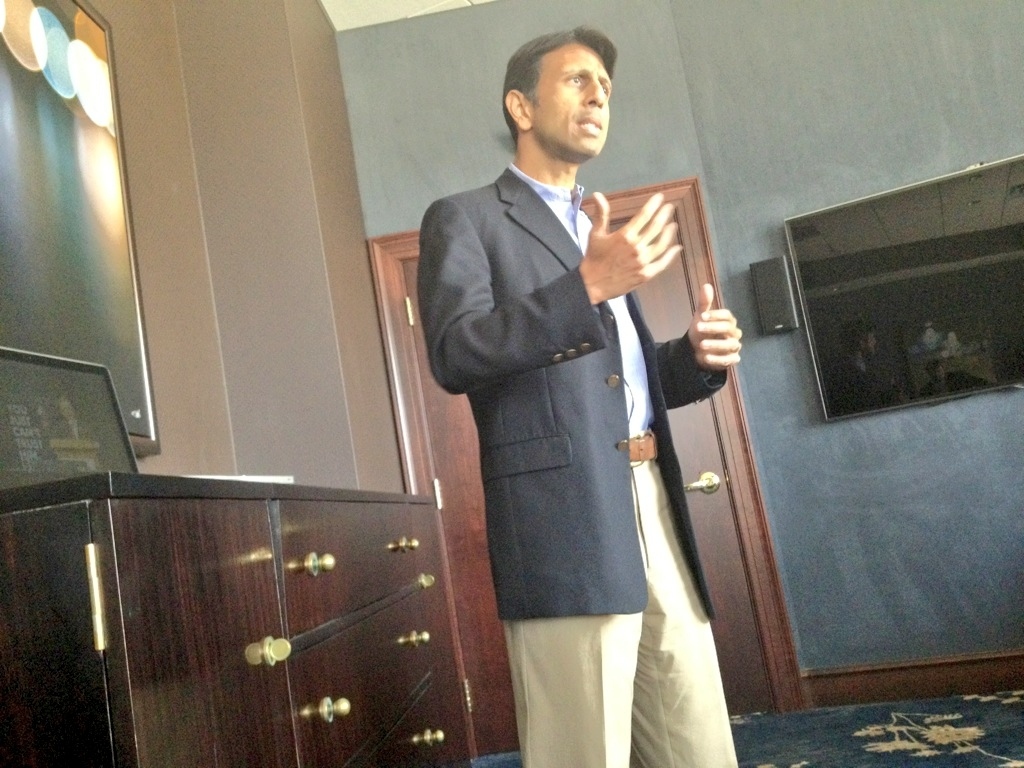 MILWAUKEE — Louisiana Gov. Bobby Jindal, chair of the Republican Governors Association, told reporters Sunday morning that Virginia's Democratic gubernatorial candidate has "disqualified himself" in light of an investigation into his former company.
Speaking to a group of reporters in Milwaukee's Pfister Hotel, Jindal presented a 30-second television advertisement, titled "Shift," that will go on the air in Virginia starting Monday, he said. The negative ad frames Terry McAullife, the Democrat running this year against Virginia Attorney General Ken Cuccinelli, as an untrustworthy candidate embroiled in scandal.
"He's been in politics his adult life — that's why he just can't tell the truth," the narrator says in the ad. "Terry McAuliffe, you just can't trust him."
Jindal specifically pointed to GreenTech Automotive, the company founded by McAullife that is being investigated by the Securities and Exchange Commission over its handling of overseas investors, according to a Washington Post report. McAulifee released a statement Saturday evening saying left the company late last year and first learned of the investigation "when the Washington Post reached out to my campaign."
"Now you see this major investigation," said Jindal. "Bottom line is that Terry McAuliffe has disqualified himself to be governor of Virginia. I say that as the governor of Louisiana — this scam is so bad it would embarrass even politicians in Louisiana."
Jindal called the investigation the "final nail in the coffin" in McAuliffe's campaign, offering what he called "free advice" for Gov. Peter Shumlin, his counterpart at the Democratic Governors Association: "If I were him, I'd be looking at the bylaws, loopholes, rules, regulations in the state of Virginia to see if it wasn't too late for them to replace their candidate."
"And look it takes a lot to shock a Louisiana politician," he joked, referring to the ethics scandals the state was once famous for. "This is beyond the pale."
But asked about the controversy that is now embroiling incumbent Gov. Bob McDonnell, and spilling over into Cuccinelli's own campaign, Jindal referred questions on the matter to the Republican nominee's campaign.
Last month, it was reported that McDonnell received undisclosed gifts, which he has since returned, from Jonnie R. Williams, the CEO of Star Scientific, a dietary supplement company. Cuccinelli received gifts, which he was late in reporting, from the same donor.
Jindal said he said he had spoken with McDonnell about the scandal. "I think he did the right thing by returning those gifts and by apologizing to the people of Virginia," Jindal said, but he refused to say whether Cuccinelli should also return gifts received from Williams.
Danny Kanner, a spokesman for the DGA, responded by calling on Jindal to make the same request of Cuccinelli. "Jindal's right," said Kanner. "McDonnell did the 'right thing' by returning his gifts, and he should obviously call on Cuccinelli to do the same for the sake of Virginians who have lost faith in their state government through this scandal."
"I know the McAuliffe campaign would like to make this an election about Bob," Jindal said, "but the reality is this election is about Terry and Ken, and the reality is there is one candidate in this election who's now under SEC investigation."