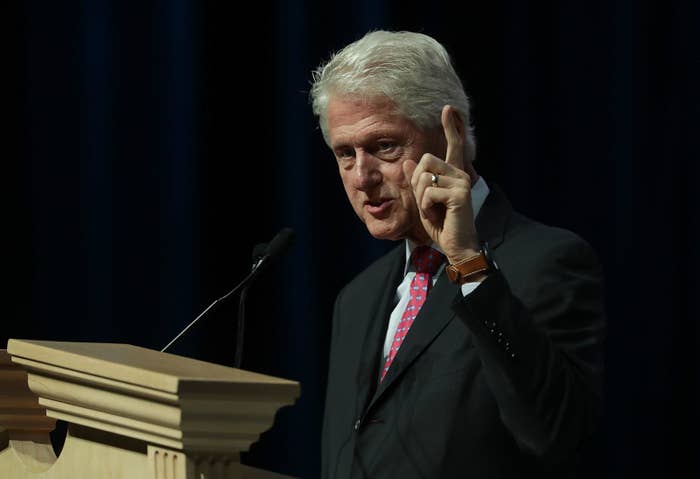 Bill Clinton, the so-called "explainer-in-chief," got a simple question at the end of his hourlong appearance Friday on behalf of his wife at a Nevada presidential forum.
The voter identified himself as a Democrat, a fan of the first Clinton administration, a supporter of a second, and then asked, "How do you explain to American voters how we should trust Hillary Clinton when she lied about her emails?"
"Wait a minute," Bill Clinton said, objecting to the premise. "It's not true."
The voter tried again. "OK. But how do you explain to the American people who believe that she lied?"
Bill Clinton is a more adept and disciplined surrogate now than eight years ago during his wife's first presidential campaign: At points on the trail, he has been far better than the candidate herself at trying to knit together her myriad policy proposals and make sense of a tumultuous and unprecedented election year.
But his attempt on Friday night at a forum in Las Vegas, hosted by the Asian-American Journalist Association, to explain the unending email controversy and untangle related questions about record-keeping, security, and classification, signaled the possibility that, even after the conclusion of this summer's FBI investigation, the issue may long remain unresolved.
"It's too complicated to explain to people," Bill Clinton finally said after wading into the various classification rules and the system of markings that became central to the question of whether his wife ever sent or received classified information on the private email server she maintained at her home in Chappaqua, New York.
The former president referred to some emails that had been marked with the letter C. "This is the biggest load of bull I ever heard," he said, prompting laughter from the crowd gathered at Caesars Palace Hotel who also heard from the two third-party candidates, Green Party nominee Jill Stein and libertarian Gary Johnson.
The emails, Bill Clinton said, "were about telephone calls that she needed to make. And the State Department typically puts a little 'C' on it to discourage people from discussing it in public in the event the secretary of state, whoever it is, doesn't make a telephone call. Does that sound threatening to the national security to you?"
Messages that were later marked classified included messages to or from about 300 career diplomats, Bill Clinton said. "All of whom were careless with the national security? Do you believe that? Forget about Hillary. Forget about her," he said, waving his arms at the lectern.
"Is that conceivable? If it was that important, shouldn't we have all heard about this earlier, and shouldn't there have been some comprehensive resolution of this?"
(Earlier this summer, FBI director James Comey said that Clinton had sent or received 110 emails in 52 email chains that contained "classified information at the time they were sent or received." Approximately 2,000 emails have been subsequently deemed to contain classified information, even if the information was not classified at the time. Comey told Congress that the 'C,' which appeared in three emails, indicates classified information.)
To round out his case on Friday, Bill Clinton cited the various Republican national security leaders who have endorsed his wife over the prospect of a President Trump.
"If it was something to worry about," he asked, "would President [George H.W. Bush's] national security adviser, Admiral [Brent] Scowcroft, have endorsed Hillary? Would Gen. Colin Powell's assistant at the State Department [Richard Armitage] have endorsed Hillary? Would a 33-year CIA veteran who was acting director of the CIA [Michael Morell] … have endorsed Hillary? You should ask them."
"Would everybody who's ever worked for her be for her, if she were not trustworthy?" he said to cheers from the crowd. "If people you went to elementary school with were still campaigning for you... If you haven't lived in Arkansas since 1993 and hundreds of people at their own expense went all over America to campaign for you... If the people who worked with you in every walk of life, and then people who know you in your official capacity, all have good things to say... It seems to me that should offset people who have a vested interest in tearing you down."
In Bill Clinton's telling, the questions about the private email server had lingered largely because "her adversaries are very good at doing reverse plastic surgery."
He offered an over-simplified account of what past secretaries of state did with their own emails, suggesting that only Clinton was "transparent" enough to turn over her records. "She was the only one who gave anything. You may think the others were smarter, since there's not much reward in being transparent," Bill Clinton said.
But neither Condoleezza Rice nor Colin Powell, her two immediate predecessors, had records to turn over. Rice did not use email during her tenure as secretary of state, and Powell did not preserve paper or electronic copies of his email.
The former president did admit that his wife could have avoided the upset.
"She should have known there would be a different set of rules applied to her if she ever ran for president," Bill Clinton said, then returned once again to the thorny "dispute" at the State Department and intelligence agencies over classification.
This, he said, "I can't resolve this for people."