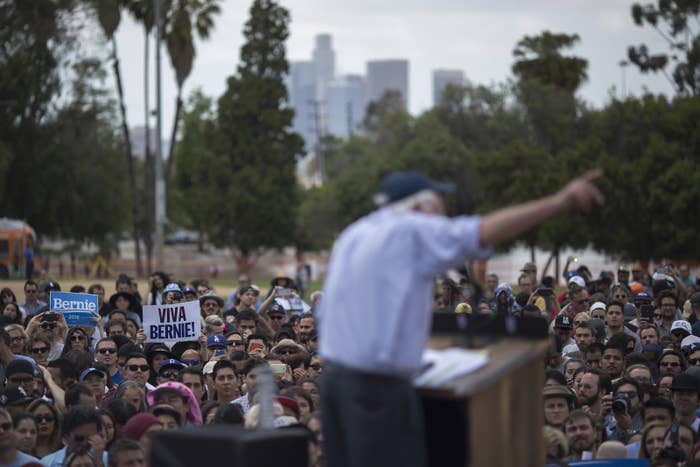 Bernie Sanders has all but conceded the nomination. But on Friday, he'll return to the campaign trail to put on one of his signature "A Future to Believe In" rallies.

The event will be held in support of New York congressional candidate Eric Kingson. Sanders himself, however, will be effectively headlining — and his staff will be building the rally, covering the bulk of the costs, and assembling the crowd.
The campaign announced the rally as an official "Bernie Sanders: A Future to Believe In" event, "featuring Congressional Candidate Eric Kingson."
Presidential campaigns typically give a boost to down-ballot candidates in key states, offering introductory speaking slots and opportunities to serve in a surrogate capacity. But the Sanders rally is an unlikely use of campaign resources for a presidential contender who has already run the course of this year's primary contests — and has admitted that "it doesn't appear" he'll be the nominee.
A Sanders spokesman did not immediately reply to a request for comment.
Kingson, the congressional candidate, is a Sanders-style progressive running in a June 28 primary against two other Democrats, including the preferred party choice, Colleen Deacon, backed by the Democratic Congressional Campaign Committee. The district, New York's 24th, encompasses the city of Syracuse.

The 70-year-old professor and Social Security advocate received an endorsement from Sanders on June 7 — the day of the last major Democratic presidential primaries — when the Vermont senator sent a campaign fundraising email on behalf of Kingson and another progressive candidate, Paul Clements of Michigan.

Sanders has stated repeatedly that down-ballot candidates will be key to continuing his movement. "This campaign has never been about any single candidate," he said last week in a live-streamed online address to supporters, delivered from his home base in Burlington, Vermont. "It is always about transforming America."
A campaign source confirmed that the Friday event in Syracuse would be a "Future to Believe In" rally — meaning it will be the Sanders campaign, not Kingson's, that will organize it as they would any presidential event, renting the space, building the crowd, and promoting the rally with supporters in the area.
The rally offers a snapshot of a Sanders campaign held in abeyance: Since losing to Clinton in the June 7 California primary, Sanders has broadcast no clear signal to his supporters as to whether he'll drop out of the race before the convention, where the senator has said he'll wage a high-profile fight for a progressive party platform.
Sanders and Clinton met last week for more than 90 minutes. But for weeks now, he and his aides have maintained the posture of a candidate still in competition.
Although he has laid off hundreds of staffers, Sanders maintains a bare-bones campaign infrastructure: He still receives protection from the U.S. Secret Service at a cost to taxpayers, and still relies on a trimmed-down staff in addition to his Senate office aides. Revolution Messaging, the firm that spearheaded Sanders' digital strategy and helped build his typically massive crowds at rallies, is still on the payroll — in addition to several top aides and an advance staff for events.
On Thursday, one night before his rally with Kingson, Sanders is slated to appear in Manhattan to deliver a speech his campaign titled "Where We Go From Here."
He is expected to outline his plans in more specific terms than he did last week, when he vowed to continue his "political revolution" in the live-streamed address to supporters. In that speech, Sanders underscored the danger of a Donald Trump presidency and said he'll begin working to defeat Trump "in a very short time."
On Wednesday, in an interview with C-SPAN's Steve Scully, Sanders went further, acknowledging the end of the Democratic primary. "It doesn't appear that I'm going to be the nominee," he said to a question about his role in the convention.
"What our job is now is to have her listen to what millions of people in this country who supported me want to see happen. We'll see how that evolves."
CORRECTION
The firm that leads Sanders' digital strategy is Revolution Messaging. A previous version of this article misstated the name of the firm.