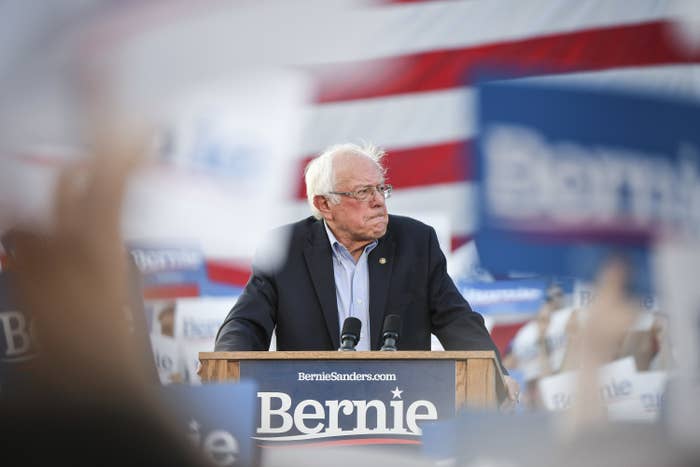 Bernie Sanders is suspending his bid for president, bringing to an end a campaign that cast health care as a human right, sought to give power and a platform to the voices of working people, and succeeded in reshaping the Democratic Party's policy platform but fell far short of victory when voters across the country cast their ballots this year.
As the coronavirus pandemic has shut down much of American life over the last month, Sanders has faced strict constraints on his ability to campaign — and increasingly impossible odds in a Democratic presidential primary against Joe Biden that has been all but over for weeks.
Speaking from Burlington, Vermont, the state where he has represented Vermont in the Senate and the House of Representatives for three decades, Sanders announced his "very difficult and painful decision" in a livestreamed direct-to-camera address to supporters, vowing to continue his fight for progressive ideas in partnership with the Biden campaign and at the planned Democratic National Convention in August.
"Together we have transformed American consciousness as to what kind of nation we can become," Sanders said, adding a recitation of one of his favorite quotations, a line attributed to Nelson Mandela. "'It always seems impossible until it is done.'"
"The future of this country is with our ideas," he said.
The timing of the suspension, one day after a Wisconsin primary put lives at risk as voters showed up to vote in masks and rubber gloves on Tuesday, still came as a surprise stop to a 14-month presidential campaign. The Sanders campaign was hiring new employees as of Tuesday, according to a person familiar with the open posts.
For Sanders, it's the end to an odyssey that took him from obscurity to national fame, transforming Democratic politics in the process. Five years ago, only a small group of reporters and onlookers joined him on a lawn in Washington, when he first announced his intention to run for president and ensure a debate of progressive policy ideas. Since then, Sanders has raised hundreds of millions of dollars, spoken to hundreds of thousands of people in venues across the country, and won more than two dozen states and the votes of millions.
His 15-minute video address from Burlington took the shape at points of an abridged stump speech, a fitting coda for a politician who has preached the same message for some 50 years, starting as a third-party candidate in 1970s Vermont.
"Few would deny that over the course of the past five years, our movement has won the ideological struggle," Sanders said on Wednesday, citing broad support for increased access to health care and a higher minimum wage. "It was not long ago that people considered these ideas radical and fringe. Today they are mainstream ideas, and many of them are already being implemented in cities and states across the country. That is what we have accomplished together."
Sanders retained vibrant support from young Democrats in this year's contests and built support among Latino voters that did not exist in 2016. But after rising to the top of polls and becoming the race's clear frontrunner after a massive win in Nevada, Sanders slipped in South Carolina and Super Tuesday, as the candidate field thinned and black and more moderate white voters consolidated behind a single candidate.
Biden, a fixture of Democratic establishment politics with whom Sanders disagrees but personally respects, will almost certainly secure the Democratic nomination when party members plan to convene later this year for their national convention.
Even as advisers urged him to go harder at Biden, the Vermont senator resisted. He had a personal admiration for his "friend," the former vice president, irking some staffers back in January when he decided to personally apologize to Biden after one of his surrogates, Zephyr Teachout, wrote an op-ed about his "corruption problem."
In a statement sent to reporters soon after Sanders spoke, Biden praised the senator's campaign. "Bernie has done something rare in politics," he said. "He hasn't just run a political campaign; he's created a movement. And make no mistake about it, I believe it's a movement that is as powerful today as it was yesterday."
Biden appealed to both Sanders' supporters and to Bernie and Jane Sanders themselves. "But we also want you to know: I'll be reaching out to you. You will be heard by me. As you say," he said, offering a tribute to the Sanders campaign slogan, "'Not me, us.'"
Calling Biden a "decent" man, Sanders said Wednesday he would still remain on the ballot in the upcoming primary states in an attempt to collect delegates and build power for his movement heading into the summer.
"We must continue working to assemble as many delegates as possible at the Democratic convention where we will be able to concert significant influence over the party platform and other functions," Sanders said in Burlington. "Then together, standing united, we will go forward to defeat Donald Trump, the most dangerous president in modern American history."
"While the path may be slower now, we will change this nation," he later added.
Sanders called his decision "painful," but said he did not see a path forward to the nomination. He acknowledged that some of his supporters may disagree and would prefer him "to fight on until the last ballot cast at the Democratic convention." Sanders said he understands that position, but could not "in good conscience" continue a campaign that could not win during a pandemic.
It's a profound disappointment for a candidate and movement who believed that this time was their time.
Wednesday's announcement — that "the path toward victory is virtually impossible," as Sanders put it himself — had already been evident for nearly one month.
For a brief moment in the race — when the vote was still fractured across a field of more than six candidates — Sanders saw his path to victory. Before Michael Bloomberg's collapse at a debate in Nevada, before Amy Klobuchar and Pete Buttigieg dropped out to lift up Biden, he could have secured a lead in the delegate count that no single candidate in a crowded field could surpass. By early March, as Biden racked up victories in states from Michigan to Texas, with Sanders unable to expand and diversify his base of loyal supporters, the window had firmly closed.
When Sanders launched his presidential bid last year, his campaign emphasized the idea of turning the nonvoter, often poor or ignored by both parties, into a voter, and expanding the electorate — Sanders' own evolved theory of how to win in America.
"It is a gamble to see whether we can bring those people into the political process," he said in an interview last year. "One way you do it is to say, 'You see that guy? He's YOU. You're workin' for $12 an hour, you can't afford health insurance — so is he. Listen to what he has to say. It's not Bernie Sanders talking, you know? It's that guy. Join us.'"
The policies were the same as before — health care as right, the reduction of personal debt, changes to the criminal justice and immigration systems — but in 2019, Sanders reorganized much of his campaign around town halls meant to connect those stories into one larger vision of America.
For a time, it looked as though his campaign might be idling.
In early October, Sanders — a 78-year-old with endurance and a personal loathing for physical illness — suffered a heart attack during a campaign swing through Nevada. But the existential moment, counterintuitively, marked the beginning of a comeback: Rep. Alexandria Ocasio-Cortez endorsed him. Sanders started ticking up again in the polls, as progressives coalesced around the candidate who never deviates. ("There is only one," as campaign cochair Nina Turner told a Queens, New York, audience at the "Bernie Is Back" rally the campaign put on after the heart attack.) The money, as always, continued to pour in.
In 2016, his refusal to fundraise in the kinds of high-dollar, closed-door fundraising environments that became a bipartisan status quo in the 21st century resulted in a cash boom online for the democratic socialist in 2016. Raising more than $100 million online, Sanders proved it was possible to raise major money for a campaign without major donors. And those small-dollar donors never changed over five years.
But the historic turnout Sanders had both predicted and longed for did not come to pass. Despite his near-monopoly on voters under age 30, young voters have not voted at record numbers in the nominating contests so far, with some of the white working-class voters choosing Biden. And, ultimately, despite significant attention paid to organizing this time out, Sanders still has not improved with black voters of all ages, particularly those who live in the South, and older voters of all races.
In the last days of active campaigning before the coronavirus pandemic set in, the Sanders campaign was riddled with debate over what to do next — whether to attack Biden, drop out early, aggressively push a policy agenda to move Biden to the left. The result was a slow period as the realization set in that a campaign that once appeared unstoppable would soon be over.
"He was never able to expand his coalition," Mark Longabaugh, a top adviser who split with the campaign early last year, told BuzzFeed News last month. "He just didn't succeed at it."
Sanders on Wednesday made a plea to keep the coalition he has together.
"Please stay in this fight with me," he said in Burlington. "Let us go forward together. The struggle continues."