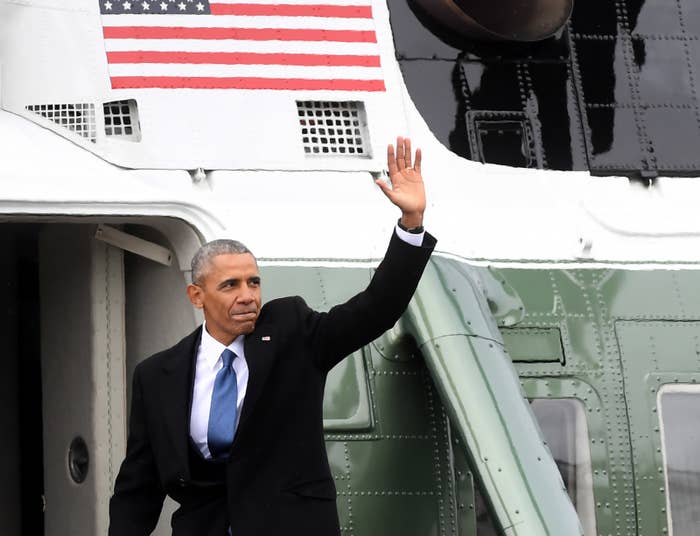 In one of the first public appearances of his post-presidency, Barack Obama will accept the Centennial John F. Kennedy Profile in Courage Award this spring for a career of "grace under pressure" and "exceptional dignity and courage," receiving the honor on the special occasion of the 100th anniversary of Kennedy's birth.

The 44th president was selected by a 14-member bipartisan committee at the John F. Kennedy Library Foundation comprised of figures in politics, media, and business, including Republicans Sen. Jeff Flake, former congressman Bob Inglis, and Viacom's Shari Redstone. The committee is chaired by Bloomberg View columnist Al Hunt.
According to Hunt, the award will go to Obama not for one particular legislative or political act, but for an "entire life that was really a testament to courage," he said.
Established in 1989 by the Kennedy family, the annual award is meant to honor the 35th president's birth — and specifically offer a tribute to Kennedy's Pulitzer Prize–winning book, Profiles in Courage, a 1957 account of eight US senators throughout history who put principle above politics. Each year, the Kennedy Library Foundation picks a lawmaker who demonstrates the same willingness to, as a foundation official put it, take a stand for good in spite of political consequences.
Obama will be the third former president to receive the award. In 2001, Gerald R. Ford was honored for his 1974 decision, widely vilified at the time, to pardon Richard Nixon. In 2014, George H.W. Bush received the award for raising taxes, breaking with his own major campaign promise in order to address a deficit crisis.
Unlike past honorees, Obama will not receive the award for any one decision. To mark the centennial of Kennedy's birth, the committee wanted to "do something different this year if we could," Hunt said. "We thought, 'OK, this is different.'"
After a "lengthy discussion," said Hunt, the committee was in "total agreement."
Obama will deliver a speech at the special centennial event, a ceremony on May 7 at Boston's John F. Kennedy Presidential Library and Museum. Former ambassador to Japan Caroline Kennedy and her son, Jack Schlossberg, will present the award.

The former president has kept a low profile since leaving office in January, very rarely weighing in on political developments. He is expected, however, to become a key player in a new redistricting effort led by his friend and former attorney general, Eric Holder. The National Democratic Redistricting Committee, or NDRC, will work to reverse the Democratic Party's historic state and local electoral deficits and help regain an advantage over Republicans when it comes to district-drawing.
Obama, Holder told reporters this week, is "ready to roll."
After attending Donald Trump's inauguration, the newly retired president took an extended vacation in Palm Springs, Calif., and on the private British Virgin Islands estate of billionaire Richard Branson. He was seen last week with daughter Malia and adviser Valerie Jarrett at a Broadway showing of Arthur Miller's The Price, and this week signed a lucrative deal for a forthcoming book.
The May 7 appearance in Boston offers Democrats a prominent opportunity to hear from their former president just more than 100 days into what has so far been a tumultuous Trump administration and a challenging time for the opposition party.
The decision to honor Obama, said Hunt, "had nothing to do with Trump's election."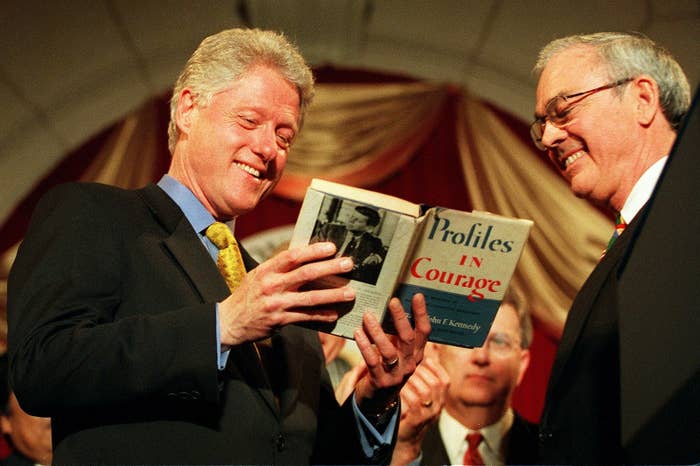 In a statement, Schlossberg outlined the ways in which Obama personifies the opening lines of Profiles in Courage: "This is a book about that most admirable of human virtues — courage. 'Grace under pressure,' Ernest Hemingway defined it."

During his two terms as the first black president, Schlossberg said, Obama "represented all Americans with decency, integrity, and an unshakeable commitment to the greater good" amid "unrelenting political opposition."
The committee received submissions for this year's award nominee from a record 30,000 people — up 5,000 from the year before, a foundation official said.
In a statement provided by the Kennedy Library Foundation, Obama said he is "deeply humbled" to receive the Profile in Courage Award. The late Kennedy, he said, "asked us to cast aside our narrow self-interest and take up the chase of a greater ambition: our collective capacity to do big things, especially when it's hard."
"Amidst the noisy and too often trivial pursuits of the politics of our time," Obama added, "it's a summons to service that rings as loudly as ever."