As Press Coverage Fades, Anthony Weiner Tries To Play The Underdog
Weiner fatigue. "You might be surprised to hear this, but I actually like it better this way," the ex-frontrunner says.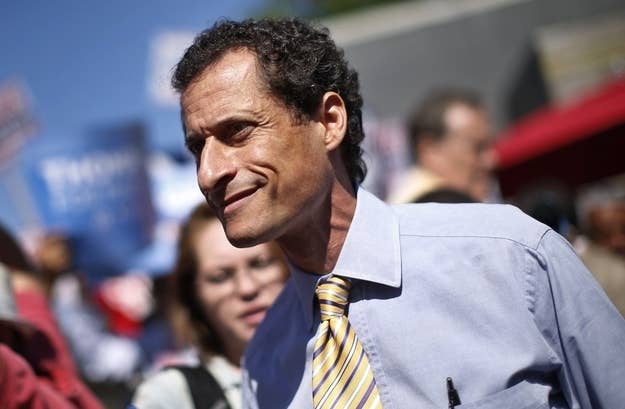 In the northeast Bronx, where he greeted voters outside a subway station Monday night, Anthony Weiner had more campaign staffers with him than reporters.
Just three stood by as the onetime frontrunner, whose New York City mayoral bid has tumbled to fourth place in the polls, shook hands with commuters beneath the elevated tracks of the 2 and 5 trains on Gun Hill Road. Three months ago, at his first campaign event outside a subway entrance in Harlem, the crowd of reporters grew so thick that two police officers were forced to step in.
After weeks of topping the polls, Weiner is now trailing nearly all of his Democratic rivals — Speaker Christine Quinn, former Comptroller Bill Thompson, and Public Advocate Bill de Blasio — and he is battling what one New York Times reporter dubbed, "Weiner fatigue."
Since admitting to a new scandal last month — that he continued sending explicit messages to women online for more than a year after resigning from Congress for the same behavior — voters have tired of Weiner, and so have reporters.
But Weiner, who has been known to delight in the attention of the press corps, says he prefers the dearth of reporters to a surfeit.
"You might be surprised to hear this, but I actually like it better this way," he said after talking with Bronx passersby for about an hour that evening. "You remember early on, I'd have Malaysia TV getting between me and voters."
Fewer reporters, Weiner said, means more time with voters — and more of what he called the "nourishment" he gets from talking with them. "Every campaign ebbs and flows, and every campaign gets its moment. I didn't have that — I had a tsunami," he said. "I think I might be the only campaign in American history that's aspired to 'normal.' Just get me to a place where I can talk about issues and give citizens an opportunity to come up and say hello."
With the dust still settling from the July scandal, Weiner is now trying to cast himself as the underdog in the race.
"You know, a month out in 2005, I was at 11%, and I made the runoff," he said, referring to his first New York City mayoral bid, in which he withdrew from a runoff election when it was still possible that the eventual nominee, Fernando Ferrer, could have fallen short of the 40% needed to advance uncontested to the general.
"So, that's kind of where I'm most comfortable," Weiner said.
Although political observers have all but dismissed Weiner's chances in the Democratic primary next month, commuters in the Bronx gave Weiner the same positive reception Monday night that he gets at most campaign stops.
When Weiner first arrived at the Gun Hill station, a hesitant smattering of onlookers formed a near perfect circle around him, as he stood in its center alone, swinging his hands into a series of idle claps. "Come closer!" he finally yelled. A campaign aide went up to one woman and asked, "Do you want to meet Anthony Weiner?" With some encouragement, the voters approached, the crowd at the subway entrance thickened, and Weiner's mood lightened.
One voter, Jonathan Marin, a 31-year-old resident of the Hunts Point in the Bronx, stopped for a handshake and a few whispered words into the candidate's ear: "Don't drop out."
Weiner later told the three reporters — his small audience — that he had no intention of doing so, or of losing.
"It's inconceivable to me that this won't be successful," he said.