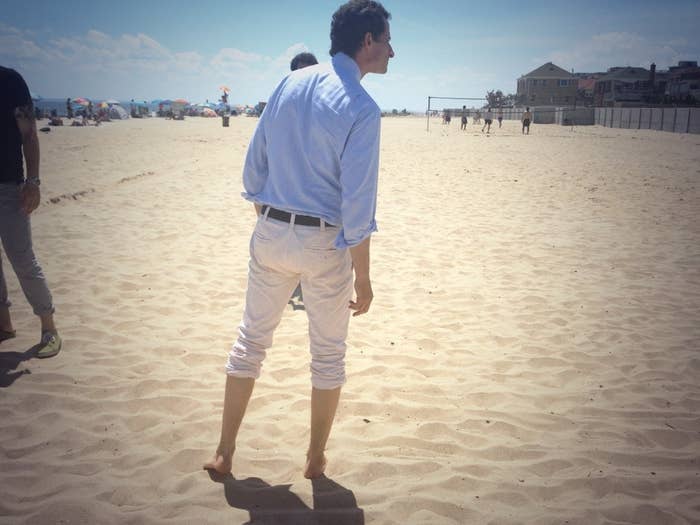 On the night of Tuesday, May 7, around 9 p.m., not long after polls closed in the South Carolina special election and Mark Sanford, the disgraced former governor, became the state's new man in Congress, the phone rang 700 miles away in Sylvan Klein's home on Beach 139th Street in the Rockaways.
An old friend was calling to make plans for his own political comeback.
Anthony Weiner, the 48-year-old former congressman who resigned two years ago after sending lewd photos to strangers online, was set to announce his New York City mayoral campaign in two weeks, and he wanted help from the beach community he represented for more than 12 years in Washington.
Weiner asked Klein and his wife Rose, both prominent members of the Belle Harbor neighborhood in Rockaway — a peninsula off the borough of Queens — to host a meet-and-greet at their home, just as the couple had done in 1998. Klein, 65, agreed without hesitation. "I told him, 'Of course,'" he recalled.
The request and response attest to the particular closeness Weiner feels toward the residents of Rockaway Peninsula, and they toward him, even still.
It was in Rockaway, whose western half is one of New York's white ethnic Democratic strongholds — the sort of place that helped make Rudy Giuliani mayor, and where Weiner hopes to ground a coalition — that the former congressman resurfaced late last year, emerging publicly for one of the first times since his resignation, to quietly survey the damage Hurricane Sandy wrought to homes and families. It was in Rockaway that Weiner, often hidden in a baseball cap, helped organize relief efforts for weeks alongside locals. It was in Rockaway that Weiner appeared at Sylvan and Rose Klein's home, to appeal to residents — to "apologize," Rose said of the event — just two days after announcing his campaign. And it was in Rockaway that Weiner spent Saturday afternoon, traipsing across the sand, from 147th to 138th Street, shaking the hands of his one-time constituents, many of whom remembered meeting him from campaigns past on the same stretch of beach.
"I'm tellin' ya, it's like everything's right in the world," Weiner said, after hopping barefoot out of his Ford Explorer, his khaki pants pulled above pale calves. On the 95-degree day, the sand was hot enough to burn, but Weiner strode unflinchingly ahead toward the Atlantic and the voters on its shores. "I haven't done this in a while. It feels so right to do it."
Weiner started doing "beach walks," he said, during his 1998 campaign for Congress — a four-way race in which two other candidates who also represented part of his city council district — when he saw Rockaway voters in Queens as his way to win.
"I really developed this sense of connection with Rockaway. So I walked door-to-door along the entire peninsula, knocked on each door two or three times, and just lived down here," Weiner said. "I figured if I was gonna be able to get enough votes somewhere outside of Brooklyn, this seemed like a natural fit."
Shortly after hitting the beach, aides and volunteers in tow, Weiner spotted a man, shirtless and tanned dark brown, who had signed his nominating petition in 1998. "Did you sign my petition this time?" Weiner asked. "You're very good luck for me. Thanks for remembering me." The man, who declined to give his name when approached later, called himself Weiner's "good luck charm" and predicted the former congressman would "be the mayor-to-be, because everyone else who's running is… just not happening," he said. "I know what I'm talking about. I've been here since 1947. I've seen five hurricanes come through."
When he was in Congress, Weiner would often leave the capital to attend Rockaway civic meetings — a habit that endeared him to residents like Klein.
"He was always, always, always there to pick up the phone and say, 'How can I help you,' or, 'What can we do,'" Klein said.
Barbara Larkin, a 65-year-old former schoolteacher and a longtime Weiner supporter, said the candidate helped her get a sidewalk built on 124th Street. "I reached out to local elected officials for four of five years. And then I made one phone call to Anthony, and it was taken care of within months," Larkin said. "I know him. I don't really know the other candidates."
The current president of the Belle Harbor Property Owners Association, Hank Iori, also said he hasn't heard from the other mayoral candidates. "You haven't seen them around," Iori said. "I've never had anybody call me and wanna meet. They're not trying to come out and explain who they are and what they want to do and how they perceive the Rockaways."
"We're being neglected," he said.
Weiner, meanwhile, held court for much of the afternoon on the beach, where the 4th of July holiday weekend drew a considerable crowd. He grabbed an "Even Sandy Can't Stop the Party" beer koozie from a group of bikini-clad sunbathers ("Can I keep this?"); tossed a football with two burly guys ("Can we take a picture? All right, and then we're gonna do a photo-op of me throwing a football. That's what we're gonna do."); and talked Hurricane Sandy with voters up and down the beach.
"Any new laws you want passed," Weiner bent down to ask a little boy. "Anything to do with dessert? Or homework? Or anything like that?" The child was silent. His dad, sitting nearby, answered for him. "He wants his school fixed in Breezy" — a neighborhood badly burned during Sandy.
Weiner turned back to the boy. "Yeah, you wanna get back to your school, huh?" he said. "We'll do our very best for you, buddy. Thanks for saying hello."
When asked why he relates to the people in Rockaway, Weiner described himself as a "fighter" for a community too often forgotten.
"It's the sense that Rockaway had been ignored for too long, and that they were kind of isolated. You ask them where they go shopping, and they say the 'mainland.' It really is that mentality," Weiner said. "These are people who really needed someone to fight for them. When I think of middle-class New York, I think of neighborhoods like this. When I close my eyes at night and I think about New York, I kind of think about communities like Rockaway."
"The other thing I love about Rockaway is that they would give it to me. They worked me over. They'd yell at me. They'd shout at me," he said, causing Larkin, trailing nearby, to shout out in spirited agreement.
"Yes! Yes!" she hollered.
"And then everyone would have a hug and share a beer, and I would go to work," Weiner went on. "Every place should have a Rockaway but there's only one Irish Riviera, and that's where we are. This feels right to me, and if I'm lucky enough to be mayor, I'm gonna come back and do it again."
As Weiner neared Beach 138th Street, an aide leaned over to tell him they would have to be leaving soon for his next campaign event. He protested. "I've hardly gotten anywhere yet. I'd like to go as far as I have time to go."
"We probably have about 15 minutes," the aide replied.
"We should have left more time," Weiner said. "I guess you guys don't know me well enough."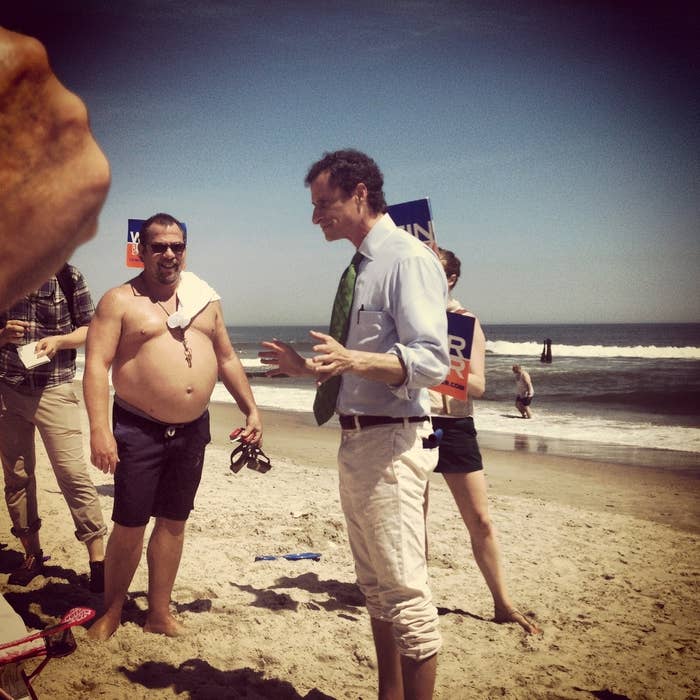 Correction: Weiner ended his beach walk at Beach 138th Street. An earlier version of this article misstated the street. (7/8/2013)