Alongside Labor Leaders, Hillary Clinton Diagnoses Inequality
While Ted Cruz announced his bid on Monday, Clinton was offering some of her most thorough (and progressive) policy remarks in recent months, surrounded by key Democratic stakeholders.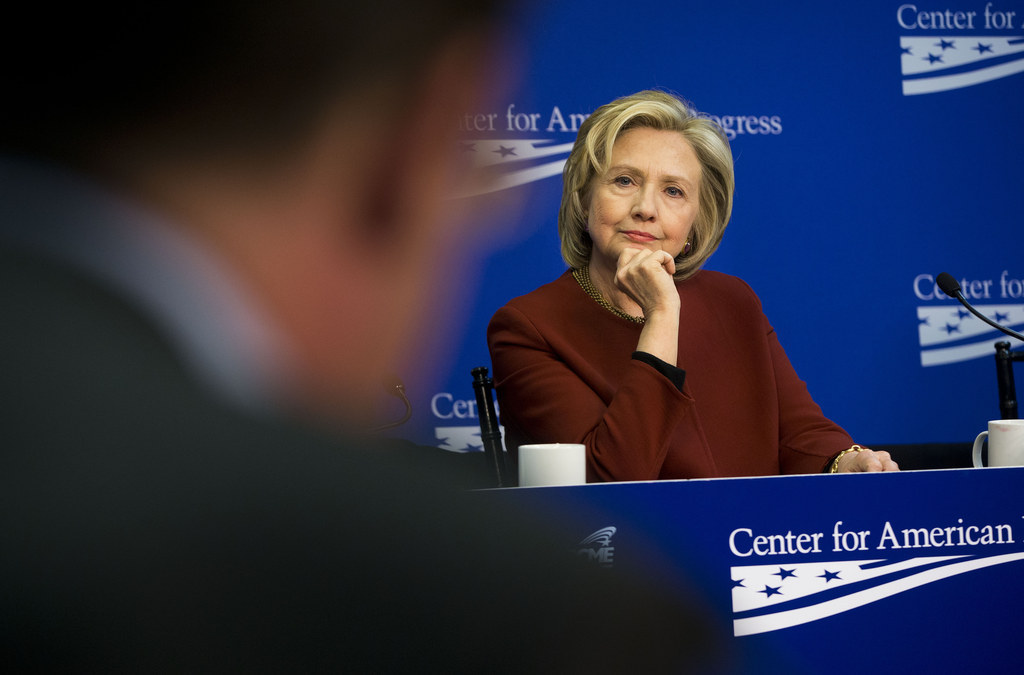 WASHINGTON — Flanked by labor leaders, her longtime policy adviser, and the man who will steer her presidential campaign, Hillary Clinton made a distinctly progressive case on Monday that the country's cities "truly are divided," with a growing gap between the affluent and the middle-class families "being priced out."
Clinton, seated at the head of the table above a long sign bearing the words "Urban Renewal," delivered some of her most textured and thorough remarks about economic policy since leaving the State Department: She argued that investment in affordable housing, youth job training, and programs like universal pre-kindergarten would stem income inequality and trigger upward mobility.
"Do it in a way that lifts everybody up," said the former secretary of state, who is expected to announce her second presidential campaign this spring.
Clinton spoke alongside 10 other panelists at liberal think-tank, the Center for American Progress. The group is headed by Neera Tanden, the policy adviser, and by John Podesta, the veteran Clinton operative who took his seat in the front row. (Both are expected to play a role in her presidential campaign — Podesta as chair.)
Alongside potential backers in the labor and progressive communities, Clinton spoke of such issues as public-private partnerships, wage stagnation, and government programs in terms native to the policy-minded crowd in attendance.
"A lot of our cities truly are divided," Clinton said. "They have a lot of inequality that has only gotten worse: They have some of the most dynamic, well-educated, affluent people in the world — and people who are trapped in generational poverty and whose skills are not keeping up with what the jobs of today and tomorrow demand."
In the last two years, Clinton has delivered dozens of paid, largely apolitical speeches to universities and trade groups. On Monday, in the tight quarters of the Center for American Progress headquarters in Washington, Clinton previewed a domestic agenda, emphasizing her eight years of service in the U.S. Senate.
"I not only represented New York City. I represented Buffalo and Rochester and Syracuse and Albany and Binghamton and a lot of other places that had very different challenges," Clinton said. "But they all fell under the category of, how do we make sure our cities are good places for people to live and work."
The event also put Clinton in close proximity to leaders in organized labor who could support her campaign. To her right was Lee Saunders, president of AFSCME, the American Federation of State, County and Municipal Employees — which backed Clinton's first bid for president seven years ago. The roundtable also featured Randi Weingarten, the president of the American Federation of Teachers, a loyal supporter of the Clintons who has also partnered with their family foundation.
Clinton included labor as a prerequisite to urban middle-class success. Mobility is achieved where the "fabric of community is strong," she said. "[In] places that are more integrated across class, places with good schools, places with unions, places with religious organizations and civic organizations that help people feel rooted."
Progressives and labor officials remarked afterward that Clinton had hit on all the requisite points, and several were struck in particular by her comment alluding to the effects of gentrification. "How do we keep middle-class families in cities where they want to stay?" she said. "They don't want to leave, but they're being priced out."
Clinton cited the universal pre-kindergarten push by Mayor Bill de Blasio in New York City as a way to "fit the human needs" of those residents. "But we also have to do more on affordable housing and the amenities so that families — middle-class families, working families — can actually stay in cities and have a place to go."
Saunders, the AFSCME head, echoed the remark later on: "We can not gentrify our way to a better tomorrow."
Ahead of the presidential race, Clinton has spent recent months in conversation with economists and policy experts. On Monday, she referenced the work of a Harvard scholar, Raj Chetty, who has studied the indicators of social mobility.
While most of Clintons speeches in the last two years have centered on her own experience, whether in the State Department or at her foundation, the roundtable on Monday was an exception. Clinton was a participant, not the focus — a notable shift that invoked the presidential campaign, and candidate, to come.
As the event came to a close, Clinton seemed to reference that future, turning to one fellow panelist, Aja Brown, the 32-year-old mayor of Compton, Calif.
"Don't be too surprised if you get a call," Clinton said.
"Maybe we'll start not too far from here, in a beautiful domed building, where we'll get everybody in the same room and start that conversation."