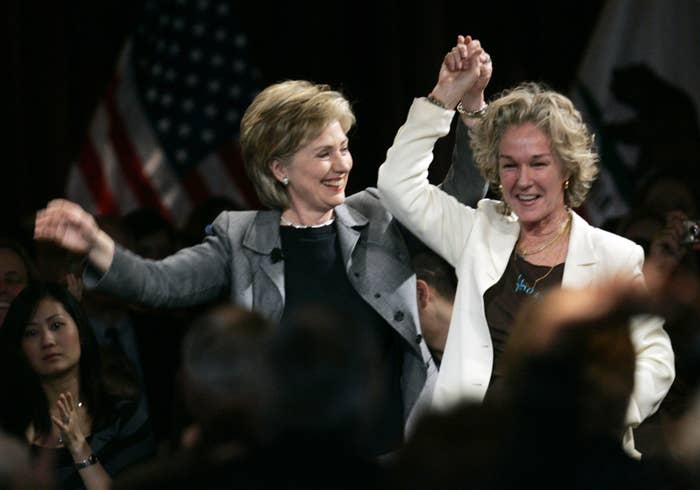 One of the Democratic Party's biggest donors says she is reconsidering her support for the women in the US Senate who called for Al Franken's resignation following multiple allegations of sexual misconduct and inappropriate touching.
The San Francisco–based donor, Susie Tompkins Buell, 75, has given millions of dollars to Democratic causes since the 1990s. She is best known as a staunch supporter of Hillary Clinton, but has also contributed for decades to Democratic women senators, hosting a regular spring fundraiser for the lawmakers in California called "Women on the Road to the Senate."
Buell said she is weighing whether to continue her financial support after the calls for Franken's exit last month. The charge for his resignation — led by Sen. Kirsten Gillibrand of New York and followed almost immediately by a string of statements from other prominent female Democratic senators — came on Dec. 6, before the conclusion of an official Senate Ethics Committee inquiry.
Franken was accused by at least six women of inappropriate touching and kissing, and was the subject of a photograph in which he appeared to jokingly grab the breasts of a sleeping woman. He made his resignation official earlier this week. The governor of Minnesota appointed former Lt. Gov. Tina Smith, a Democrat, to fill the vacant seat.
In two interviews this week, Buell described the push for Franken's departure as "unfair," "cavalier," and somewhat politically motivated — "a stampede," "like a rampage," she said, speaking in stark terms about senators she has backed for years, naming Gillibrand in particular.
"They need to know that some of their biggest supporters are questioning why they did that," Buell said. "We have to do things conscientiously and fairly. He didn't have the chance to defend himself."
The critique marks a somewhat significant departure for Buell, who is a mainstay in Democratic donor circles and has cultivated a reputation over the years as a fierce and vocal supporter of Democratic women.
During the 2016 election, the New York Times reported this week, Buell contributed to an unsuccessful effort by attorney Lisa Bloom to make public sexual misconduct claims against then-candidate Donald Trump. According to Bloom, the funds would have been used to defray costs of security and relocation for women seeking to come forward with allegations against Trump.
Since 1991, Buell has contributed to nearly every one of the 17 Democratic women currently serving in the Capitol's upper chamber, according to campaign filings. She has given the most to Gillibrand and her PAC, Off the Sidelines, a group dedicated to supporting other female candidates.
In 2014, at the California fundraising event she hosts for female Senate candidates, Buell made a point of praising Gillibrand's year-long push to change military sexual assault policies. At the podium, she chided Sen. Claire McCaskill, another Democratic senator, for voting against Gillibrand's bill. "'There's a special place in hell for women who don't help other women.' And I believe that," she said at the time, citing a phrase famously attributed to Madeleine Albright.
This week, Buell described Franken's case differently.
"These are senators that almost unanimously said he should have his opportunity to explain himself with the Ethics Committee," she said. "Then, within hours of each other, they said he should resign. It was clearly, clearly highly organized."
Franken is one of several members of Congress to resign or announce they will not run for reelection after reported allegations or disclosed settlements, joining the growing list of men felled amid a nationwide reckoning with sexual assault, misconduct, and sexism in the workplace.
Still, Buell's comments this week also come as some Democratic senators have expressed regret about Franken's exit.
Sen. Patrick Leahy of Vermont, who joined the rush of calls for a resignation on Dec. 6, has since said that he and others in the Senate acted too hastily. "I have stood for due process throughout my years as a prosecutor and in chairing the Judiciary Committee," Leahy told the Burlington Free Press on Dec. 18. "I regret not doing that this time. The Ethics Committee should have been allowed to investigate and make its recommendation."
That same week, another Democrat in the Senate, Joe Manchin of West Virginia, said in an interview with Politico that the move by Franken's Democratic colleagues was "hypocritical" and "atrocious." In addition to Leahy, Politico reported at the time, two of the other senators who had called for Franken to step down earlier that month said the decision had been rushed. Franken himself was defiant in his resignation speech, saying both that "we are finally beginning to listen to women" and that some of the allegations against him "are simply not true."
Buell said she has no "personal relationship" with Franken. In 2007 and 2008, she contributed at least $4,300 to his Senate campaign.
Buell declined to elaborate on the extent to which she planned to reduce her financial support. "I'm just taking a look at where I put my energy and money," she said. "I won't be doing it to the degree I did before. I'm just too upset and discouraged by the way they did this."