Students Made A Boat Out Of Snack Packets To Prove There's Too Much Air In Them
The Korean students successfully rowed the boat across a 1.5km river.
On Sunday, a group of South Korean college students assembled a raft made up 160 unopened snack packets and rowed across a river to prove the products are packeted with too much air inside.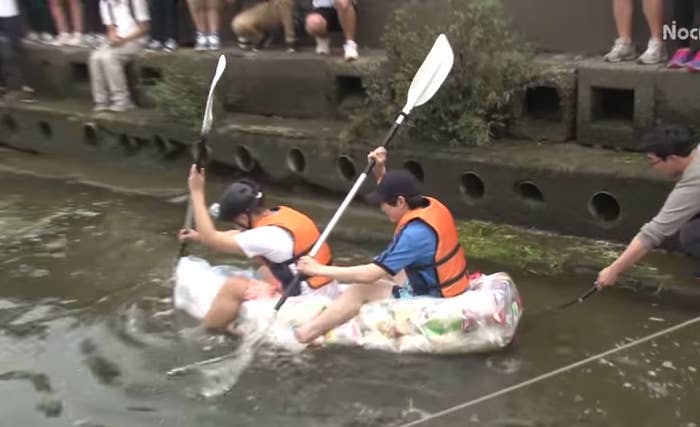 Two of the students sailed across the Han, Seoul's main river – a distance of about 1.5km.
The creators of the 2-metre-long boat were Yoo Seong-ho, Park Hyun-soo, and Jang Seong-taek. Yoo told local newspaper The Hankyoreh, "I got the idea for this performance when I saw a picture of someone floating in a swimming pool by holding on to a snack bag."
Here are the students wrapping their boat as they prepare for their river trip.
They then take the snack boat to the water, sit in it, and set sail.
Amazingly, they make it across the river and are welcomed by supporters on the other side.
The students say they hope their experiment puts pressure on confectionary companies to spend more time thinking about excessive packing from the perspective of the consumers.
Here they are, feeling very proud of their potato-chip-packet boat.
But these students are not the only ones calling out companies for their excessive use of space in packaging: Here's another shot of students making their own chip-packet boat.
Look at him paddle along!