World Powers And Iran Agree On "Parameters" For A Final Nuclear Deal
Iranian President Hassan Rouhani says "we do not intend to cheat." BuzzFeed News' Rosie Gray reports from Lausanne, Switzerland, where the deal was announced.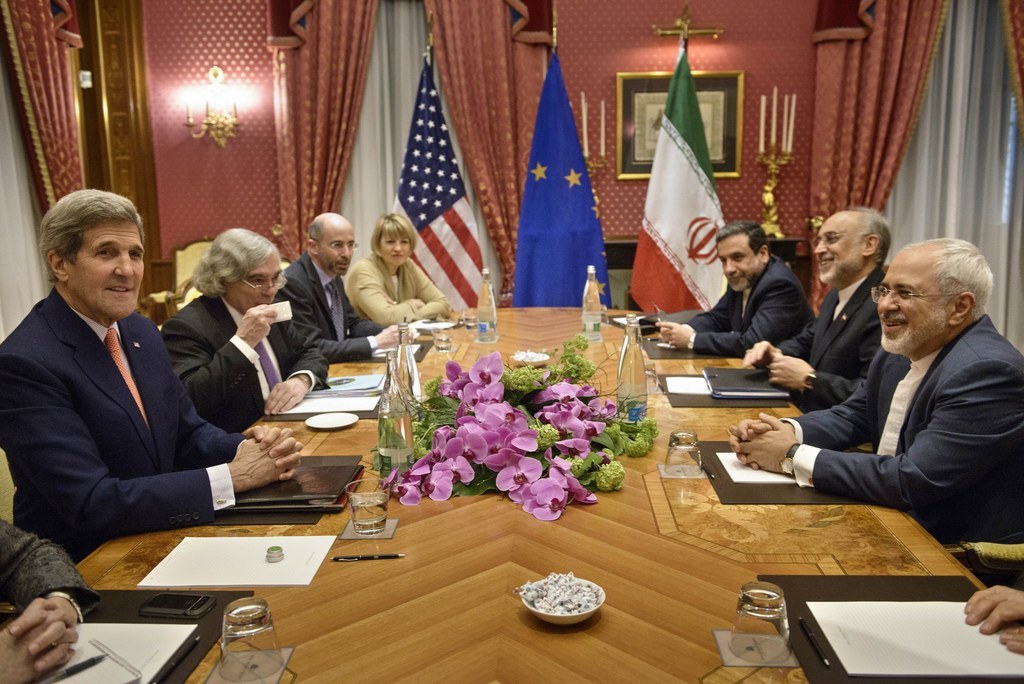 LAUSANNE, Switzerland — Six world powers and Iran have agreed on a set of "parameters" and will now begin negotiating a final nuclear deal, officials announced on Thursday.
Speaking at a joint press conference in Lausanne following marathon talks, they announced parameters to limit Iran's enrichment capabilities and, pending verification, a lifting of some sanctions on Iran.
The statement, read in English by European Union foreign policy chief Federica Mogherini and then in Farsi by Iranian Foreign Minister Mohammad Javad Zarif, said the framework deal would include a commitment by Iran to limit enrichment to its Natanz nuclear facility and added that negotiators had agreed on a "scope and schedule" for Iran's nuclear research and development activities. The underground Fordo facility "will be converted from an enrichment site to a nuclear physics and technology center," Mogherini said.
Mogherini also said Iran would get immediate sanctions relief from EU and U.S. sanctions related to Iran's nuclear program if the International Atomic Energy Agency certified that they were implementing the Joint Comprehensive Plan of Action.
The parameters also include the full lifting of all past UN Security Council resolutions on the Iranian nuclear issue as long as Iran fulfills its commitments under the potential deal.
Speaking from the Rose Garden, Obama called the framework "historic" and a "good deal" that met the U.S.'s core objectives. His remarks were reportedly shown on Iranian state television.
"As president and commander in chief, I have no greater responsibility than the security of the American people, and I am convinced that if this framework leads to a final, comprehensive deal, it will make our country, our allies, and our world safer," Obama said. "This has been a long time coming."
Obama emphasized that the deal was not done yet and there was still work to be done to reach a concrete agreement.
"The deal has not been signed. Between now and the end of June, the negotiators will continue to work through the details of how this framework will be fully implemented and those details matter. If there is backsliding on the part of the Iranians, if the verification and inspection mechanisms don't meet the specifications of our nuclear and security experts, there will be no deal," Obama said.
"If Iran cheats, the world will know it. If we see something suspicious, we will inspect it."
Speaking in a televised address on Friday, Iranian President Hassan Rouhani said, "The world must know that we do not intend to cheat," the BBC reported.
The deal was largely celebrated in Tehran.
Israeli Prime Minister Benjamin Netanyahu, who has been against any deal with Iran from the beginning, panned the framework in a telephone call with Obama on Thursday.
"A deal based on this framework would threaten the survival of Israel," he said in excerpts of the call that were released to the public. "And in these fateful days Iran is accelerating the arming of its terror proxies to attack Israel."
"Such a deal would not block Iran's path to the bomb. It would pave it," Netanyahu said.
According to the White House, Obama emphasized during the call that the framework "represents significant progress towards a lasting, comprehensive solution that cuts off all of Iran's pathways to a bomb and verifiably ensures the peaceful nature of Iran's nuclear program going forward."
Obama also assured Netanyahu that the U.S. "remains steadfast in our commitment to the security of Israel."
The announcement of the deal at the Rolex Learning Center of the École Polytechnique Fédérale de Lausanne on Thursday came after the P5+1 negotiating partners and Iran failed to meet a March 31 deadline for a framework agreement. The talks were initially extended in November. The deadline for the final deal is June 30.
"None of those measures include closing any of our facilities," Zarif said. "The proud people of Iran will never accept that. Our facilities will continue. We will continue enriching. We will continue research and development. Our heavy water reactor will be modernized. And we will continue the Fordo facility. We will have, as you will hear, centrifuges installed in Fordo but not enriching."
Speaking in Lausanne, Kerry acknowledged that there were still issues to be resolved before a final nuclear deal could be signed, including the details of how the Fordo and Arak facilities will be transitioned, as well as details of the sanctions relief.
Kerry said that Iran's stockpile of enriched uranium "has to either be diluted or sold on the international market."
He also noted that the deal includes no so-called "sunset" clause.
"The parameters of this agreement will be implemented in phases," Kerry said.
Negotiators had initially set a deadline of March 31 to reach a framework for a deal but missed that deadline by two days. Then, on Thursday afternoon, Zarif tweeted: "Found solutions. Ready to start drafting immediately." Iranian President Hassan Rouhani favorited his tweet. Rouhani later tweeted: "Solutions on key parameters of Iran #nuclear case reached. Drafting to start immediately, to finish by June 30th. #IranTalks"
Mogherini tweeted, "Final Ministerial Plenary of these #IranTalks. Now going to meet the press with @JZarif. Good news."
"Agreement on framework for final agreement reached," the German foreign office tweeted.
A little while later, Secretary of State John Kerry tweeted that the negotiators had agreed on "parameters" for a deal. "Big day: #EU, P5+1, and #Iran now have parameters to resolve major issues on nuclear program. Back to work soon on a final deal," he wrote.
Senator Harry Reid said in a statement that Obama had informed him of the framework. "I am cautiously optimistic about this framework," Reid said. "We must always remain vigilant about preventing Iran from getting a nuclear weapon but there is no question that a diplomatic solution is vastly preferable to the alternatives."
On the U.S. side, focus will now shift to whether the conclusion of this round of talks has enough substance and shows enough progress to stand up to intense scrutiny by Congressional skeptics of the deal. Congress has pushed the administration to come back with as detailed an agreement as it can in order to justify the talks and hold off a vote on a bill that would give Congress an up-or-down vote on the final deal. The administration will have to convince Congress that the talks have truly progressed enough to justify holding off on new sanctions and other Congressional pressure.
Even at this late stage in the negotiations, there have been major disagreements between the two sides, especially on the issues of nuclear research and development in the latter years of the potential deal's timeline, and on the pace at which U.N. sanctions against Iran can be lifted.
Zarif on Wednesday had called for the other side to "seize the moment and use this opportunity which may not be repeated."
Kyle Blaine contributed reporting.