Wisconsin Democrats Claim Dirty Tricks On Nasty Election Day
A bitter race comes with especially bitter accusations of wrongdoing. "Page two of the playbook for preparing for a recount," a Republican says.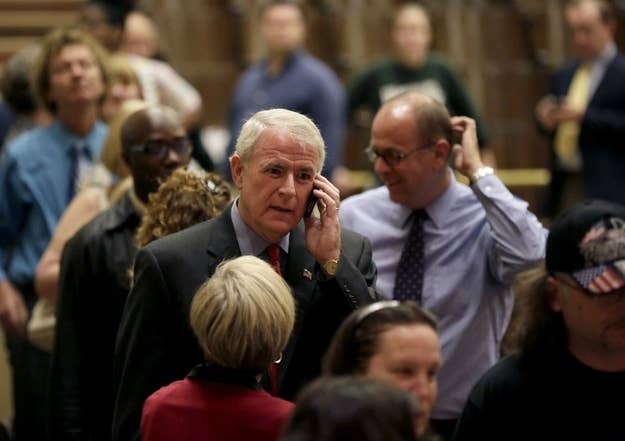 MILWAUKEE, Wisc. — As voters in Wisconsin decide today whether or not Governor Scott Walker will stay in office, Democrats say they're bracing for voter fraud — a perennial election complaint, but one that could cause real drama today in a race that's one of the most bitter in recent memory.
One labor source said that Democrats are "worried" about malfeasance today, especially a robocall that some voters received last night. "We're worried about that a lot," the source said.
The Barrett campaign sent an email to supporters last night describing a robocall that some Democrats had received. The robocall reportedly told them that they didn't have to vote if they signed the petition that originally forced Walker's recall.
"I've never heard of something this direct," said Peter Barca, a state representative from Kenosha. "That's why it's really significant from my standpoint."
Democrats are also pre-emptively accusing officials of incorrectly counting the ballots tonight.
Yesterday, a group called "Concerned Citizens of Waukesha County" sent an email to reporters calling on the Waukesha County Executive to ban County Clerk Kathy Nickolaus from counting ballots in the election. The group purported to be comprised of Republicans, Democrats and Independents from Waukesha County, a crucial county that encompasses the suburbs to the west of Milwaukee.
"As you well know, Nickolaus has an extremely disturbing history of repeatedly casting doubt on the integrity of our state's elections and grossly violating the laws and procedures for administering the count in Waukesha County," the group wrote. "We therefore ask that you formally file a restraining order against Nickolaus to cease and desist from any counting of election ballots."
NIckolaus made mistakes in counting the ballots in the state Supreme Court Justice race between JoAnne Kloppenberg and David Prosser last year and was encouraged to hand off counting duties to another official.
The email was sent from the address of Keith Jamieson, treasurer for public sector union AFSCME District 40.
This morning, labor group We Are Wisconsin echoed yesterday's email, sending out a memo accusing Waukesha County officials of "stonewalling – refusing to clarify who's in charge of overseeing and counting the votes in today's recall."
A Republican source called the Democrats' public hand-wringing "page two of the playbook for preparing for a recount." Both sides have hired recount lawyers, and the Democratic Party of Wisconsin will have over 440 lawyers in the field today.
Ben Sparks, a spokesman for the Republican Party of Wisconsin, declined to comment on the robocall or the allegations of ballot-counting misconduct.
The Democratic side has also been playing for keeps, and has drawn accusations of crossing the line. The Greater Wisconsin Political Fund sent voters one mailing listing the names of everyone on their block who didn't vote in the last election. "Scott Walker won in 2010 because too many people stayed home!" the mailer said.
"I thought that was strange," said Linda Greene, 55, a union worker from Milwaukee. "I had never seen that before."