Where Does Trumpism Go After Nov. 8?
There really is a Trump movement. But does it still exist if he loses?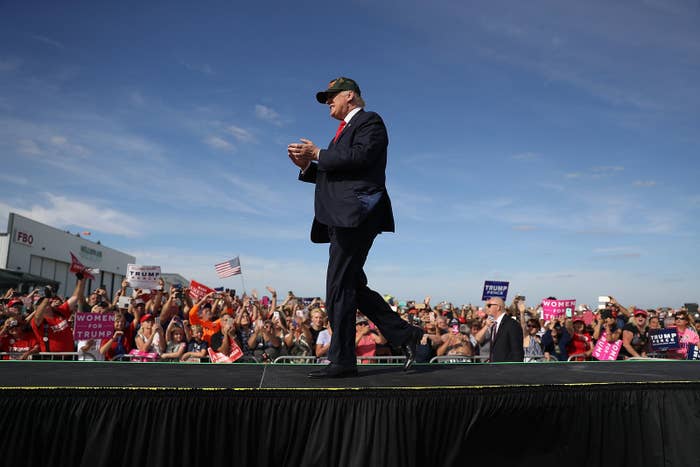 WASHINGTON — Donald Trump often speaks of his supporters as a movement. And it's true: Trump supporters have emerged as a potent new force in American politics, a nationalist populist movement that doesn't fit into the familiar conservative-versus-establishment dichotomy that has characterized Republican politics, nor the leftist-versus-moderate-liberal split in the Democratic Party.
But it's always been unclear what happens to this movement if Trump loses — which he seems almost certain to do, even despite recent developments in the Hillary Clinton email story. Does Trumpism exist without Trump? Where do his supporters turn after Nov. 8? The future is at hand.
Conversations with Trump supporters in several different states at recent rallies showed a few patterns. Nearly all believe that the election is being rigged and that Trump reserves the right to contest the results. Most are disappointed or angry with Republicans for not fully backing the nominee, and some, though not all, say they're done with the Republican Party. And most promise that they're not going away.
"I don't think the Republican Party will ever be again what it was," said Linda Hudson, 65, a South Carolinian who attended Trump's rally in Fletcher, North Carolina, this week. "I probably would still continue to vote because I feel strongly about that, but I will not participate in anything else. I think me, like a lot of people, we're just disgusted with what's happened this go-round."
"He's fighting for his voters," said Stacy Whitted, 46, of Chesapeake, Virginia, at a rally in Virginia Beach. "So I don't want him to concede. I believe it's rigged. And I think he should fight because he's fighting for his voters who wanted him to win."
But if he loses, Whitted said, "I think it's going to fire us up even more and try to push Hillary out. Get her in prison. Just kidding."
"I think it will continue within the Republican Party, but I think the Republican Party will change, and I think that the establishment who think they'll be able to take hold again will be very surprised," said Rachel McKinney, 81, of Shippensburg, Pennsylvania, at Trump's speech at Gettysburg last week.
Trump's rallies at this point resemble a concert for a beloved band, or a sci-fi/fantasy con. There are themed outfits: "Hillary for Prison" shirts, "Trump Army" shirts, "Trump That Bitch" shirts, and of course, "Make America Great Again" hats. There are slogans: "build the wall," "lock her up," and a newer addition, "drain the swamp." What the Trump crowds resemble most of all is a kind of subculture, a bubble that exists within its own reality. Instead of trying to expand out of this bubble during the general election as the nominee, Trump has done the opposite, intensifying his appeals to his most ardent supporters while continuing to offend nearly everyone else.
And Trump has grown more and more conspiratorial as time has gone on, particularly in the wake of the Access Hollywood tape and sexual assault allegations against him that may have erased any hope he had of becoming elected president. At every rally now, he speaks of a rigged system and a rigged election, with globalist elites and a corrupt media working in tandem to bring him down — and not just him, but his supporters. Trump's connection with his audience is undeniable. And when he tells them that not just he, but they are the victims of an elite conspiracy, they believe him.
"The media isn't just against me, they're against all of you," Trump told a crowd in St. Augustine, Florida, on Monday.
In Sanford, Florida, the next day, he spoke in apocalyptic tones about what could happen to his movement without him, and he seemed to rule out the idea that some other Republican could inherit what he's started.
"This is the last time we're going to have a chance," he said. "Four years, it's over. It's over. In four years, you don't have a chance. All these characters who want to run in four years, they can forget it. They're wasting their time."
Trump's rallies are their own ecosystem. And they have their own facts, and they distrust the media even when those facts come from mainstream outlets. At several rallies this past week, Trump has mentioned the story of a $675,000 donation to the Virginia state Senate race of an FBI official's wife by an ally of Virginia Gov. Terry McAuliffe, who is close with the Clintons — a story which was first reported by the Wall Street Journal. In Tallahassee on Tuesday, one man standing near the press pen glared at the reporters and said, "Why doesn't the media report on that!"

As this week's story in Bloomberg Businessweek makes clear, Trump's team is taking steps to harness the movement digitally to unclear future ends. Chatter about a possible media venture continues, spurred by the Trump campaign's new regularly occurring Facebook Live show. Populist nationalist movements in other countries have emerged as a persistent thorn in the side of establishment political parties. But in a country like France, the National Front has a well-established history and infrastructure. Trumpism, so far, is more formless. But its adherents promise its staying power.
Steve Bannon, the Breitbart chairman currently serving as Trump's campaign CEO, has for years targeted the Republican Party establishment, and Trump's becoming the party's standard-bearer has not changed this. If anything, Breitbart, which has become a semi-official organ of the Trump campaign, has grown even more aggressive towards the party's sacred cows like Paul Ryan, whom it recently accused without evidence of supporting Hillary Clinton. Bannon and Breitbart's political project seems less to stay within the party than to create something very different. If Trumpism is recognized as a populist nationalist movement, that's partly because the phrase itself is Bannon and Breitbart's preferred nomenclature.
"Win or lose, this isn't gonna go away," said Barry Casper, 56, at Trump's rally in Newtown, Pennsylvania, last week. "A lot of things are not going to go away. All the WikiLeaks stuff is going to stay alive. Have you been to any of the rallies? Well, then you know. I'd never seen that and I'm a lot older than you, and I've been around politics since 1980."
Two women at Trump's rally in Fletcher, North Carolina, last week said they were now beyond the two main political parties.
"I'm done with the Republicans," said Diane, 67, from South Carolina.
"I'm done with all of them," said Alice, 61, from Asheville, North Carolina.
Elio Hernandez, 66, a Trump supporter from Naples, Florida, who emigrated from Venezuela 45 years ago, said he doubted his future as a Republican "unless they change."
"I would never be a Democrat," he said. "But being a Republican today with the way the party is being and they don't support — I think they are part of the establishment where the money's coming to them they don't care about what happens to you."